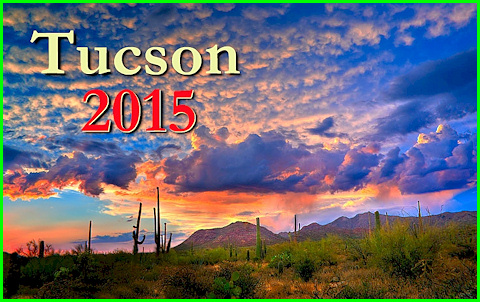 The Tucson 2015 Mineral Showrooms

* Re-Updated January 16th, 2017 *
MIN#Tucson2015-2 NEW!
Exceptional and rare specimen of Native Leaf Gold in white Quartz matrix!
This is a MAJOR Gold specimen and of a quality seldom seen from the Oriental Mine in
California. The Gold appears as brilliant layers of leaf Gold with crystals present along
the edges of each seam. There are also flattened trigons apparent atop the surfaces of
the leaf Gold so you could actually say that the entire specimen is crystalline! The color
of the Gold is a super lustrous butter-yellow indicating a small Silver presence in the mix.
(Orange would indicate Copper). Specimens of Gold from the Oriental in this size range
are quite rare and specimens with this much Gold coverage are incredibly rare! This fine
specimen represents a unique opportunity for Gold collectors and mineral collectors alike!
From the Oriental Mine, Alleghany, Forest District, Sierra County, California.
Measures 6.8 cm by 6.3 cm by 5 cm in total size.
Ex. Kevin Ward Mineral Collection
Price $18,500
MIN#Tucson2015-3 NEW!
Brilliant reddish-orange Quartz crystals criss-crossing atop white Quartz matrix!
These eye catching specimens have become very rare in today's marketplace and this is one of the best
examples I've seen in years. The orange Quartz crystals are in excellent shape and unusually clean with a deep
coloration that is unimpeded by the Quartz frosting that one sees more often than not with these specimens. The
crystal faces are very lustrous and are contrasted beautifully by the colorless Quartz druse along the back side.
From the 2nd Sovietskiy Mine, Dal'negorsk, Kavalerovo Mining District, Primorskiy Kray, Far-Eastern Region, Russia.
Measures 6.2 cm by 8.5 cm by 3.5 cm in total size.
Price $1500
MIN#Tucson2015-4 NEW!
Unique specimen featuring golden Smithsonite ps after Calcite crystals on matrix!
Incredibly sharp, dogtooth-like crystals of Calcite have had their crystal habit perfectly preserved
by satiny golden Smithsonite. This is one of the better pseudomorphs I've seen recently. In excellent
condition with pristine surfaces and only minor incompleteness along the back side trimming edge.
From the San Antonio Mine, Santa Eulalia District, Mun. de Aquiles Serdán, Chihuahua, Mexico.
Measures 6.2 cm by 6.2 cm by 4.5 cm in total size.
Price $1850
MIN#Tucson2015-19 NEW!
Beautiful cabinet specimen featuring large dark reddish-purple Fluorite cubes with Calcite accents!
The color is almost raspberryish but the cubes are a little too thick and the color leans towards the
darker side of reddish-purple. The cubes are also spotted with darker purple spots and highlighted
by tiny crystals of pearly Calcite! In excellent condition with a satiny luster, this is a first rate Fluorite!
From Cave-in-Rock, Hardin County, Illinois.
Measures 12.5 cm by 11.6 cm by 6.2 cm in total size.
Price $1500
- LINKS TO THE TUCSON 2015 SHOWROOMS -
1 | 2 | 3 | 4 | 5 | 6 | 7 | 8 | 9 | 10
HOME | EXCEPTIONAL MINERALS | MINERAL AUCTION | SPECIMENS FROM PAST SHOWS | CONTACT US