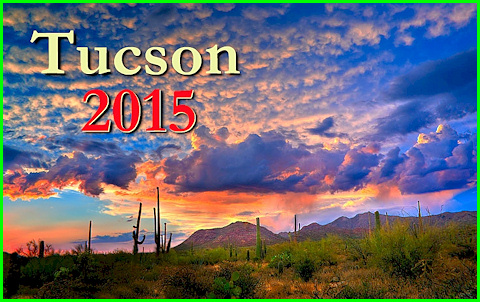 The Tucson 2015 Mineral Showrooms

* Re-Updated January 16th, 2017 *
MIN#Tucson2015-2 NEW!
Exceptional and rare specimen of Native Leaf Gold in white Quartz matrix!
This is a MAJOR Gold specimen and of a quality seldom seen from the Oriental Mine in
California. The Gold appears as brilliant layers of leaf Gold with crystals present along
the edges of each seam. There are also flattened trigons apparent atop the surfaces of
the leaf Gold so you could actually say that the entire specimen is crystalline! The color
of the Gold is a super lustrous butter-yellow indicating a small Silver presence in the mix.
(Orange would indicate Copper). Specimens of Gold from the Oriental in this size range
are quite rare and specimens with this much Gold coverage are incredibly rare! This fine
specimen represents a unique opportunity for Gold collectors and mineral collectors alike!
From the Oriental Mine, Alleghany, Forest District, Sierra County, California.
Measures 6.8 cm by 6.3 cm by 5 cm in total size.
Ex. Kevin Ward Mineral Collection
Price $18,500
MIN#Tucson2015-3 NEW!
Brilliant reddish-orange Quartz crystals criss-crossing atop white Quartz matrix!
These eye catching specimens have become very rare in today's marketplace and this is one of the best
examples I've seen in years. The orange Quartz crystals are in excellent shape and unusually clean with a deep
coloration that is unimpeded by the Quartz frosting that one sees more often than not with these specimens. The
crystal faces are very lustrous and are contrasted beautifully by the colorless Quartz druse along the back side.
From the 2nd Sovietskiy Mine, Dal'negorsk, Kavalerovo Mining District, Primorskiy Kray, Far-Eastern Region, Russia.
Measures 6.2 cm by 8.5 cm by 3.5 cm in total size.
Price $1500
MIN#Tucson2015-4 NEW!
Unique specimen featuring golden Smithsonite ps after Calcite crystals on matrix!
Incredibly sharp, dogtooth-like crystals of Calcite have had their crystal habit perfectly preserved
by satiny golden Smithsonite. This is one of the better pseudomorphs I've seen recently. In excellent
condition with pristine surfaces and only minor incompleteness along the back side trimming edge.
From the San Antonio Mine, Santa Eulalia District, Mun. de Aquiles Serdán, Chihuahua, Mexico.
Measures 6.2 cm by 6.2 cm by 4.5 cm in total size.
Price $1850
MIN#Tucson2015-6 NEW!
Rare specimen of lustrous orange Cadmium Smithsonite on matrix!
Wonderfully lustrous, bright orange rolling surfaces highlight this botryoidal and very
3-dimensional specimen of Greek Smithsonite. In excellent condition with no contacts.
From the Lavrion District (Laurium), Attikí Prefecture, Greece.
Measures 7.2 cm by 10.5 cm by 3.7 cm in total size.
Price $2450
MIN#Tucson2015-10 NEW!
Gorgeous and quite rare specimen of deep golden Calcite crystals on Calcite covered matrix!
A unique looking specimen from a seldom seen locality, these Calcites have the appearance of
stacked crystals which terminated with smaller, almost pyramidal caps. These range in size up to
4 cm or more and are all in excellent condition with glassy, lustrous surfaces atop the many steps.
From the Helen Mine in Wawa, Ontario, Canada.
Measures 10.8 cm by 8.6 cm by 4.2 cm in total size.
Ex. Dawson Calcite Collection
Price $2500
MIN#Tucson2015-12 NEW!
Really cool specimen featuring sharp crystals of blackjack Sphalerite set atop Golden Fluorite!
The Fluorite crystals are clustered together and display some slight purple accenting along some of the
outer edges. The color is a rich, vibrant golden-yellow and the contrast between the minerals is very aesthetic.
From the Minerva #1 Mine, Hardin County, Illinois.
Measures 6.3 cm by 6.5 cm by 3.8 cm in total size.
Price $985
MIN#Tucson2015-13 NEW!
Fine dendritic specimen of Native Silver with Acanthite accents and Calcite matrix!
Great looking herringbone Silver, with full extension on both sides and a slight peppering
of darker Acanthite micro-crystals atop the Native Silver. I love the way the longest Silver
wire branches outwards along the right side and curves upwards. This specimen looks great
from either side with this being the white Calcite side. No damage or incomplete crystals.
From Batopilas, Andres del Rio District, Mun. de Batopilas, Chihuahua, Mexico.
Measures 5 cm by 4.5 cm by 1 cm in total size.
Price $985
MIN#Tucson2015-16 NEW!
Fine tabular crystals of Beryl var. Aquamarine atop Albite and Muscovite!
This attractive specimen features a series of isolated Aquamarine crystals climbing upwards atop
a matrix of Muscovite and Albite crystals The crystals are tabular in nature and a pretty light blue
color which contrasts beautifully with the surrounding white crystallization. In excellent condition.
From the Pingwu Beryl Mine, Mt Xuebaoding, Mianyang Prefecture, Sichuan Province, China
Measures 11.5 cm by 8.4 cm by 3.6 cm in total size.
Price $1850
MIN#Tucson2015-18 NEW!
Cabinet specimen featuring large Andradite Garnet crystals with Diopside and Amblygonite!
This is one of the most impressive plates of Garnet I've seen at the show in terms of crystal
size and overall specimen size. The Garnets measure 4 + cm in size and they display a very
sharp crystal form to go along with reflective, lustrous faces. The largest Garnets sit atop
a cluster of smaller Garnets and all display a solid reddish-brown coloration. This specimen
is in very good condition with only a few natural contacts scattered about. I can't recall seeing
a better specimen from Namibia and specimens from this locality are rare in the marketplace.
From Otjimbingwe Farm 104, Karibib District, Erongo Region, Namibia.
Measures 16.5 cm by 10.2 cm by 8.4 cm in total size.
Price $1850
MIN#Tucson2015-19 NEW!
Beautiful cabinet specimen featuring large dark reddish-purple Fluorite cubes with Calcite accents!
The color is almost raspberryish but the cubes are a little too thick and the color leans towards the
darker side of reddish-purple. The cubes are also spotted with darker purple spots and highlighted
by tiny crystals of pearly Calcite! In excellent condition with a satiny luster, this is a first rate Fluorite!
From Cave-in-Rock, Hardin County, Illinois.
Measures 12.5 cm by 11.6 cm by 6.2 cm in total size.
Price $1500
- LINKS TO THE TUCSON 2015 SHOWROOMS -
1 | 2 | 3 | 4 | 5 | 6 | 7 | 8 | 9 | 10
HOME | EXCEPTIONAL MINERALS | MINERAL AUCTION | SPECIMENS FROM PAST SHOWS | CONTACT US