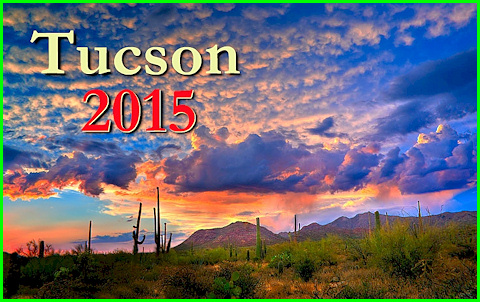 The Tucson 2015 Mineral Showrooms

* Re-Updated January 16th, 2017 *
MIN#Tucson2015-84 NEW!
Classic specimen of Rhodochrosite rhombs sitting atop Quartz matrix!
Beautiful specimen featuring a pair of Rhodo rhombs measuring 2.3 cm and 1.8 cm in size.
Both rhombs are pristine with no damage and well defined crystal faces. They sit aesthetically
atop a white Quartz matrix with other associated Sulfides. This is one of the better Sunnyside
Rhodochrosites I've seen recently and it could be trimmed is so desired. It's impressive as is.
From the Sunnyside Mine, Silverton Mining District, San Juan County, Colorado.
Measures 5.5 cm by 5.3 cm by 3.8 cm in total size.
Price $2500
MIN#Tucson2015-85 NEW!
Sculptural and truly artistic specimen of Native Gold on Quartz!
I love the way the Native Gold fans out in wing-like fashion across and through the white
Quartz matrix. This is one of the most attractive Gold specimens I've seen from Coolgardie,
simply due to its sculptural nature. The Gold is bright yellow, indicative of its very high purity.
From Coolgardie, Coolgardie Shire, Western Australia, Australia.
Measures 6 cm by 4.6 cm by 3.4 in total size.
Price $4500
MIN#Tucson2015-88 NEW!
UNIQUE! Museum piece featuring a huge Goethite ps after Siderite sitting atop Amazonite and Smoky Quartz!
I've never seen another specimen like this. The Goethite pseudomorph sits atop the plate of Amazonite, Smoky
Quartz, and Albite like a huge mountain range. While pseudomorphs of this variety are aometimes found at the
locality, very few ever come close to this size and magnitude. It's just amazing to see and a pseudo collector's
dream specimen. The plate has been repaired of course as almost all of these are but the work was done very
well and all the pieces were in the pocket. I mentioned this is a museum quality specimen and it actually is.
It was formally in the University of Michigan's Mineral Collection and is deserving of an advanced collection.
From Crystal Creek, Crystal Peak area, Teller County, Colorado.
Measures 10.4 cm by 16.5 cm by 17 cm in total size.
Ex. University of Michigan Mineral Collection
Price $12,500
MIN#Tucson2015-90 NEW!
Amazing specimen of Silver pseudomorphing after Acanthite crystals!
This is a tremendous Silver pseudo and the first I have seen from the Rayas Mine. The Native Silver has
pseudomorphed the majority of the Acanthite and also appears as small wires atop the crystal surfaces.
The habit of the Acanthites is somewhat hoppered and this has been well preserved by the Native Silver.
Interestingly enough, there is also Calcite present in the center of the specimen and a small purple Fluorite.
From the San Juan de Rayas Mine (Rayas Mine), Guanajuato, Mun. de Guanajuato, Guanajuato, Mexico.
Measures 5.2 cm by 5.7 cm by 4.1 cm in total size.
Ex. Romero, Stoudt Mineral Collections
Price $4500
MIN#Tucson2015-92 NEW!
Lustrous Ferberite crystals with Fluorite and Quartz!
This is neat looking combo piece from the finds that came to market about a decade or so ago.
Two lustrous and perfectly terminated Ferberite crystals are separated by lavender Fluorite
cubes and Quartz points. In very good condition with no problems and an aesthetic display.
From the Yaogangxian Mine, Yizhang Co., Chenzhou Prefecture, Hunan Province, China.
Measures 5.7 cm by 4.5 cm by 3.8 cm in total size.
Price $895
MIN#Tucson2015-94 NEW!
Exceptional specimen featuring Siderite pseudomorphing after Calcite crystals!
This is one of those amazing pseudo specimens that I come across every now and then
that really catches your eye. The tan Siderite crystals are brilliant and sparkling and the
pseudos are super sharp, with the basic structure of the Calcite crystals perfectly preserved,
although most now appear to be hollow. There is no damage to speak of on this incredible piece.
This is from the Turt Mine which has been mined since medieval times, modern mining since 1971.
From the Turt Mine (Ghezuri Mine), Turt, Negresti-Oas, Oas Mts, Satu Mare, Satu Mare Co., Romania
Measures 9 cm by 6.8 cm by 5.8 cm in total size.
Ex. Van Tichelen Mineral Collection
Price $2850
MIN#Tucson2015-97 NEW!
Beautiful cabinet sized example of Malachite included Cave Calcite!
These are found inside mines and often they are included with the local minerals as this one is.
The Malachite present in Mapimí has included the sculptural Calcite and turned it a lovely
shade of green. In excellent condition, this is a specimen that could be display from all sides.
From Mapimí, Mun. de Mapimí, Durango, Mexico.
Measures 11.7 cm by 7 cm by 6.8 cm in total size.
Price $1850
MIN#Tucson2015-98 NEW!
Rare large plate of Calcite crystals with Marcasite (inclusions and crystals) and golden Barite!
You don't often find combinations of golden Barite on Calcite from the Linwood Mine and specimens
of this size and quality are even rarer. The Barite crystals are mostly gemmy and measure to over 5 cm
in length. They are also doubly terminated for the most part with great internal glow. The Calcites are
glassy and lustrous, like the Barites, and are heavily included by Marcasite which also accents some of
the crystal faces on the outside. In excellent condition, this is a large, flashy plate with a beautiful display.
From the Linwood Mine, Buffalo, Scott County, Iowa.
Measures 12 cm by 17.7 cm by 6 cm in total size.
Ex. Dawson Calcite Collection
Price $2500
- LINKS TO THE TUCSON 2015 SHOWROOMS -
1 | 2 | 3 | 4 | 6 | 7 | 8 | 9 | 10
HOME | EXCEPTIONAL MINERALS | MINERAL AUCTION | SPECIMENS FROM PAST SHOWS | CONTACT US