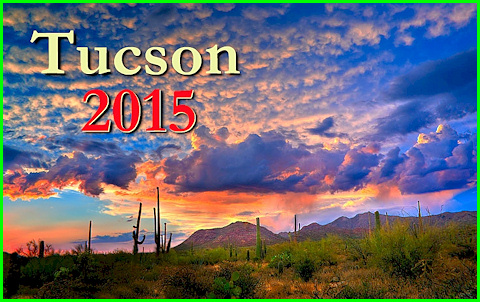 The Tucson 2015 Mineral Showrooms

* Re-Updated January 16th, 2017 *
MIN#Tucson2015-84 NEW!
Classic specimen of Rhodochrosite rhombs sitting atop Quartz matrix!
Beautiful specimen featuring a pair of Rhodo rhombs measuring 2.3 cm and 1.8 cm in size.
Both rhombs are pristine with no damage and well defined crystal faces. They sit aesthetically
atop a white Quartz matrix with other associated Sulfides. This is one of the better Sunnyside
Rhodochrosites I've seen recently and it could be trimmed is so desired. It's impressive as is.
From the Sunnyside Mine, Silverton Mining District, San Juan County, Colorado.
Measures 5.5 cm by 5.3 cm by 3.8 cm in total size.
Price $2500
MIN#Tucson2015-85 NEW!
Sculptural and truly artistic specimen of Native Gold on Quartz!
I love the way the Native Gold fans out in wing-like fashion across and through the white
Quartz matrix. This is one of the most attractive Gold specimens I've seen from Coolgardie,
simply due to its sculptural nature. The Gold is bright yellow, indicative of its very high purity.
From Coolgardie, Coolgardie Shire, Western Australia, Australia.
Measures 6 cm by 4.6 cm by 3.4 in total size.
Price $4500
MIN#Tucson2015-90 NEW!
Amazing specimen of Silver pseudomorphing after Acanthite crystals!
This is a tremendous Silver pseudo and the first I have seen from the Rayas Mine. The Native Silver has
pseudomorphed the majority of the Acanthite and also appears as small wires atop the crystal surfaces.
The habit of the Acanthites is somewhat hoppered and this has been well preserved by the Native Silver.
Interestingly enough, there is also Calcite present in the center of the specimen and a small purple Fluorite.
From the San Juan de Rayas Mine (Rayas Mine), Guanajuato, Mun. de Guanajuato, Guanajuato, Mexico.
Measures 5.2 cm by 5.7 cm by 4.1 cm in total size.
Ex. Romero, Stoudt Mineral Collections
Price $4500
MIN#Tucson2015-97 NEW!
Beautiful cabinet sized example of Malachite included Cave Calcite!
These are found inside mines and often they are included with the local minerals as this one is.
The Malachite present in Mapimí has included the sculptural Calcite and turned it a lovely
shade of green. In excellent condition, this is a specimen that could be display from all sides.
From Mapimí, Mun. de Mapimí, Durango, Mexico.
Measures 11.7 cm by 7 cm by 6.8 cm in total size.
Price $1850
- LINKS TO THE TUCSON 2015 SHOWROOMS -
1 | 2 | 3 | 4 | 6 | 7 | 8 | 9 | 10
HOME | EXCEPTIONAL MINERALS | MINERAL AUCTION | SPECIMENS FROM PAST SHOWS | CONTACT US