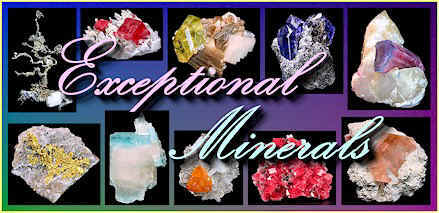 ** Updated January 8th, 2017 with Our Finest Showroom Specimens **
MIN#EXCEPTIONAL-1 NEW!
Tremendous specimen of Native Silver wires rising high atop Acanthite covered matrix!
True museum quality, this incredible German Silver has been in a private collection for years but was
offered to me at the show and I was very happy to acquire it for the website! The aesthetics are superb
and it's difficult to walk away from the specimen without taking several glances as many people discovered
when they lined up to admire the classic Silver in my Tucson showcase. The sturdy wires rise up from a base
of Native Silver and Acanthite, and you can even see some thick wires sprouting downward from the gray
Acanthite in the opposite direction. This is pretty amazing to say the least. The beautifully patinaed wires
are thick and quite firm as they rise upward some 12 cm above the base. Two of the wires along the left
side actually come together to form a "ring" which is another feature unique to this specimen. This is one
of the finest German Silvers I've ever offered on the website and has all the qualities of a true centerpiece.
From the Himmelsfürst Mine, Freiberg District, Erzgebirge, Saxony, Germany.
Measures 14.3 cm by 8.2 cm by 3.9 cm in total size.
Ex. Wolfgang Wendel, Kevin Ward, Brown Mineral Collections
Comes with a custom made, labeled display base
Price $95,000
MIN#EXCEPTIONAL-2 NEW!
Gorgeous rhomb of Rhodochrosite sitting atop Quartz crystals!
It looks like a Sweet Home Rhodo but it's not. It's from the famous Pasto Bueno locale in Peru
and this specimen is one of the finest Rhodochrosites from there that I've found in years. The rhomb
is quite large, measuring 3 cm in size, corner to corner. it is complete and display the hot pinkish-red
color that the best Pasto Bueno Rhodos are reknown for. The rhomb sits atop a matrix of Quartz crystals
smaller Rhodo rhombs along the base. In excellent condition with great eye appeal with only trivial contacts.
Note - The white area at the top right corner is not a contact, it is a tiny inclusion and the corner is complete.
From Pasto Bueno, Pampas District, Pallasca Province, Ancash Department, Peru.
Measures 3.8 cm by 4.4 cm by 3.6 cm in total size.
Price $6500
MIN#EXCEPTIONAL-3 NEW!
Gorgeous display specimen featuring large white stalactites of Aragonite perched alongside green Fluorite!
This is an impressive specimen to say the least. It's the first combination of Fluorite with Aragonite that
I've seen in the marketplace even though it's found throughout the Rogerley Mine. I would guess that not
many are preserved during the extraction process. The stalactites of Aragonite here are absolutely beautiful
with five distinct points and snowy-white surfaces. They sit atop the left side of the matrix with gemmy green
Fluorite crystals measuring to 2.2 cm in size covering the entire right side. The Fluorites are often twinned
and display a strong fluorescence. Small frosted Galenas are scattered about among the Fluorite. In very
good condition overall with only a scattering of minor contacts. This is a superb large cabinet centerpiece.
From the Rogerley Mine, Rogerley Quarry, Frosterley, Weardale, North Pennines, Co. Durham, England.
Measures 25 cm by 16.5 cm by 11.4 cm in total size.
Comes with a custom made, engraved display base
Price $12,500
MIN#EXCEPTIONAL-4 NEW!
RARE!! Brilliant Diamond attached to Kimberlite matrix from South Africa!
Matrix Diamond specimens from South Africa are extremely rare in that most Diamonds are found free
of their matrix. I've only seen two or three matrix specimens in the past 20 years and this crystal represents
the largest. It measures .7 cm in size and approximately 1.2 carats. It displays an intense, white brilliance
through very crystalline surfaces. As is typical for the locality, the Diamond surfaces are covered with multiple
secondary crystal faces, imparting a dazzling light reflectivity that shines like a spotlight under case lighting.
From the De Beers Mine, Kimberley, Francis Baard District, Northern Cape Province, South Africa.
Measures 4.3 cm by 4.5 cm by 2.6 cm in total size.
Price $14,500
MIN#EXCEPTIONAL-5 NEW!
Rare specimen featuring light blue Celestine crystals sitting atop bright yellow Sulfur!
This is an Italian classic, the likes of which I rarely see in the marketplace. The Celestine
crystals are perfectly terminated, rising nearly 3 cm above the Sulfur surface. They exhibit
transparent to translucent interiors and glassy-lustrous surfaces. The Sulfur matrix is a very
bright yellow and offers a beautiful contrast to the blue Celestine. In excellent condition with
barely a contact anywhere. The Sulfur has been stabilized on the bottom side along a crack.
From the Cozzo Disi Mine, Casteltermini, Agrigento Province (Girgenti Province), Sicily, Italy.
Measures 3.8 cm by 6.1 cm by 3.5 cm in total size.
Price $2850
MIN#EXCEPTIONAL-6 SOLD!
Exceptional and rare specimen of Native Leaf Gold in white Quartz matrix!
This is a MAJOR Gold specimen and of a quality seldom seen from the Oriental Mine in
California. The Gold appears as brilliant layers of leaf Gold with crystals present along
the edges of each seam. There are also flattened trigons apparent atop the surfaces of
the leaf Gold so you could actually say that the entire specimen is crystalline! The color
of the Gold is a super lustrous butter-yellow indicating a small Silver presence in the mix.
(Orange would indicate Copper). Specimens of Gold from the Oriental in this size range
are quite rare and specimens with this much Gold coverage are incredibly rare! This fine
specimen represents a unique opportunity for Gold collectors and mineral collectors alike!
From the Oriental Mine, Alleghany, Forest District, Sierra County, California.
Measures 6.8 cm by 6.3 cm by 5 cm in total size.
Ex. Kevin Ward Mineral Collection
Price $18,500
MIN#EXCEPTIONAL-7 NEW!
Tremendous plate featuring Purple Fluorite cubes set against large, connected Galenas!
This is one of most unique Illinois Fluorites I've seen and I love the arrangement of the large
Galena cubes in the background, forming a "mountain range" above the Fluorite and Galena
covered surface in the foreground. The Galenas are quite interesting in that they almost look
like twinned crystals. There are three cubes in the cluster and they appear to be grown together
at the edges, creating the unique mountain-like appearance. In excellent condition with only a
scattering of tiny contacts on some Fluorites. You'll be hard pressed to find a more unique combo.
From the Denton mine, Harris Creek Sub-District, Hardin County, Illinois.
Measures 8 cm by 11.6 cm by 12 cm in total size.
Ex. Philip Eglsaer Mineral Collection
Price $3500
MIN#EXCEPTIONAL-8 SOLD!
Impressive specimen of Ram's Horn Selenite on Calcite matrix!
This is a classic old timer from the Copper mines in Bisbee, Arizona. I was taken by the piece
when I discovered it in Tucson and thought at first that it was Moroccan. The fact that it's from
Bisbee makes it many times better and much more desirable. There are actually several curling
Ram's Horns here but the main one that is the center of attention measures 7 cm in size! It's
in perfect, pristine condition and is firmly attached to the Selenite-Calcite matrix base it rises
from. This specimen was once part of a pocket which opened up wide enough to allow for the
Selenite to grow. It's fascinating to think about the earth processes which created such a beauty.
From Bisbee, Warren District, Mule Mts, Cochise County, Arizona.
Measures 18 cm by 18.5 cm by 10 cm in total size.
Price $4500
MIN#EXCEPTIONAL-9 NEW!
Tremendous specimen of brilliant Legrandite crystals on a small amount of Limonite matrix!
One of the finest Legrandite miniatures I've ever seen! This minature sized "Aztec Sun" came to
market at the show from a private collection and offers a unique opportunity for collectors to add
a very high quality Legrandite to their own collection. The specimen is in excellent condition with
super glassy crystals to nearly 4 cm in length! The luster is fantastic and light dances across the
specimen's radial structure when held and rotated. A small amount of matrix is located along the
bottom and there is also a small amount at the very top, indicating the crystals grew inside a vug
or matrix recess. The largest crystals along the left edge are terminated at both top and bottom.
From the Ojuela Mine, Mapimí, Mun. de Mapimí, Durango, Mexico.
Measures 4.4 cm by 3 cm by 2.1 cm in total size.
Ex. Santa Fe Mineral Collection
Comes with a custom made, labeled display base
Price $22,500
MIN#EXCEPTIONAL-10 NEW!
Awesome cabinet plate featuring Malachite stalactites on shimmering botryoidal Malachite!
This specimen caught my eye and it is the finest Malachite stalactite plate I've seen in half a decade.
I counted well over a dozen Malachite stalactites rising up from the glistening botryoidal Malachite
surfaces and all are complete at top, save for one, which has naturally broken open to show the internal
radial structure before recrystallizing sometime in the past. I always like to see at least one broken
stalactite on these specimens because it greatly increases the contrast and visual aesthetic quality.
The largest stalactites along the left edge are partially coated with a darker Malachite crystallization
which only further enhances the beauty and luster of this plate. Nearly pristine with barely a contact.
From the Shaba Copper Belt, Katanga (Shaba), Democratic Republic of Congo
Measures 10 cm by 13.7 cm 10.4 cm in total size.
Price $6500
MIN#EXCEPTIONAL-11 NEW!
Classic and very rare specimen of lustrous gray Acanthite crystals with Chalcopyrite on matrix!
The largest crystal in the middle measures 1.8 cm in length! The remainder of this very rich
Silver Sulfide is covered with smaller Acanthites and patches of iridescent Chalcopyrite.
From the Eldorado Mine, Port Radium, Mackenzie District, Northwest Territories, Canada.
(This locality was discovered in 1900 and mined as a source of Silver and Radium in the 1930's.
It was dewatered in 1976 and mined again for its Silver and Copper reserves before closing for
good in 1982. The mine and its settlement were destroyed by fire and no longer exist today.)
Circa 1930's - Measures 4.7 cm by 5.2 cm in size.
Ex. Philadelphia Academy of Natural Sciences Collection
Ex. Kevin Ward Mineral Collection
Comes with a custom made acrylic stand
Price $8500
MIN#EXCEPTIONAL-12 NEW!
EXCEPTIONAL COPPER!! Bright, lustrous crystals of Native Copper!
A stunning cluster of Copper crystals with a super shiny surface and lustrous
faces. There's a combination of Quartz, Calcite, and Epidote accenting between
and atop several of the well formed crystals. No damage to speak of and one of
the prettiest patinas I've seen in a long time on a Michigan Copper specimen.
From the Calumet & Hecla Mine, Calumet, Houghton County, Michigan.
Circa late 1890's - Measures 6.5 cm by 4.1 cm by 3.2 cm in size.
Comes with a custom made, engraved base
Price $4500
MIN#EXCEPTIONAL-13 NEW!
Impressive cabinet plate of Galena cubes with Sphalerite on Chert matrix!
This was the finest Tri-State plate I saw at the show and it's one of the best I've seen in several
years. The Galenas are beautifully centered near the top of the matrix, exhibiting mirror-like lustrous
faces and a very sharp, uncluttered form. The largest Galena measures 5 cm in size and it "hugs" a
smaller Galena along the far left edge. The Galenas are in excellent condition with the only cleaves
being along the trimming edge. The crystals are somewhat stepped along the back edge so I can't
tell if the cleavage is natural or man made but it don't detract. Below the Galenas are lustrous
Sphalerite crystals measuring to nearly 3.5 cm in size. These are surrounded by smaller "Rubyjack"
Sphalerite crystals which are scattered atop the sparkling Chert matrix. The is one of those rare
Tri-States pieces that have a presence to them. This large plate is both aesthetic and impressive.
From the Barr Mine, Vinegar Hill, Treece, Picher Field, Tri-State District, Cherokee Co., Kansas.
Measures 14.5 cm by 15 cm by 6 cm in total size.
Ex. Fred Meissner Mineral Collection
Price $5500
MIN#EXCEPTIONAL-14 NEW!
Sharp crystals of Acanthite and curling Native Silver wires!
Both Silver minerals sit atop a matrix of Quartz with Quartz crystal sprays.
The Acanthite crystals are so incredibly sharp and lustrous that at first glance, one
might not even notice the small "ram's horn" Silver located on the far right side of
the specimen! Acanthite and Silver combos from Mexico are rarely seen at the shows.
From the Reyes Mine in Guanajuato, Mexico.
Measures 5 cm by 3 cm by 2.5 cm in total size.
Price $2850
MIN#EXCEPTIONAL-15 NEW!
Fine elongated crystals of orange Wulfenite with Calcite on Limonite!
Doubly terminated, lustrous, and deeply colored, these Wulfenites are in excellent condition!
They sit atop a dark brown Limonite matrix, accented by snowy-white Calcite crystals.
From the Ojuela Mine, Mapimi, Durango, Mexico.
Measures 5 cm by 9.9 cm by 4.5 cm in total size.
Price $2850
MIN#EXCEPTIONAL-16 NEW!
Amazing cabinet plate featuring large snowball Calcites with Siderite on Sphalerite!
I rarely see these impressive specimens at the shows and this one came to market from an older
European collection. This plate is in wonderful condition and displays numerous snowball Calcites,
measuring to 3 cm in size! They sit atop yellowish-brown Siderite crystals and a flashy-lustrous layer
of shiny Sphalerite crystals. Very aesthetic and 3-dimensional in appearance, this is a true classic!
From the Rudabánya, Rudabányai Mts, Borsod-Abaúj-Zemplén County, Hungary.
Measures 10.2 cm by 11.5 cm by 5 cm in total size.
Ex. Huber, Otto Fitz Mineral Collections
Price $2850
MIN#EXCEPTIONAL-17 NEW!
Dramatic specimen featuring Native Copper crystals with Native Silver banding!
This is a tremendous halfbreed and definately one of the most attractive I've seen from the
White Pine Mine. It's almost completely crystalline and features Silver banding near the base,
just above the base, and at the midpoint of the "V". The color and luster shift is quite noticeable
and makes for great aesthetics. I see what appears to be a spinel-twin Copper crystal along the
right side of the upper branches and the Copper luster is evident through the reddish-brown patina.
From the White Pine Mine, White Pine, Ontonagon County, Michigan.
Measures 11 cm by 10.4 cm by 1.5 cm in total size.
Ex. Liebetrau Silver Collection
Comes with a custom made, labeled display base
Price $7500
MIN#EXCEPTIONAL-18 NEW!
Gorgeous and very impressive plate of Orange Calcite scalenohedrons in cluster on Amethyst crystals!
A spectacular large cabinet sized centerpiece, the orange Calcites in the center are deeply colored with
an intense flowing lustrous. They are completely orange and not coated orange and this is not a color one
often sees in Calcite crystals. They're actually quite rare and this is the finest large plate of this variety
that I've seen in a long time. In excellent condition across the entire length of the plate with barely a scuff.
From Ametista do Sul, Alto Uruguai Region, Rio Grande do Sul, Brazil.
Measures 12 cm by 31 cm by 15.1 cm in total size.
Price $8500
MIN#EXCEPTIONAL-19 NEW!
Classic specimen of Native Copper with superb crystallization!
This is only the second cabinet sized Native Copper from Michigan that has caught my eye recently.
The crystallization of impressive Copper is sharp and unique (look at the incredible dendritic crystal
"wings" in the close-up photo!) and the entire specimen is composed of large, thick crystal dendrites
and Spinels. Along the left edge are unique 5.5 cm crystal growths that resemble wings and these are
attached to even larger crystal dendrites which form the majority of the center before finally twisting
their way upwards to the very top. Interesting note - If you look at the very center of the specimen, you
will see a smoother surface area that extends about one third of the specimen. This is an original drill bit
contact from the miner's drill! As if the specimen weren't unique enough, this puts it over the top! And
the provenance isn't too bad either. This specimen is Ex. Russell MacFall who was the former editor of
the Chicago Tribune. This specimen dates to the early 1900's and exhibits an antique patina over luster.
From the Phoenix Mine, Phoenix, Keweenaw County, Michigan.
Measures 16.5 cm by 10 cm by 7.5 cm in total size.
Ex. Russell MacFall Mineral Collection
Comes with a custom made, engraved display stand
Price $12,500
MIN#EXCEPTIONAL-20 NEW!
Large and dramatic plate featuring Danburite crystals in cluster with Quartz!
This is a wonderful plate displaying numerous large Danburite crystals, all completely
terminated and glassy with an accenting of tiny golden Pyrites. The tips of these crystals
become much more transparent while the majority of the thick crystals are mostly opaque
and translucent. Also with Quartz scattered about. In excellent condition with a great display.
From Charcas, Mun. de Charcas, San Luis Potosí, Mexico.
Measures 12 cm by 16 cm by 9.9 cm in total size.
Ex. Rausch Mineral Collection
Price $2850

- LINKS TO ALL THE EXCEPTIONAL ROOMS -
1 | 2 | 3 | 4 | 5 | 6 | 7 | 8 | 9 | 10 | 11 | 12
HOME | BEST OFFER MINERAL AUCTION | SPECIMENS FROM PAST SHOWS | CONTACT US