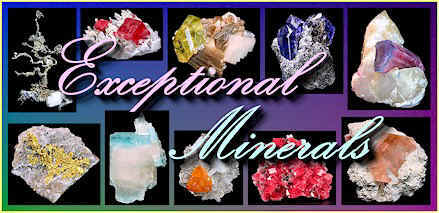 ** Updated January 8th, 2017 with Our Finest Showroom Specimens **
MIN#EXCEPTIONAL-41 NEW!
Classic museum calibre specimen featuring Amethyst with Calcite, Chalcopyrite, and Quartz!
This is one of my first specimens as a collector and it was formally in the mine director's personal collection.
It's a stunning combination of crystals with golden Chalcopyrites and large, well formed Calcite crystals. The
smoky-purple Amethyst crystal points add the perfect contrast and complete a very beautiful cabinet piece.
In excellent condition with large, perfectly terminated Amethyst crystals amid brilliant, lustrous Chalcopyrites.
From Taxco de Alarcón, Mun. de Taxco, Guerrero, Mexico.
Measures 16.6 cm by 12.7 cm by 8.9 cm in total size.
Ex. David Morrell, Kevin Ward Mineral Collections
Price $12,500
MIN#EXCEPTIONAL-42 NEW!
Classic specimen featuring a large reddish-pink Rhodochrosite rhombs perched atop Fluorite crystals!
This is a wonderful combination piece from the classic locality of Silverton, Colorado. The largest rhomb
measures 3 cm in width and sits atop several smaller rhombs. Beneath the Rhodos is a lustrous cluster of
colorless Fluorite octahedrons. They cover the top and front side of the Quartz matrix. In excellent condition.
From Silverton, Animas District, San Juan County, Colorado.
Measures 6.2 cm by 5.5 cm by 6.4 cm in total size.
Price $2850
MIN#EXCEPTIONAL-43 NEW!
Elegant specimen featuring curling wires of Native Silver rising from an Acanthite matrix!
This is a gorgeous Silver specimen from the world famous Freiberg District and one that is every bit as
impressive as the larger specimens at just a fraction of their price. The numerous wires rise vertically
before twisting and curling near the tips, forming a specimen that is both well balanced and attractive.
The patina is a rich golden-brown near the base and this changes over to a darker gray as a very fine
Acanthite evenly covers the upper portions of the wires. This is indicative of a specimen that is both
original and untampered with since repeated cleaning can remove this fine layer of Acanthite. Original
classic Silvers are highly sought after by most collectors and much more attractive in my own opinion.
From the Himmelsfürst Mine, Brand-Erbisdorf, Freiberg District, Erzgebirge, Saxony, Germany.
Measures 10 cm by 6.2 cm by 1.5 cm in total size.
Ex. Liebetrau, Brown Mineral Collections
Comes with an engraved display base
Price $18,500
MIN#EXCEPTIONAL-44 NEW!
Exceptional specimen of Walworth Fluorite with Calcite on Dolomite lined matrix!
This amazing Fluorite specimen was offered to me during the Westward Show and gathered quite a crowd
when others saw it. The Fluorite is an elongated cube measuring nearly 4 cm in length! It is completely
pristine with a gemmy blue interior, glassy faces, and modified corners (typical of Walworth crystals).
To top it all off, there is also an internal rainbow which is probably caused by a transparent inclusion
of Selenite near the left corner. The above photograph shows part of the rainbow and it grows more
intense as the specimen is rotated. I can count the number of great Walworth Fluorites I've seen on just
two hands and this is both the finest and largest of them all. A rare opportunity for the Fluorite collector!
From the Walworth Quarry, Walworth, Wayne County, New York.
Measurements - 6 cm by 6.1 cm by 6.2 cm in total size (miniature size).
Ex. David Kords, Webb Mineral Collections
Comes with a custom made, labeled display stand
Price $8500
MIN#EXCEPTIONAL-45 SOLD!
Museum quality Petrified limb of Chromium colored wood (Araucarioxylon arizonicum)!
From one of the oddest finds of Petrified wood in the world, this Conifer tree existed between
65 and 200 million years ago during the Triassic Era. When the tree died and was becoming
petrified, it became exposed to the mineral Chromium (same mineral which colors Emeralds).
Native Americans were the first to find the material and used it in jewelry making but kept the
location a secret until it was eventually rediscovered and authenticated by the Smithsonian.
These specimens are natural hygrometers. When dry they become a very light pale green and
when wet or exposed to humidity they turn a deep green. This specimen is the largest and finest
example I've ever seen from this small find! It is an entire petrified tree limb or branch, polished
at both ends, and displaying bark structure along its entire incredible length! The specimen is in
excellent condition and represents a rare opportunity to acquire a large branch for your collection.
From a locality near Winslow, Navajo County, Arizona.
Measurements - 30 cm by 8.4 cm by 7.5 cm in total size (large cabinet).
Price $12,500
MIN#EXCEPTIONAL-47 NEW!
Exceptional crystal-clear Fluorite dodecahedron perched between Green Quartz
(Hedenbergite included) and atop Calcite! The glassy Fluorite itself is pristine and very
lustrous, measuring nearly 4 cm across the front. A smaller sidecart crystal is incomplete
on the backside but this doesn't affect the large Fluorite. Most of the Green Quartz
crystals are terminated with the largest being doubly terminated. The Calcites near
the bottom add a nice touch to what is a very attractive specimen of bygone mining.
From Dal'negorsk, Primorskiy Kray, Russia.
Measures 7.4 cm by 6 cm by 4.8 cm in total size.
Ex. Edward David Collection
Price $2500
MIN#EXCEPTIONAL-48 NEW!
A Vanadinite crystal "flower"!
A beautiful specimen, displaying a huge 4 cm Vanadanite sitting atop a base of smaller
Vanadinite crystals. It looks like a flower with the numerous angles and stepped corners.
There even appears to be some slight hoppering due to the size of the crystal. All the crystal
surfaces are brilliantly lustrous and colored a deep, translucent glowing orange. In excellent
condition with no detracting contacts. The ridge which rises outwards along the bottom center
displays some light matrix influence but nothing more. One of the largest Vanadinites I've seen.
From the Coud'a workings, Mibladen Mining District, Midelt, Meknès-Tafilalet Region, Morocco.
Measures 6.3 cm by 3.7 cm by 2.7 cm in total size.
Ex. Lockhart Mineral Collection
Comes with a custom made, labeled display base
Price $3500
MIN#EXCEPTIONAL-49 NEW!
Superb Calcite with distinctive axially aligned zoning!
This is one the finest examples I've seen of these specimens and the crystals are virtually flawless
with distinctive zoning and barely a contact anywhere. The specimen stands up on its own without
the need of a base and the aesthetic display of these translucent crystals climbing one another is
eye catching to say the least. The surfaces are mostly glassy with some texture near the corners
and a strong, flowing luster throughout. The zoning is the result of Hematite coating along older
faces and there are also some mossy-looking inclusions of another gray mineral near the edges.
From the Leiping Mine, Leiping, Guiyang Co., Chenzhou Prefecture, Hunan Province, China.
Measures 12.2 cm by 7.6 cm by 7.4 cm in total size.
Ex. Barnett Mineral Collection
Price $2500
MIN#EXCEPTIONAL-50 SOLD!
Gorgeous Gem!! A superb example of Precious Topaz on hard matrix from Katlang!
This crystal is so picture perfect and sharp that it almost appears to have been faceted!
The color is a brilliant pinkish-golden and the crystal bounces light around its interior like
a gemstone when highlighted. The Topaz measures just shy of an inch in size (2.3 cm) and it
resembles a stone that has been emerald cut. The surfaces are very glassy and lustrous with
clean edges and no contacts. This is one of the finest crystals I've seen in years from Katlang.
From Katlang, Mardan District, Khyber Pakhtunkhwa, North-West Frontier Province, Pakistan.
Measures 5 cm by 6.6 cm by 7 cm in total size.
Ex. Franz Lammer Collection
Price $3500
MIN#EXCEPTIONAL-51 SOLD!
Exceptional specimen of Native Silver crystals, one atop the other, atop a Native Silver base!
This is an old classic specimen, dating back to the 1880's, and it comes from the same collection
my "Pine Tree on Copper" specimen came from. Both were preserved by the same miner over
130 years ago and remained in his family before being sold just recently. This specimen is pure
Silver with no Copper present, and is formed from numerous crystals measuring to 2 cm in size.
Even the base appears to be a crystal or crystals that were flattened somewhat by surrounding
matrix which has long since been removed. The specimen is highly lustrous and exhibits a gentle
antique greyish-golden patina. It's very sculptural with a beautiful form and even includes a natural
opening formed by touching crystals along the top left. This was easily one of the most impressive
Native Silvers at the show and is completely original. It also offers a lot of size for a reasonable price.
From the Calumet & Hecla Mine, Calumet, Calumet Township, Houghton Co., Michigan.
Measures 9.7 cm by 3.6 cm by 2.1 cm in total size.
Ex. Kevin Ward Mineral Collection
Comes with a custom made, labeled display base
Price $9500
MIN#EXCEPTIONAL-52 SOLD!
Brilliant semi-crystalline Native Gold in white Quartz on matrix!
This is an Italian Gold specimen! And easily one of the richest Italian Golds I've seen in a good
number of years. The Gold is everywhere atop the Quartz and is highly lustrous, exhibiting thick
leaves with a bright yellow color. Rarely does one see an Italian Gold with such heavy coverage.
From the Brusson Mine, Brusson, Ayas Valley, Aosta Valley, Italy.
Measures 3.8 cm by 4 cm by 2.8 cm in total size.
Ex. Hauck Mineral Collection
Price $4500
MIN#EXCEPTIONAL-53 NEW!
Exceptional specimen featuring dozens of fine Silver dendrites on Quartz matrix!
This is one of the most impressive San Genaro Silvers I've seen in years and it is literally
covered with Silver crystals, spinel-twins, and feather-like dendrites across the entire surface.
The crystals are sharp and lustrous with a golden-brown antique patina. The specimen is quite
heavy due to its coverage and the Quartz matrix is heavily filled with small Acanthite crystals.
From the San Genaro Mine, Castrovirreyna Dist., Castrovirreyna Prov., Huancavelica Dept., Peru.
Measures 4.5 cm by 8.2 cm by 5.4 cm in total size.
Price $6500
MIN#EXCEPTIONAL-54 NEW!
Impressive plate featuring numerous Benitoite crystals on a bed of white Natrolite!
Well over a dozen Benitoite crystals atop this plate with lots of blue gem to appreciate if
you're a stone cutter. I prefer the specimen to remain as is however. The crystals exhibit
a strong satiny luster and average 1.5 cm in size. There are in excellent condition save for
a couple of small contacts near the trim edge that get lost without the aid of magnification.
Benitoite plates of this magnitude are few and far between in the marketplace today so this
represents a rare opportunity if you need a fine small cabinet sized plate for your collection.
From the Dallas Gem Mine, San Benito County, California.
Measures 7.5 cm by 8.2 cm by 4.5 cm in total size.
Price $7500
MIN#EXCEPTIONAL-55 SOLD!
Rare and amazingly aesthetic specimen of Native Lead on matrix!
Native Lead is a rare mineral and admittedly, not one of the most aesthetic in the world. This specimen
is on an entirely different level however, as it is as aesthetic as many of the Native Silvers I've offered
on the website over the years. The Native lead starts at the bottom of the mosaic-style matrix and climbs
upwards until it finally rises high above the top with an arborescent looking crystalline spray. I've never
seen anything like this piece. The checker board style matrix of white Quartz and dark patches is awesome.
From Långban, Filipstad, Värmland, Sweden.
Measures 12.8 cm by 7.7 cm by 5.5 cm in total size.
Comes with a custom made, labeled display stand
Price $9500
MIN#EXCEPTIONAL-56 SOLD!
Gorgeous specimen of satiny Rosasite with Calcite and Hemimorphite blades!
This Rosasite is a lovely botryoidal blue with satiny lustrous surfaces which roll in and
out of the small matrix openings. Hemimorphite crystals, some doubly terminated, measuring
to 1.5 cm in size can be seen scattered atop the Rosasite along with small colorless Calcite
crystals. This is a stunning cabinet sized specimen in excellent condition with no detractions.
From the Ojuela Mine, Mapimí, Mun. de Mapimí, Durango, Mexico.
Measures 10.7 cm by 8.3 cm by 7.5 cm in total size.
Price $3500
MIN#EXCEPTIONAL-57 NEW!
Tri-State Classic featuring gorgeous crystals of deep golden Calcite on Chert matrix!
This is one of the finest Tri-State Calcites that I've ever offered. The crystals are gemmy with
some of the best golden color you'll ever see from this classic mining district. Their color is more
in line with something you'd see coming from the Elmwood Mine! I love the way three distinct
crystals habits appear on the same matrix, with the largest crystal in the back being doubly
terminated. It measures 7.5 cm in length and it as clear as glass near the tips and along the
upper edge. I can read the label card through the interior of the crystal! In excellent condition
with no damage to speak of - this specimen is incredibly well preserved considering its age.
From the Picher Mine, Picher Field, Tri-State District, Ottawa County, Oklahoma.
Measures 9 cm by 11.8 cm by 5.4 cm in total size.
Ex. Farnham Mineral Collection
Price $4850
MIN#EXCEPTIONAL-58 NEW!
Exceptional specimen of Calaverite crystals on Quartz matrix!
This is a very rich specimen of Calaverite which is a Gold Telluride. The Quartz matrix displays
numerous veins of the lustrous mineral alongside well formed Calaverite crystals. A closer look
with a loupe shows a surface which is literally covered with crystals, including one that measures
.6 cm in size! Specimens of this calibre from the old Cripple Creek Mining District are few and
far between and this is one of the richest and best examples of Calaverite that I've seen in years.
From Cripple Creek, Cripple Creek Mining District, Teller County, Colorado.
Measures 5.5 cm by 10.2 cm by 5.2 cm in total size.
Price $3250
MIN#EXCEPTIONAL-59 NEW!
Large gem Topaz crystals set atop Smoky Quartz from Namibia!
This was by far the most impressive Namibian multi-Topaz specimen at the show and it one of
the best I've seen in years. There are three terminated Topaz crystals here, measuring from
3 cm to nearly 4 cm in size. A fourth smaller Topaz is located on the back edge along the trimming
zone. The Smoky Quartz crystals are complete and terminated and display some internal phantoming
beneath the light brown exteriors. The crystals are all complete with some rehealing on the bottom
side. The Topaz crystals are gemmy for the most part with a very slight greenish-blue coloration.
From the Erongo Mountain, Usakos-Omaruru Districts, Namibia.
Measures 6.3 cm by 8.8 cm by 8.5 cm in total size.
Ex. Bahmann Mineral Collection
Price $3500
MIN#EXCEPTIONAL-60 SOLD!
Amazing cluster of Quartz var. Amethyst crystals pseudomorphing after Calcite crystals!
This is one of the most unique specimens of Amethyst I've ever seen. It's actually Amethyst Quartz, doubly
terminated with white centers, pseudomorphing Calcite crystals. The Amethysts are all hollow with the deepest
grape-jelly purple tips you'll ever see. Inside are Calcite casts which have been pseudomorphed with sharp form.
This is an exceptional display piece and a pseudomorph collector's dream specimen. I've never seen another like it.
From the Mina La Limera, Artigas, Artigas Department, Uruguay.
Measures 12 cm by 18 cm by 11.6 cm in total size.
Ex. Edward David, Van Tichelen Mineral Collections
Price $7500
- LINKS TO ALL THE EXCEPTIONAL ROOMS -
1 | 2 | 3 | 4 | 5 | 6 | 7 | 8 | 9 | 10 | 11 | 12
HOME | BEST OFFER MINERAL AUCTION | SPECIMENS FROM PAST SHOWS | CONTACT US