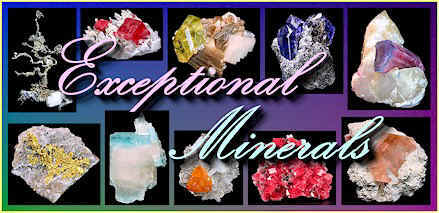 ** Updated January 8th, 2017 with Our Finest Showroom Specimens **
MIN#EXCEPTIONAL-161 NEW!
VERY RARE!! Historic specimen featuring Acanthite crystals on Erythrite (Cobalt bloom) covered matrix!
Specimens of this combination from Cobalt are so rare that you'd be lucky to see one in a decade. This is the first I've offered
in the history of this website (15 years) and I've seen no others, not even during my visit to Cobalt several years ago. Simply
put, not many large Acanthite specimens with their original Erythrite coating survive from the Cobalt Mining Disrict. Most
were cleaned or had their Erythrite bloom removed and that is a shame because it's such a large part of the region's history.
Erythrite, being a Cobalt mineral, is also the reason behind the town's name. This large plate has been preserved since it
was mined in the early 1900's and the Acanthite crystals are lustrous, measuring to 1.5 cm in size. They are well scattered
atop the red surfaces. This specimen is a rare opportunity to acquire an original specimen from a great Silver mining district.
From the O'Brien Mine, Coleman Township, Cobalt area, Cobalt-Gowganda region, Timiskaming District, Ontario, Canada.
Measures 12 cm by 13.5 cm by 3.4 cm in total size.
Ex. Robert W. Hauck Mineral Collection
Comes with a custom made, labeled display base
Price $15,000
MIN#EXCEPTIONAL-162 NEW!
Gorgeous specimen featuring gem golden Calcite crystals with Quartz var. Amethyst!
A wonderful combination piece which displays a cluster of golden Calcites with some of the sharpest,
most distinct phantoms I've seen in a long time. A sparkling micro-crystalline coating of Hematite sprays
outlines the earlier terminations which are now visible through the gemmy, glassy Calcite exteriors. This
cluster sits alongside a gemmy purple cluster of Amethyst crystals which display some of their own internal
phantoming. There are also two additional isolated Amethyst crystals atop the Calcites. In excellent condition.
From Ametista do Sul, Alto Uruguai region, Rio Grande do Sul, Brazil.
Measures 9 cm by 11 cm by 7.2 cm in total size.
Price $5500
MIN#EXCEPTIONAL-163 NEW!
Exceptional Native Wire Silver rising up from a Quartz crystal vug with Fluorite!
This is an impressive specimen featuring a thick, twisting wire of Native Silver measuring
4 cm in length. It's also up to 1 cm thick at the base and sits aesthetically atop the matrix
which is mostly Quartz points with a small colorless Fluorite and a green mineral which may
be Chlorite . This is one of the finest, 3-dimensional Kongsberg Silver miniatures I've seen.
From the Kongens (Kings) Mine, Kongsberg Silver Mining District, Kongsberg, Buskerud, Norway.
Measures 4.5 cm by 4 cm by 4.6 cm in total size.
Ex. Lyckberg Mineral Collection
Price $8500
MIN#EXCEPTIONAL-164 NEW!
Dazzling specimen of orange to yellow Pyromorphite crystals on matrix!
This is one great looking Pyro! The crystals are all in excellent shape with complete terminations.
The crystal faces are super lustrous and reflect even the faintest light to create a brilliant glassy
sparkle when the specimen is tilted from side to side. This is a very impressive miniature plate.
From the Jersey Vein, Level 9, 17-23 Floors, Bunker Hill Mine, Kellogg, Idaho.
Measures 6.2 cm by 6.6 cm by 4.5 cm in total size.
Price $4500
MIN#EXCEPTIONAL-165 NEW!
Aesthetic specimen featuring Amazonite crystals and Cleavelandite surrounded a large Smoky Quartz!
A beautiful combination specimen of turquoise-colored Amazonite and Smoky Quartz from Colorado.
Not only is this specimen very well balanced and super aesthetic, it's also one of the few you will ever
find that is completely unrepaired! This specimen is unrestored and unrepaired and nearly pristine.
The only contact I see is a natural one and it gets lost in the Cleavelandite. This is a great specimen!
From Teller County, Colorado.
Measures 8.2 cm by 7.9 cm by 3.6 cm in total size.
Ex. Voelter Mineral Collection
Price $4850
MIN#EXCEPTIONAL-166 NEW!
Rare locality specimen featuring phantomed Fluorite cubes with Calcite clusters!
This may be the first specimen I've offered from the Spivey Mine and it's a good one. Both
Fluorites display a strong phantom just beneath the surface and just above the golden interiors.
The Fluorites are in good shape with one small cleave near the bottom. The are surrounded by light
yellow Calcite crystal clusters on three sides in addition to some tiny accents of Chalcopyrite. The
Fluorites are rehealed on the bottom. I don't recall another specimen from this rare locale on the website.
From the Spivey Mine, Harris Creek Sub-District, Illinois - Kentucky Fluorspar Dist., Hardin Co., Illinois.
Measures 7.2 cm by 9.8 cm by 4.2 cm in total size.
Ex. David M. Crawford, Trimingham Mineral Collections
Price $2850
MIN#EXCEPTIONAL-167 NEW!
Stunning classic combination of Native Silver wires on sharp Acanthite crystals!
This is one of the most beautiful specimens I've seen from the famous Creede Silver
Mining District. It even features a perfect "rams-horn" curling wire along the far left
edge. The Acanthite crystals are sharp and impressive, appearing like mountain peaks
above the numerous, lustrous Silver wires which grow outwards from every recess.
From the Bulldog Mine, Creede Mining District, Mineral County, Colorado.
Measures 2.5 cm by 3.5 cm by 2.1 cm in total size.
Ex. Trimingham Mineral Collection
Price $3500
MIN#EXCEPTIONAL-168 NEW!
Aesthetic combo plate of Smoky Quartz on Amazonite with Goethite ps. Siderite crystals!
First of all, the color of the Amazonite is excellent! That's one of the most important factors
for these combo specimens. Secondly, the Smoky points are all terminated and complete
with only a single nearly invisible repair to the large 6+ cm Smoky in the center. The
brownish crystals to the upper right are Goethite pseudomorphing Siderite crystals.
From Ken's Pocket, Two Point Claim, Teller County, Colorado.
It measures 10.5 cm by 11.5 cm by 9 cm in total size.
Comes with a custom made, labeled display base
Price $6500
MIN#EXCEPTIONAL-169 SOLD!
Exceptionally rare specimen of crystalline Native Silver on massive Silver matrix!
This incredible cabinet sized specimen is from Austin, Nevada and dates back to the mining
heyday of the 1880's! Most of the white Quartz matrix has been removed to expose the numerous
Silver crystals atop the underlying rich seam of Native Silver. Historically, Austin was mined mostly
for its Silver with very little Gold present in the mix. The Silver formed inside narrow Quartz seams,
as this specimen did, but most Silver was in the form of Silver Sulfides. A Silver specimen of this
size and purity was very uncommon which explains why the specimen was preserved for posterity.
The surfaces are covered with an antique golden-brown patina with some iridescence in the recesses.
The Quartz matrix has been reduced to the deeper recesses and back side of the specimen. Silver
specimens from the early mining period of Nevada history are extremely rare and there are very
few surviving specimens of this calibre. This belongs in a fine Silver or Nevada mineral collection.
From Austin, Lander Hill, Reese River District, Lander County, Nevada.
Measures 12.4 cm by 7.3 cm by 4 cm in total size.
Ex. Beatty Exchange Club, Kevin Ward, S. Lincoln Mineral Collections
Comes with an engraved display base
Price $9500
MIN#EXCEPTIONAL-170 NEW!
Beautiful specimen of Amethyst crystals among Quartz crystals on matrix!
This is a spectacular cabinet piece, displaying gorgeous inclusions of Amethst purple and
Smoky brown, all together on the same matrix. You might even say that the largest vertical
crystal on the left side displays a mixture of both Amethyst and Smoky coloration within the
same interior. This crystals measures just shy of 6 cm in length and like the others, is perfectly
terminated with super glassy faces and a gemmy interior. This specimen is pristine to my eyes
and I can't find a single negative thing to say about. It's also well trimmed with centered crystals.
From the Goboboseb Mountains, Brandberg Area, Erongo Region, Namibia.
Measures 9.5 cm by 10 cm by 10 cm in total size.
Ex. Bernardi, Toursel Mineral Collections
Comes with a custom made, labeled display base
Price $4850
MIN#EXCEPTIONAL-171 NEW!
Exceptional specimen featuring Native Silver dendrites with Calcite matrix!
Look at the incredible crystalline dendrites that climb the matrix on both the front and back!
Another smaller Silver "feather" can be seen near the lower right in the first photo. There's a slight
iridescence coloring the surface of the larger dendrites and several spinel-twin crystals can be seen poking
out between the dendrites on all sides. Without a doubt, this is the most impressive Silver I've seen from the
San Genaro Mine and one of the largest as well. Everything else I've encountered has been thumbnails or
very small miniatures. None have featured the impressive coverage and crystallization of this stunning piece.
From the San Genaro Mine, Castrovirreyna District, Castrovirreyna Province, Huancavelica Department, Peru.
Measures 6 cm by 4.5 cm by 4 cm in total size.
Ex. James & Imelda Klein Mineral Collection
Price $7500
MIN#EXCEPTIONAL-172 NEW!
Stunning specimen featuring highly lustrous Sphalerite crystals with Quartz points!
The Sphalerite crystals are incredibly reflective and lustrous and offer an exceptional
visual contrast with the Quartz crystal points which jut out in all directions, completely
surrounding the black Sphalerite crystals in the center. In excellent condition with sharp,
triangular crystal faces and brilliantly striated surfaces, this specimen is loaded with
eye appeal. The Quartz points are complete and perfectly terminated and the only real
contacts are the normal ones that are found along the trimming edges of the specimen.
From the Krushev dol deposit, Krushev dol mine, Madan, Rhodope Mts, Smolyan Oblast, Bulgaria.
Measures 9.4 cm by 11.8 cm by 7 cm in total size.
Ex. Van Tichelen Mineral Collection
Price $2500
MIN#EXCEPTIONAL-173 NEW!
Beautifully crystallized Native Copper "fan" on Native Copper crystals!
This specimen is somewhat unusual for the White Pine Mine which is usually known for its
wires and fine dendrites. The top portion is an impressive crystalline fan that can be displayed
from either the front or back sides. The fan sits atop a more typical dendritic crystal formation at
the bottom and I love the visual impact of a large fan-like arrangement of crystals atop a smaller
dendritic growth. This is the way the specimen is displayed on its acrylic base as well. The surfaces
are lustrous and the crystallization is sharp and distinctive. A lovely antique patina covers all surfaces
and also allows the reddish color to peak through between the crystal faces. This is a great display piece.
From the White Pine Mine, White Pine, Ontonagon County, Michigan.
Measures 19.7 cm by 8.7 cm by 1.8 cm in total size.
Comes with a custom made, labeled display base
Price $6500
MIN#EXCEPTIONAL-174 NEW!
Super aesthetic plate featuring Scheelite crystals with Fluorite on Muscovite!
This is great looking specimen. The two Scheelites are well matched, highly lustrous, and gemmy
to translucent. The Fluorite cube is also well matched to the Scheelites, measuring 2.1 cm to the
2.1 cm and 2.3 cm Scheelites crystals. The specimen is in excellent condition and all three crystals
are complete. Just beneath the transparent Fluorite cube is a partial crystal of Fluorite which was
contacted along the trimming edge but this is of little importance to the specimen. Fine Scheelite
with Fluorite combo pieces are almost impossible to find these days and rarely appear at the shows.
From Mt Xuebaoding, Pingwu Co., Mianyang Prefecture, Sichuan Province, China.
Measures 9.4 cm by 7.9 cm by 3.8 cm in total size.
Ex. Holloway Mineral Collection
Price $3500
MIN#EXCEPTIONAL-175 NEW!
Gemmy, colorless crystals of Calcite surrounded by Stilbite crystals on matrix!
This is a beautiful specimen, featuring Calcite crystals to 6 cm in size, one of which displays
a gorgeous internal rainbow! The Calcites are highly lustrous with transparent interiors and
are framed by equally lustrous Stilbite crystals, many of which are doubly terminated. The
display is very aesthetic and the combination is stunning. In excellent condition with few
contacts and no damage. The specimen can also displayed in a myriad of ways, all attractive.
From the Jalgaon District, Maharashtra, India.
Measures 10 cm by 10.8 cm by 6 cm in total size.
Price $2850
MIN#EXCEPTIONAL-177 SOLD!
Stunning cavern of botryoidal Chalcedony and fine Millerite crystals!
A spectacular example of metallic needles from one of the world's premier localities.
The Chalcedony lined vug completely protects the lustrous, brassy Millerite needles
and provides a beautiful border for the specimen! The mining locality for this specimen
is now closed making cabinet sized specimens of Millerite very rare in today's market.
From Halls Gap, Lincoln County, Kentucky.
Measures 7.2 cm by 11 cm by 6.8 cm in size.
Price $4500
MIN#EXCEPTIONAL-178 NEW!
Exceptional combination of Scheelite with crystal-clear Fluorite on Muscovite!
These combos have become very rare in the marketplace and this is one of the best I've seen in years.
The Scheelite is vibrant and translucent with glassy-lustrous surfaces while the size of both the Fluorite
and Scheelite at 2.5 cm offers an beautiful matching display. In excellent condition with no contacting.
From the Mt. Xuebaoding Mine, Pingwu, Sichuan Province of China.
Measures 6.2 cm by 5 cm by 3.3 cm in total size.
Price $2500
MIN#EXCEPTIONAL-179 NEW!
Exceptional Native Copper featuring a large single crystal atop smaller Copper crystals!
This is a specimen that could be displayed from either the front or back sides and still look
incredible. The main crystal is beautifully formed with sharp, lustrous faces and a gorgeous
reddish-brown patina. This is a specimen that has not been messed with over the decades.
The crystal itself measures 5 cm in size and sits atop several smaller crystals at the base.
From the Copper Mining District, Keweenaw Peninsula, Michigan.
Measures 7 cm by 6.2 cm by 4.7 cm in total size.
Ex. David Roter Mineral Collection
Price $5500
MIN#EXCEPTIONAL-180 NEW!
Breathtaking plate of deep sky-blue Hemimorphite on matrix!
The surface of this fine specimen is botryoidal with a satiny, almost waxy luster. The color is a rich
blue which is somewhat reminiscent of Kelly Mine Smithsonite. This is a tall, attractive plate. It is
well trimmed and free of any distracting surface contacts. A plate that would make a fine centerpiece.
From the Wenshan Mine, Wenshan Co., Wenshan Autonomous Prefecture, Yunnan Province, China.
Measures 13.5 cm by 11.5 cm by 3.3 cm in total size.
Ex. K. Cooper Mineral Collection
Price $2500
- LINKS TO ALL THE EXCEPTIONAL ROOMS -
1 | 2 | 3 | 4 | 5 | 6 | 7 | 8 | 9 | 10 | 11 | 12
HOME | BEST OFFER MINERAL AUCTION | SPECIMENS FROM PAST SHOWS | CONTACT US