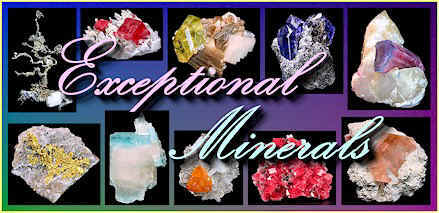 ** Updated January 2nd, 2018 with Our Finest Showroom Specimens **
MIN#EXCEPTIONAL-101 NEW!
Exceptional and very impressive specimen of Native Silver with Acanthite in Calcite matrix!
I acquired this specimen from a private collection in Cobalt and it went immediately into my personal cabinet.
It's the finest Cobalt Silver specimen I've seen and is a true centerpiece. Brilliant, leafy, dendritic Native Silver
rises upwards atop the various seams of Silver and gray Acanthite running through and atop the matrix below.
The appearance of the Native Silver rising atop the matrix and the contrasting seam throughout the Calcite and
greenish matrix is incredible and super aesthetic. I've searched for classic specimen of Silver from the world
famous Cobalt Mining District for many years and specimens of this calibre are extremely rare. A true prize!
From the Beaver Mine, Cobalt Area, Cobalt-Gowganda Region, Timiskaming District, Ontario, Canada.
Measures 14.2 cm by 14.3 cm by 8.3 cm in total size.
Ex. Bishop Mineral Collection
Comes with a custom made, labeled display stand
Price $35,000
MIN#EXCEPTIONAL-102 SOLD!
Gemmy crystals of green Demantoid Garnet with white acicular sprays of Wollastonite!
This specimen caught my eye from across the showroom. The visual aesthetics of the "fan-like" white
Wollastonite sprays against the grassy green Demantoid Garnets is stunning to say the least and the
combination is not commonly found on a plate of this size and overall quality. The Garnets are a rich
grassy green and super lustrous with glassy faces. They are well protected by the slightly concave
structure of the matrix and the Wollastonite acicular crystals spray outwards from the higher edges
surrounding the Garnets. In excellent condition with no detractions to speak of. Simply beautiful!
From the Khost Province (Khowst Province), Afghanistan.
Measures 11 cm by 8.3 cm by 5.4 cm in total size.
Price $8500
MIN#EXCEPTIONAL-103 NEW!
Sharp, lustrous crystals of Azurite with Malachite on Calcite covered matrix!
This is a tremendous old time classic from Zacatecas. It was formally in the famed Romero Collection
before being donated to the University of Arizona Mineral Museum. With so much attention paid to the
Milpillas specimens these days, the old classic Azurites from Mexico are being somewhat overlooked
and this is definately one that should be taken notice of. The surface of this plate is covered from one
end to the other by dozens of glassy-lustrous Azurite crystals. The crystals measure to 1.4 cm in size
and average around 1 cm in size. They display chisel-tip terminations and many are doubly terminated.
Surrounding the dark blue Azurite crystals are transparent Calcites and a small cluster of Malachite
ps after Azurite crystals to the far right. They all sit atop a matrix covered with smaller Calcites and
the specimen is in excellent condition overall, with most contacts being limited to the trimming edge.
From Concepción del Oro, Mun. de Concepción del Oro, Zacatecas, Mexico.
Measures 9 cm by 14 cm by 4.8 cm in total size.
Ex. Miguel Romero, University of Arizona Mineral Museum Collections
Featured in the Mexico Issue of The Mineralogical Record
Comes with a custom made, engraved letter base
Price $6500
MIN#EXCEPTIONAL-104 NEW!
Tremendous specimen of semi-crystalline Native Gold on Quartz matrix!
This is a super aesthetic specimen from the Gold fields of Western Australia. Gold is usually found
in nugget form and matrix specimens, especially matrix specimens of this quality and eye appeal, are
exceedingly rare. The color of the Gold is brilliant and it penetrates deep into the Quartz matrix and
can actually be seen as a seam along the bottom side edge. One of my favorite Golds from the show.
From Laverton, Laverton Shire, Western Australia, Australia.
Measures 7.2 cm by 3.4 cm by 3.2 cm in total size.
Ex. Selecki Mineral Collection
Price $18,500
MIN#EXCEPTIONAL-105 NEW!
Completely crystallized specimen of Native Silver on matrix!
Look at the hundreds of crystals and cubes which make up this very impressive Mexican Silver!
This is easily one of the most crystallized Batopilas specimens I've ever come across. The patina
is a lovely antique-golden brown and the crystals are present on both sides of the specimen!
From Batopilas, Chihuahua, Mexico.
Measures 5.2 cm by 5.8 cm by 4.3 cm in total size.
Price $2850
MIN#EXCEPTIONAL-106 NEW!
Lovely specimen featuring two Beryl var Aquamarine crystals crossing atop Albite with Apatite!
This is a true work of art. Both gemmy blue Aquamarines are doubly terminated, forming a Saint Andrew's
cross near the center. The right Aquamarine steps down below the cross but the form is perfect. Two pinkish
Apatite crystals measuring to 2.5 cm in size sit atop the specimen which is completely framed by bright white
crystals of Albite. The eye appeal and aesthetical qualities of this specimen are exceptional. No damage.
From Baha, Braldu Valley, Skardu District, Baltistan, Gilgit-Baltistan, Northern Areas of Pakistan.
Measures 8.7 cm by 5.5 cm by 4.6 cm in total size.
Ex. Lockhart Mineral Collection
Comes with a custom made, labeled display base
Price $3500
MIN#EXCEPTIONAL-107 NEW!
Impressive and quite beautiful specimen featuring a large, doubly terminated Calcite with green Fluorites on matrix!
Also with Dolomite along the back side, this is a lovely combination specimen the likes of which I haven't seen before.
The nearly 12 cm Calcite is perfectly doubly terminated with silky, lustrous surfaces. It it accompanied on both sides
and along the back side of the sparkling drusy covered matrix by gemmy green Fluorite cubes of a modified nature.
Some well defined Dolomite crystals are also present along the back side. In excellent condition with no detractions.
From the Shangbao Mine, Leiyang Co., Hengyang Prefecture, Hunan Province, China.
Measures 12.7 cm by 12.5 cm by 7.3 cm in total size.
Price $2850
MIN#EXCEPTIONAL-109 NEW!
Rare specimen of Native Silver with Safflorite and Amphibole Asbestos from Cobalt, Ontario!
This specimen is entirely composed of Native Silver leaves and dendrites, nestled between crystal
balls of Safflorite and sprays of Amphibole Asbestos. The Native Silver is lustrous with a slightly
golden patina while the Safflorite is steel gray to dark gray. This impressive specimen from the
historical Cobalt area is quite heavy and loaded with Silver all the way through the solid base.
The Amphibole Asbestos appears as tightly packed fibers and they sit atop the surface of both
minerals as well as filling the concave openings in the solid matrix. This is a superb example of
the richness of the Cobalt area, one of the richest strikes of Silver ever recorded. I wouldn't be
surprised if there was also some Nickeline or Skutterudite in this very rich mineral specimen.
From the Cobalt area, Cobalt-Gowganda region, Timiskaming District, Ontario, Canada.
Measures 5.4 cm by 12.8 cm by 3.8 cm in total size.
Ex. Kleine Mineral Collection
Price $4500
MIN#EXCEPTIONAL-110 NEW!
Dramatic, large specimen featuring Calcite covered crystals spraying out atop white Calcitic matrix!
Easily one of the more impressive Calcites I've seen recently, the orange sprays appear to be Calcite crystal
covered stalactites and they jut outwards from the white matrix in all directions. The surfaces are very flashy
with a sparkling luster in even faint room lighting. I don't detect any detractions and the specimen makes a great
centerpiece for any collection and especially for a Calcite suite. The orange coloration is probably from Hematite.
From Daye Co., Huangshi Prefecture, Hubei Province, China.
Measures 14.5 cm by 22.5 cm by 15.4 cm in total size.
Price $6500


Silver Islet 1870's-1880's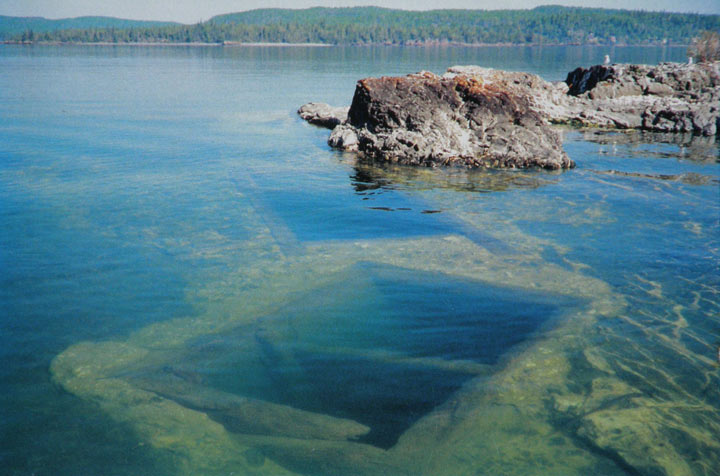 Silver Islet Mine today... The old mine shaft is visible beneath the fresh water of Lake Superior
MIN#EXCEPTIONAL-111 NEW!
Very rare specimen featuring wires of Native Silver and Acanthite in a Quartz matrix vug!
This specimen is from the famous Silver Islet Mine which is now completely underwater. This is
a very impressive specimen and one of the best I've seen from the locale, displaying thick wires
of Native Silver which emerge from the matrix recess and push outwards with a couple rising atop
the matrix where they form a curling ram's horn. Scattered about the edges and atop the Quartz
matrix are dark gray Acanthite crystals. A historical specimen dating back to the 1870s -1880s
since the mine closed for good in 1884. Very lustrous with a beautiful antique patina atop the wires.
From the Silver Islet mine, Silver Islet, Sibley Township, Thunder Bay District, Ontario, Canada.
Measures 5.7 cm by 4 cm by 3.6 cm in total size.
Ex. Charles M. Noll Mineral Collection
Price $4850
MIN#EXCEPTIONAL-112 NEW!
Impressive plate of Galena cubes with Pyrite set atop black Sphalerite matrix!
This is one of the finest large sized plates of Galena that I've seen from Creede. The sharpness of
the Galena cubes as well as their sheer number atop the matrix places the specimen above most of
what I've seen from this classic mining district. The cubes are reflective to lustrous and average around
1 cm or so with the largest measuring 2 cm in size. They are very well preserved with barely a contact
worth mentioning. Small golden Pyrite cubes are also present, interspersed between the Galena crystals.
From the Commodore Mine, Amethyst Vein, Creede District, Mineral County, Colorado.
Measures 10.4 cm by 16.2 cm by 5.4 cm in total size.
Ex. Bill Moller, Peterson, Trimmingham Mineral Collections
Price $3500
MIN#EXCEPTIONAL-113 NEW!
Impressive plate featuring bright green Uvarovite Garnet on matrix!
This is one of the better Uvarovite specimens I've had the pleasure of offering on the website.
It's small cabinet in size and richly covered from left to right with lustrous green Uvarovite Garnets
in varying sizes. The largest of these measure 4 mm in size which is pretty large for the locality. All
are gemmy with bright, reflective surfaces. The only contacts of note are those along the trim edge.
From the Saranovskii Mine (Saranovskoe), Permskaya Oblast', Middle Urals, Urals Region, Russia
Measures 5.5 cm by 11.2 cm by 2.1 cm in total size.
Ex. Galveston Mineral Collection
Price $2450
MIN#EXCEPTIONAL-114 NEW!
Beautiful large plate of green Fluorite on Quartz crystal covered matrix!
Very pretty assemblage of gemmy green Fluorite cubes, displaying modified stepped corners, sitting atop a matrix
covered with small Quartz points. The Fluorites are super clear, transparent all the way down to the underlying
Quartz crystals. They measure to 2.8 cm in size and number more than two dozen or so crystals. The color is
a gorgeous pure green and when the specimen is given a direct light source, it glows. In excellent condition
with a Quartz and Fluorite coverage present on both sides! The side in the photo above is the best display.
From Youxi County, Sanming Prefecture, Fujian Province, China.
Measures 17.5 cm by 17 cm by 9 cm in total size.
Price $2850
MIN#EXCEPTIONAL-115 NEW!
Superb combination plate featuring Beta Quartz crystals on green Datolite with Quartz accents!
This is a lovely large cabinet specimen and one that stood out in the same display case as the large Amethyst
plate in the earlier showroom. The plate is completely covered by glassy green Datolite crystals which range
from gemmy to translucent. These crystals are accented by small Quartz crystals which outline the edges and
fill the recesses between the Datolites. Sitting in the very center of this flashy plate is an impressive cluster
of Beta Quartz crystals, with the largest measuring 5 cm in size. Beta Quartz is a hexagonal bipyramidal form
of Quartz that occurs at high temperature. At room temperature it is actually Quartz ps. after Beta Quartz but
the unique crystal habit remains. There are a half dozen of these crystals in the center cluster. This is a very
fine plate and one of my favorites from the show. It is very well trimmed with few contacts. A true centerpiece.
From the Bor Pit, Dal'negorsk, Kavalerovo Mining District, Primorskiy Kray, Far-Eastern Region, Russia.
Measures 18.3 cm by 14 cm by 7.4 cm in total size.
Ex. Heinz Gugeler Mineral Collection
Price $4500
MIN#EXCEPTIONAL-116 NEW!
Sweet specimen of Arsenian Pyromorphite crystals on matrix!
This is a wonderful miniature with no visible damage and enough sparkle and flash for several
specimens. The crystals are bright yellowish-orange and display a visible translucence. Upon
closer examination with a 16x loupe, I can see just how glassy the crystal faces are and most
of the Pyromorphite crystals display a pyramidal termination. The matrix is brown and cast-like/
From the Bunker Hill Mine, Kellogg, Shoshone County, Idaho.
Measures 4 cm by 5.7 cm by 3.8 cm in total size.
Price $2500
MIN#EXCEPTIONAL-117 NEW!
Fine specimen of brown Fluorite on Celestite drusy matrix!
This specimen is from a find that occurred several years ago and quality specimen have
since disappeared from the market. I choose this specimen because the Fluorite cubes are
large and in excellent shape with smooth glassy faces and no detracting contacts. The largest
cube in the foreground measures nearly 4.5 cm in width and every Fluorite cube exhibits a
darker phantom just beneath the surface. They sit atop a white cluster of Celestite blades.
From the White Rock Quarry, Clay Center, Ottawa County, Ohio.
Measures 9.5 cm by 12.6 cm by 7.9 cm in total size.
Price $2850
MIN#EXCEPTIONAL-118 NEW!
Impressive specimen featuring LARGE Galena octahedrons on Quartz from Colorado!
I don't think I've seen a specimen with larger crystals from this locality outside of a museum.
The largest modified Galena crystal measures 6 cm in size and the others are of a similar size.
This would rate as one of the most impressive Colorado Galena specimens I've ever come across.
From the New Jersey Zinc Eagle Mine (Gilman Mine), Gilman, Gilman District, Eagle Co., Colorado.
Measures 7.4 cm by 14 cm by 10.2 cm in total size.
Ex. Dr. Gary Hansen Mineral Collection
Price $4500
MIN#EXCEPTIONAL-119 NEW!
Scarce specimen of Calcite crystal blades with deep red Sphalerite crystals on drusy Quartz!
These specimens first appeared in the marketplace over a decade ago and were easily some of
the finest Sphalerite specimens to date. The Sphalerites are bright red and resemble Garnet crystals.
Not many specimens were found with Calcite blades and few were as pristine as this specimen is with
its phantomed interiors of opaque white beneath translucent outer tips. I haven't seen many of these
lovely pieces lately and this is the finest plate I can recall from this scarce locality. Nearly pristine!
From the Shuikoushan Mine, Shuikoushan Ore Field, Changning Co., Hengyang Pref., Hunan Prov., China.
Measures 11 cm by 9.8 cm by 6.5 cm in total size.
Price $2450
MIN#EXCEPTIONAL-120 NEW!
Exceptional large cabinet plate of Amethyst crystals on a unique looking brown matrix!
Believe it or not, it was the matrix that first attracted my attention when I came across this very
impressive large plate at the show. It looked like the cracked clay bed of a dry river bottom and it
was covered with a sparkling druse. I've not another another matrix like it from Piedra Parada and
the large Amethyst crystals that sit atop are absolutely perfect and pristine. They are fully terminated
with gemmy interiors and a glowing purple coloration. The largest crystal is doubly terminated and lays
horizontally to the matrix. It measures 5.5 cm in length. The other Amethyst crystals vary in size and rise
vertically atop the dazzling surface. This is one of my favorites from the show. It's a superb display piece.
From Piedra Parada (Piedras Parado), Mun. de Tatatila, Veracruz, Mexico.
Measures 18 cm by 25 cm by 8.8 cm in total size.
Ex. Heinz Gugeler Mineral Collection
Price $4850
- LINKS TO ALL THE EXCEPTIONAL ROOMS -
1 | 2 | 3 | 4 | 5 | 6 | 7 | 8 | 9 | 10 | 11 | 12
HOME | BEST OFFER MINERAL AUCTION | SPECIMENS FROM PAST SHOWS | CONTACT US