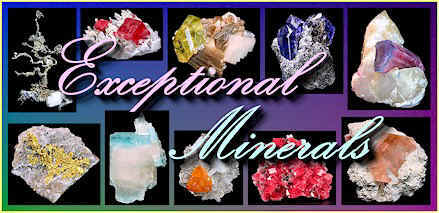 ** Updated January 1st, 2018 with Our Finest Showroom Specimens **
MIN#EXCEPTIONAL-61 NEW!
Exceptional specimen featuring deep cherry-red rhombs of Rhodochrosite nestled atop Tetrahedrite, Galena, and Pyrite matrix!
This is a gorgeous Sweet Home specimen which exhibit the color that collectors dream of in a top quality Rhodochrosite. The large
rhombs are further enhanced by the dark Sulfide matrix which always make for the best background for gemmy Sweet Home Rhodos.
The rhomb at the very top is see through since it terminated against matrix which was removed during the extraction and trimming process.
The middle rhomb is super glassy and gemmy, with an intensity of color that rivals the best of the best. The huge rhomb along the bottom
measures 5 cm in width which is HUGE for a Sweet Home specimen. It is bordered by smaller rhombs along the left and top left and is
also quite gemmy. There are interior lines that correspond to surface stepping and this is typical of huge rhombs which tend to subdivide
as they grow larger and larger into one enormous crystal. The rhombs are all glassy surfaced and mirror-like with a strong, wet luster.
The three Rhodochrosite rhombs measure 5 cm, 3.5 cm, and 3 cm in size. The rhomb along the bottom was separated from the matrix
and it is this part, the bottom edge, that sits in the display base. If you're looking for a gorgeous Sweet Home Rhodochrosite specimen
that looks like a 6 figure piece at a much more reasonable price, then this is the specimen for you. This was recently appraised at 95k.
From the Gerhard's Pocket, Mini King Raise, Sweet Home Mine, Alma, Park County, Colorado.
Measures 7.3 cm by 7.6 cm by 5.5 cm in total size or small cabinet.

Ex. Sela Mineral Collection

Comes with a custom made, labeled display base
Price $65,000
MIN#EXCEPTIONAL-62 NEW!
Beautifully intricate specimen of Native Wire Silver in "tree" form from the mines in Freiberg, Germany!
This is without a doubt, a very aesthetic Native Silver. Not only is it incredibly well balanced and graceful,
it's also displayable from both sides! The bottom portion of the specimen is composed of numerous curling
wires of Silver on an Acanthite base. If you look very closely at the base, you will also see what appears
to be tiny crystals of golden Pyrite scattered atop and between the wires on both the front and back sides.
These crystals also impart a slight rainbow iridescence to the lower portion of the specimen and I also see
what looks like tiny Quartz crystals attached to the back side wires. This is easily one of the best looking
miniature sized German Silver specimens I've seen recently and definately one of the most arborescent
in structure. It's untouched with all of its original skin and patina and I don't detect any old cleaning.
From the Himmelsfürst Mine, Brand-Erbisdorf, Freiberg District, Erzgebirge, Saxony, Germany.
Measures 7 cm by 5.6 cm by 2.1 cm in total size.
Ex. Wendel Mineral Collection
Comes with a custom made, labeled display base
Price $14,500
MIN#EXCEPTIONAL-63 NEW!
Superb specimen of crystallized Gold var. Electrum specimen!
This entire specimen is composed of crystals in all shapes and sizes! There are even
some spinel-twins in the mix and thick wires that bend back towards the Quartz matrix.
The luster is excellent and the color suggests a Silver content of at least 30% or higher.
I love quality Electrums from Nevada and this is one of the finest I've seen from the show.
From the Round Mountain Mine, Round Mountain District, Nye County, Nevada.
Measures 3.1 cm by 2.5 cm by 1.8 cm in total size.
Ex. Brown Mineral Collection
Price $4850
MIN#EXCEPTIONAL-64 NEW!
Large crystal of terminated Tanzanite on matrix!
This is one of the first Tanzanite matrix specimens to appear in America I am told. It was acquired
in the 1970's by famed collector F. J. Barlow and was a major addition to his collection at that time
because Tanzanites, and especially matrix Tanzanite, were pretty much making their initial splash
after the stone was only just discovered in 1967. This is an impressive stone and was probably one
of the finest examples at that time although much larger specimens have since come to market. It
displays a perfect textbook termination and is unheated so the trichroic properties are fully present.
The stone itself measures just shy of 4 cm tall at 3.8 cm by 2.1 cm by 2.1 cm in total size. It is gemmy
but does display some of the common internal crazing. It sits atop a matrix of Calcite and Zoisite.
This is a good looking matrix Tanzanite but the fact that it was one of the first to come to America and
its famous provenance make it historically significant. It is also pictured under Tanzanite on Wikipedia.
From the Merelani Hills (Mererani), Lelatema Mts, Simanjiro District, Manyara Region, Tanzania.
Measures 4.8 cm by 3.5 cm by 3.8 cm in total size.
Ex. F. J. Barlow Mineral Collection
Comes with a custom made display base
Price $17,500
MIN#EXCEPTIONAL-65 SOLD!
New find featuring a deep Golden Calcite crystal with Hematite on smaller Golden Calcite crystals!
The crystals are deeply colored and gemmy. The reddish patches are Hematite accents atop earlier
surfaces which have now been mostly overgrown, coloring the Calcite internally. In pristine condition.
From the Gowd Mine, Anarak District, Nain County, Esfahan, Iran.
Measures 10.8 cm by 9.8 cm by 6.2 cm in total size.
Price $2450
MIN#EXCEPTIONAL-66 NEW!
Gemmy Pink Precious Topaz crystal on hard Calcitic matrix from Katlang!
Pink Topaz crystals from Katlang are extremely rare and specimens that have not been
repaired or reattached are even rarer. The super gemmy, terminated Pink Topaz measures
1.7 cm in size. It displays glassy-brilliant crystal faces which allow for the internal color glow
that makes these pink gems world famous. In excellent condition with no detractions or contacts.
From Katlang, Mardan District, Khyber Pakhtunkhwa (North-West Frontier Province), Pakistan.
Measures 6 cm by 7 cm by 6.3 cm in total size.
Price $4500
MIN#EXCEPTIONAL-67 NEW!
The perfect Elmwood combo plate! Pristine Fluorite Surrounded by Sphalerite crystals with a Calcite on Dolomite covered matrix!
This is an incredible specimen. All the crystals are perfect and lustrous with the yellow Calcite being doubly terminated. They
sit atop a matrix covered with white Dolomite crystals. The only thing that could make this specimen better would be a Barite.
The Fluorite measures 3.7 cm across the corners and exhibits a beautiful internal phantom beneath glassy transparent surfaces.
The Sphalerite crystals look white in the photograph but that's because their surfaces are blindingly reflective and lustrous!
From the Elmwood Mine, Carthage, Smith County, Tennessee.
Measures 9.5 cm by 8.6 cm by 4.8 cm in total size.
Price $2850
MIN#EXCEPTIONAL-68 NEW!
Tremendous plate featuring brilliant crystals of reddish-orange Vanadinite on matrix!
Brilliant, lustrous, and pristine are the the three words that describe these large Vanadinite crystals! The crystals are
very distinct and contacts are nearly impossible to fine. The largest Vanadinite crystal measures to nearly 2 cm in size
but most are larger than 1 cm and there are dozens and dozens of them on this large plate. From the 2009 find, noted
for its thick, robust crystals. In excellent condition with few contacts, this plate makes an exceptional centerpiece.
From the ACF Mine, Mibladen Mining District, Midelt Province, Drâa-Tafilalet Region, Morocco.
Measures 18.4 cm by 14 .4 cm by 6.4 cm in total size.
Price $4500
MIN#EXCEPTIONAL-69 NEW!
Exceptional specimen of Native Wire Silver atop a matrix of massive Silver!
This incredible specimen hails from the obscure Shaft #66 in Schlema! I'm told that this shaft is
actually located near the center of town and that specimens from there are quite rare. The wires pop
up from a matrix that is mostly massive Silver and thin wires intertwined with small bits of Calcite.
The wires that rise upwards are more like knarled ropes and they are all very stable. This is
easily one of the finest Schlema Silvers I've seen in a long time and would make a wonderful
addition to a Silver specimen suite or European mineral collection. Superb, aesthetic small cab!
From Shaft #66, Schlema, Schlema-Hartenstein District, Erzgebirge, Saxony, Germany.
Measures 5 cm by 7.4 cm by 4.2 cm in total size.
Ex. Wolfgang Wendel, Kevin Ward Mineral Collections
Comes with a custom made, labeled display base
Price $9500
MIN#EXCEPTIONAL-70 NEW!
Brilliant, flashy crystals of deep green Uvite Tourmaline in cluster with Quartz and Magnesite!
This beauty can be displayed from either side because the crystals are just as perfect and
glassy-lustrous on both the front and the back. There are no visible contacts but the front
side displayed in the above photograph does have two small crystal-clear Quartz points
while the back side displays a scattering of Magnesite crystals among the green Uvites.
From the Pomba pit, Serra das Éguas, Brumado, Bahia, Brazil.
Measures 7 cm by 5.8 cm by 4.2 cm in total size.
Ex. Bernard Charlier, Galveston Mineral Collections
Price $3850
MIN#EXCEPTIONAL-71 NEW!
Stunningly beautiful specimen featuring a Rhodochrosite rose sitting atop matrix!
This is easily the finest Kazakhstan Rhodochrosite specimen I've seen in well over a decade!
I rarely see these Rhodochrosites in the marketplace and when I do, they are usually small and
or opaque with significant problems. This is a gorgeous, flower shaped cluster of gem quality
Rhodochrosite crystals, elongated into blade-like rhombs. The blades exhibit a deep coloration
and sit atop a matrix of Muscovite, Calcite, and Pyrite. I can't stress how rare a specimen of
quality is from Kazakhstan. This is a specimen worthy of the finest Rhodochrosite collections!
From Kounrad Massif, Balkhash, Balkhash Region, Karagandy Province, Kazakhstan.
Measures 4.6 cm by 3.3 cm by 3.6 cm in total size.
Price $2850
MIN#EXCEPTIONAL-72 NEW!
Super aesthetic combination of Native Silver with Acanthite crystals and Siderite!
Frieberg Silvers are among the most attractive and sought-after Silvers in existence, and this attractive miniature well illustrates the reasons.
This is an elegant piece! The pair of Silver wires curve up beautifully from their attachment at the base, and the wires are coated by Acanthite crystals.
For additional color accent, the wires have a partial microcrystalline coating of tan Siderite and white Calcite. Overall, this is an aesthetic and very fine
combination piece that would grace any mineral collection. With its unique form, it is one of the finest, most unique Freiberg minatures that I have seen.
From the Freiberg District, Erzgebirge, Saxony, Germany.
Measures 4.4 cm by 3.3 cm by 1.3 cm in total size.
Ex. Kay Robertson Mineral Collection
Price $4850
MIN#EXCEPTIONAL-73 NEW!
Classic rarity! Fine crystals of Calcite on matrix from St. Andreasberg!
This locality was an old Silver Mining District in Germany but today all the mines are long
since closed and reclaimed for the most part. I don't come across many fine Calcite plates
from this locality and all date back to the late 1800's or early 1900's. This plate consists of
dozens of translucent, stacked Calcite crystals which formed scalendohedral-like pillars atop
the Sulfide mineral and Dolomite covered surface. Beautifully preserved with few contacts.
From St Andreasberg, St Andreasberg District, Harz, Lower Saxony, Germany.
Measures 7.7 cm by 6.2 cm by 5.4 cm in total size.
Comes with old original display label
Price $2450
MIN#EXCEPTIONAL-74 NEW!
HISTORICAL AND EXTREMELY RARE!!
Museum plate of Pyrargyrite crystals with Acanthite and Quartz from Tonopah, Nevada!
An unbelievable find!!! This specimen was presented as a gift to the Philadelphia Academy in 1915 by
the Tonopah-Belmont Mining Company and has not been touched or messed with since it was found in the
mine pocket nearly 100 years ago. Large cabinet in size, this is a true relic from the earliest Silver mining
history of Nevada and represents the largest and finest specimen that I've ever seen from Tonopah or
any other locale in Nevada for that matter. The plate features dozens of shiny, lustrous Pyrargyrite
crystals with Acanthite and white Quartz points. There's a good deal of color remaining in these ruby-silvers
and many of the Pyrargyrites show red under normal lighting A direct spotlight really brings out the color!
Obviously this cabinet sized plate has been well protected during its many decades in the Academy!
Measures 16 cm by 19 cm by 6 cm in total size.
From the Tonopah-Belmont Mining Company, Tonopah Mining District, Nye County, Nevada.
Ex. Philadelphia Academy of Natural Science Mineral Collection
Ex. Kevin Ward Mineral Classics Collection
Comes with a custom made, labeled stand
Price $50,000
MIN#EXCEPTIONAL-75 NEW!
Golden-yellow Fluorite cubes with Sphalerite atop Hematite colored Barite blades!
In excellent shape with good luster and a great looking presentation. The Fluorites are
quite gemmy and glassy and shift towards a lavender hue near the upper right edge.
From the West Pastures Mine, Weardale, Co. Durham, England.
Measures 9.8 cm by 17.4 cm by 6.5 cm in total size.
Ex. Rolf Wein Mineral Collection
Price $3500
MIN#EXCEPTIONAL-76 NEW!
Exceptional and rare combination featuring a large Golden Calcite with blue Anhydrite crystals attached to both sides!
This is a very rare specimen, the likes of which I haven't seen in many years. Very few were discovered and they are
almost impossible to find in the marketplace. This piece, like almost all that appear for sale in today's marketplace,
is from an older collection. Matrix specimens with aesthetics and isolated crystal sprays like this one are a true prize!
From Mantos Mixtos, Naica Mine, Naica, Chihuahua, Mexico.
Measures 10.2 cm by 11.5 cm by 9 cm in total size.
Comes with a custom made, labeled display base
Price $3500
MIN#EXCEPTIONAL-77 NEW!
LARGE CABINET! Impressive specimen featuring Cerussite and Pyromorphite over satiny Malachite!
Botryoidal Malachite with a lustrous sparkle is the first thing you'll notice with this large cabinet sized
specimen until you see the reticulated Cerussite crystals to the lower right and yellowish Pyromorphite
crystals along the upper edge. I haven't seen a larger Rum Jungle Malachite and this one is in great
condition considering its size which a minimal number of contacts and numerous Malachite "fingers"!
From the Rum Jungle, Northern Territory of Australia.
Measures 19.5 cm by 16 cm by 12 cm in total size.
Ex. Webb Mineral Collection
Price $3500
MIN#EXCEPTIONAL-78 NEW!
Large and very distinct crystals of bronze Pyrrhotite with golden Chalcopyrite!
Also with some Calcite crystals, this impressive combination piece boasts a 5.2 cm
Pyrrhotite crystal at top to go along with a 4.2 cm Chalcopyrite in the center! Actually,
the Chalcopyrite is complete surrounded by thick Pyrrhotite crystals on all sides!
From the Nikolaevskiy Mine, Nikolaevskoe Pb-Zn-Ag deposit, Dal'negorsk, Primorskiy Kray, Russia.
Measures 7.4 cm by 9.5 cm by 6.5 cm in size.
Ex. Pilipenko, Star van Schriver, Edward David Mineral Collections
Price $4500
MIN#EXCEPTIONAL-79 NEW!
Super lustrous and quite unique specimen of Smithsonite with orange caps!
I call this specimen tri-colored because you have three distinct layers of growth and coloration
displayed here. The first is a powder-blue layer which covers the underlying matrix. The second
is a more lustrous white layer. The third and final layer is a very lustrous orange colored Cadmium
Smithsonite which appears as a top cap draped over the lower two layers. The end result is one of
the most unique looking and interesting specimens of Smithsonite that I've seen in recent years.
From the El Refugio Mine, Choix, Sinaloa, Mexico.
Measures 12 cm by 4.4 cm by 6.8 cm in total size.
Price $3450
MIN#EXCEPTIONAL-80 NEW!
Gorgeous specimen of vibrant green Fluorite octahedrons with Quartz druse!
This is a sculptural specimen which displays a glowing layer of small Fluorite crystals along the right side, accompanying a lustrous and quite
translucent emerald green Fluorite octahedron, measuring 3 cm on an edge and 4 cm across the tips. The large crystal is partially encased
by a sparkling druse of dark Quartz alternating with white Quartz, for contrast. Like others in this find, it is unique in its own, even amongst
the many specimens from the big find of several years ago. This specimen is complete all around and has depth and superb richness of color.
From Riemvasmaak, Northern Cape Province, South Africa.
Measures 11.3 cm by 5.7 cm by 5.3 cm in total size.
Price $2850
- LINKS TO ALL THE EXCEPTIONAL ROOMS -
1 | 2 | 3 | 4 | 5 | 6 | 7 | 8 | 9 | 10 | 11 | 12
HOME | BEST OFFER MINERAL AUCTION | SPECIMENS FROM PAST SHOWS | CONTACT US