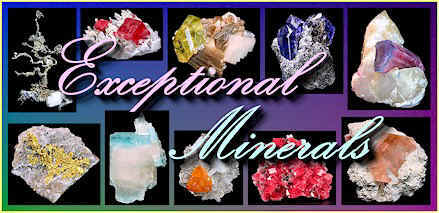 ** Updated January 1st, 2018 with Our Finest Showroom Specimens **
MIN#EXCEPTIONAL-21 NEW!
Gorgeous combination of cherry-red Rhodochrosite rhombs with purple Fluorite, Quartz, and Sulfides!
This is a specimen that pops in a display case and has the eye catching ability of a very expensive Sweet Home
Rhodo at a much more affordable price. The rhombs are deeply colored with a glowing cherry-red coloration. They
measure to 5 cm in size and are bordered by deep purple Fluorites to the left and dark matrix Sulfides and Quartz
to the right. The visual impact is stunning. This specimen holds it own against Rhodochrosites in the high five figure
price range but is much more affordable because of some minor contacting along the back edges and matrix contacting
on the back side of the Rhodo rhombs. This is invisible from the front presentation and is completely natural and of
little importance to the overall beauty of this piece in my opinion. Opportunity knocks with this breathtaking specimen!
From Nate's Pocket, Sweet Home Mine, Alma, Colorado.
Measures 7.5 cm by 7.8 cm by 4.7 cm in total size.
Ex. Dixon Mineral Collection
Price $19,500
MIN#EXCEPTIONAL-22 SOLD!
Exceptional!! Unique and stunning specimen of Native Silver dendrites rising up from a Calcite crystal!
This is a White Pine Silver and it is the finest example I've ever seen from this classic locality. To find
a matrix White Pine Silver is a rare thing. To find a matrix White Pine Silver with the crystalline Silver
dendritic structure rising up from a Calcite like a Kongsberg specimen is AMAZING to say the least!!
The dendritic crystalline structure rising up from the matrix is sharp and distinctive and covered with a
lovely antique patina over santiny lustrous surfaces. In excellent condition with exceptional eye appeal.
From the White Pine Mine, White Pine, Ontonagon County, Michigan.
Measures 11.3 cm by 5.2 cm by 4.5 cm in total size.
Price $14,500
MIN#EXCEPTIONAL-23 NEW!
Exceptional specimen of crystalline Native Copper with Quartz and Epidote!
Very high quality specimen displaying numerous sharp, well formed Copper crystals on all
sides. The crystals come together to form a cluster that is both very aesthetic and 360 degree
displayable. The surfaces are mostly smooth with a rolling luster and beautiful reddish-brown patina.
From the Centennial Mine, Centennial, Houghton County, Michigan.
Measures 8 cm by 7.3 cm by 6.8 cm in total size.
Ex. Carl Bentley Mineral Collection
Price $4500
MIN#EXCEPTIONAL-24 NEW!
Amazing new find of Beryl var. Emerald on Biotite matrix from Ethiopia!
A very small collection of incredibly fine Emerald specimens from Ethiopia appeared at Tucson this year
and I had the ability to cherry-pick the grouping for the best of the best specimens. The color of these Emeralds
is superior to anything I've seen from Africa and is better than Emeralds from Nigeria and Zambia in my opinion.
They are colored by Chromium and have an inner brilliance and color intensity very similar to what one sees in
Colombian Emeralds. The above specimen was the second largest matrix specimen of which there were less than
half a dozen as most are removed from their matrix by the local miners. It is fully terminated and full of glowing
gemminess beneath glassy-lustrous surfaces. The matrix is Biotite covered Feldspar and there is no damage.
The horizontal Emerald crystal measures 2.7 cm in length by 2 cm in width! It is actually doubly terminated with
a smaller termination peeking out from the Biotite matrix on the bottom side. In excellent condition and very nice!
From Kenticha, Kenticha Pegmatite Field, Seba Boru District, Sidamo-Borana Province, Ethiopia.
Measures 2.7 cm by 2.1 cm by 1.7 cm in total size.
Price $7500
MIN#EXCEPTIONAL-25 NEW!
RARE! Lustrous crystals of Nickeline with Nickelskutterudite from Saxony!
This is a rich, old time classic specimen from a very historic locality. The crystals of Nickelskutterudite
(NiAs2-3) are a highly reflective silverish color while the Nickeline (NiAs) is more pinkish-bronze. The crystals
measure to 1.3 cm in size. There appears to be a smaller coating of a few crystals with what appears to
be Safflorite. The specimen is in excellent condition and probably dates back to the 1940's or 1950's.
Also with some minor Proustite association on the upper right side on the specimen.
From Schlema, Schlema-Hartenstein District, Erzgebirge, Saxony, Germany.
Measures 5.7 cm by 6.8 cm by 4.2 cm in total size.
Ex. J. R. Jelks Mineral Collection
Price $4850
MIN#EXCEPTIONAL-26 NEW!
Tremendous specimen of super lustrous blue Anhydrite crystals in cluster with Sphalerite!
Quality cabinet sized clusters of Anhydrite have become very difficult to find over the past decade and I can
honestly say this is the first specimen that has impressed me in a very long time. Naica is known to have produced
some outstanding Anhydrite specimens and this is an excellent example of translucent crystals with pretty icy-blue color.
The surfaces are radiant with a rolling luster and there are no contacts worth mentioning. Very well balanced and aesthetic.
From Naica, Mun. de Saucillo, Chihuahua, Mexico.
Measures 11 cm by 13.4 cm by 8.3 cm in total size.
Comes with a custom made, engraved display base
Price $4500
MIN#EXCEPTIONAL-27 NEW!
Impressive specimen featuring lavender cubes of Fluorite with Galena, Barite and Sphalerite!
This is a stunning Elmwood combo with cubes that are nearly completely colorless but for a very
slight lavender coloration. The Fluorites are in excellent condition and featuring numerous, although
tiny inclusions of Bitumen which forms some really neat patterns beneath the surfaces. Some of
these Bitumen inclusions actually form "drips" that extend downward into the Fluorites. Small
crystals of Galena, Fluorite, and Barite cover the large Galena located at the top center.
From the Elmwood Mine, Smith County, Tennessee.
Measures 9.2 cm by 11 cm by 7.2 cm in total size.
Price $3850
MIN#EXCEPTIONAL-28 NEW!
Exceptional specimen featuring Proustite crystals with Acanthite and Native Silver on Calcite!
This classic old museum piece dates back to the 1850's and is quite simply the finest specimen of German
Proustite crystals on matrix that I've seen or owned! The Proustite has been well protected and still has a
considerable amount of redness when exposed to direct light. The addition of Acanthite and Native Silver
wires makes the piece extraordinary. The matrix is covered by fine stacked crystals of white Calcite!
From the Himmelsfürst Mine, Brand-Erbisdorf, Freiberg District, Erzgebirge, Saxony, Germany.
Measures 8.5 cm by 7 cm by 6.8 cm in total size.
Ex. Kevin Ward Mineral Collection
Comes with a custom made, labeled base
Price $18,500
MIN#EXCEPTIONAL-29 NEW!
Tremendous plate featuring fine dendrites of Native Silver with Acanthite and Safflorite accenting!
This is a wonderful display piece from the classic Cobalt Mining District and is literally covered from one
end to the other with large dendritic structures of Native Silver. A peppering of grey Safflorite covers much of the
dendrites as does Acanthite drusy. This is incredible rich specimen and the display is beautifully presented atop white
Calcite covered surface. Much more impressive in person due to the difficulty of photographing sparkling surfaces.
From the Castle Mine, Haultain Township, Cobalt-Gowganda Region, Timiskaming District, Ontario, Canada.
Measures 10.2 cm by 12.5 cm by 3.9 cm in total size.
Ex. Bishop Mineral Collection
Price $3500
MIN#EXCEPTIONAL-30 NEW!
Large, impressive crystal of Franklinite on Calcite matrix!
This is a classic specimen from a classic American locality. The sharply formed Franklinite crystal
measures 4.7 cm in width as it sits aesthetically atop the white Calcite matrix. It is shiny lustrous and
surrounded by smaller Franklinite crystals below. In excellent condition overall with a complete habit.
From the Franklin Mine, Franklin, Franklin Mining District, Sussex County, New Jersey.
Measures 8 cm by 5.5 cm by 4.4 cm in total size.
Ex. Van Tichelen Mineral Collection
Price $2850
MIN#EXCEPTIONAL-31 NEW!
Exceptional and quite heavy nugget of Native Silver with Cobalt bloom coating!
These reddish Erythrite covered specimens were once commonplace in the Cobalt Mining District and are characteristic
of the area's name being that the mineral is an Arsenate of Cobalt. Rarely are they encountered in today's marketplace
however, because most specimens are cleaned of their Cobalt bloom coloration and the pink layer is removed. I think
this process is a true shame but it does make specimens like this one extraordinarily rare due to their originality. This
heavy nugget of Native Silver is completely solid and the Erythrite is so well preserved that it shows actual crystallization.
From the Cobalt area, Cobalt-Gowganda region, Timiskaming District, Ontario, Canada.
Measures 8.2 cm by 11 cm by 5 cm in total size.
Ex. Sheldon Ward Mineral Collection
Price $3500
MIN#EXCEPTIONAL-32 SOLD!
Emerald-green crystals of Dioptase covering a white Calcite crystal matrix!
This is one of my favorite combinations from the mineral world and I know I share this
opinion with many other collectors. This specimen offers an abundance of glassy green
Dioptase crystals, measuring up to 1.3 cm in size, and displays an incredible amount of
flash and internal luminescence. Rotating the specimen in my hand makes the crystals
sparkle wildly as each smooth face reflects the light with an incredible intensity. It is also
very evident that this specimen is in excellent condition with very few contacts and well
tucked trimming edges. The white Calcite crystal surface beneath the Dioptase peaks out
along both the left and right sides and displays a good translucence with no visible contacts.
From the Tsumeb Mine, Tsumeb, Otjikoto Region (Oshikoto), Namibia.
Measures 6.6 cm by 4 cm by 2.7 cm in total size.
Ex. DeRiggi Mineral Collection
Price $4500
MIN#EXCEPTIONAL-33 NEW!
Very pretty specimen of bi-colored Calcite crystals in cluster!
The crystals are glassy and gemmy with icy clear interiors and reddish-brown
Hematite included tips! In excellent condition, this specimen dates back to the
late 1800's and was formally part of the Carnegie Museum Mineral Collection.
The Stank Mine was an iron (hematite) mine which was active from the 1870's to 1901.
From the Stank Mine, Barrow, SW Region, Cumbria, England.
Measures 6.5 cm by 7.9 cm by 7 cm in total size.
Price $2500
MIN#EXCEPTIONAL-34 NEW!
VERY RARE and quite impressive plate featuring Pyrargyrite and Acanthite with Heulandite on Calcite!
Without a doubt, this is the first Silver with Heulandite combination I've seen. The bottom close-up photo
displays the gemmy crystal blades of golden Heulandite sitting among the Acanthites. The Heulandite crystals
actually appear in several locations atop the white Calcite surface and I find this fascinating because this is not
a common mineral at the Samson Mine and there is only one photograph listed on mindat.org for the locality.
The magnified photo displays the incredible textbook form and luster of each Pyrargyrite crystal. They measure to
1 cm in size and are richly scattered atop the white Calcite crystal matrix. In excellent condition with few contacts.
This amazing cabinet plate is circa late 1800's. The Samson Mine was a famous Silver Mine that closed in 1910.
From the Samson Mine, St Andreasberg, St Andreasberg District, Harz, Lower Saxony, Germany.
Measures 14 cm by 17 cm by 5.3 cm in total size.
Ex. Franz Hafliger, W. Maucher, Hoppe, Kevin Ward Mineral Collections
Price $9500
MIN#EXCEPTIONAL-35 NEW!
Beautifully patinaed specimen of crystalline Native Copper on Copper spinels!
The color of the Copper crystals changes from bright Copper to reddish Copper as you move towards
the bottom. The largest crystals have the deepest patina color and all are sharp with lustrous faces.
I love the way the crystal habits change with each level of growth, mimicking the color change.
From the Centennial Mine, Keweenaw County, Michigan.
Measures 6 cm by 6 cm by 3.4 cm in size.
Price $3850
MIN#EXCEPTIONAL-36 NEW!
Large and dramatic plate featuring Danburite crystals in cluster with Quartz!
This is a wonderful plate displaying numerous large Danburite crystals, all completely
terminated and glassy with an accenting of tiny golden Pyrites. The tips of these crystals
become much more transparent while the majority of the thick crystals are mostly opaque
and translucent. Also with Quartz scattered about. In excellent condition with a great display.
From Charcas, Mun. de Charcas, San Luis Potosí, Mexico.
Measures 12 cm by 16 cm by 9.9 cm in total size.
Ex. Rausch Mineral Collection
Price $2850
MIN#EXCEPTIONAL-37 NEW!
Super lustrous specimen of botryoidal Arsenian Pyromorphite!
This is a dazzling specimen with a blinding luster and incredibly brilliant orange surfaces.
It's one of the finest Arsenian Pyromorphite miniatures I've seen in years and one that is
also very clean and free of surface blemishes which tend to be commonplace on these lovely
specimens. This a a pure orange Pyromorphite with very little bi-coloration. Extremely nice!
From the Bunker Hill Mine, Kellogg, Coeur d'Alene District, Shoshone County, Idaho.
Measures 6.8 cm by 5.2 cm by 2 cm in total size.
Ex. Galveston Mineral Collection
Price $2500
MIN#EXCEPTIONAL-38 NEW!
Sharp, deep blue crystal of Lazurite sitting atop white Marble matrix!
This is a impressive crystal, with perfect habit and very sharp corners. It measures 3.4 cm in size and has
smooth, lustrous faces with only some minor matrix influence on the back side. Several smaller Lazurite
crystals are embedded in the front side Marble matrix below the main crystal. No damage or contacts.
From Sar-e Sang, Koksha Valley, Khash & Kuran Wa Munjan Districts, Badakhshan Province, Afghanistan.
Measures 7 cm by 8.6 cm by 5.4 cm in total size.
Price $3500
MIN#EXCEPTIONAL-39 NEW!
Gorgeous cabinet specimen featuring elongated Wulfenite crystals surrounded by Green Mimetite!
These appeared last decade and quickly disappeared into private collections. They are as beautiful as they are interesting.
The orange on green color combination is incredible but the different crystal habits is just as eye catching I think. This specimen
in particular, features a 2 cm pyramidal Wulfenite crystal! The green botryoidal Mimetite is satiny lustrous and appears in a
cluster near the center and as isolated nodules scattered about the exterior. In excellent condition with incredible eye appeal.
From Level 6, San Juan Poniente Vein, Ojuela Mine, Mapimí, Mun. de Mapimí, Durango, Mexico.
Measures 7.8 cm by 10 cm by 6.3 cm in total size.
Price $4850
MIN#EXCEPTIONAL-40 NEW!
Beautiful cabinet sized plate of Manganoan Smithsonite on matrix!
This was one of the most attractive Tsumeb Smithsonites at the show with crystals to 1.2 cm in size and
flashy, lustrous surfaces. I love the two-toned appearance of the plate and I believe the grayish zones are
also filled with additional Smithsonite crystals which have been coated by another mineral. The reddish
crystals may be a second generation of crystallization which covered the earlier one and this means the
entire specimen, front and back, is covered by Smithsonite crystals of two different colors. Very nice
with only minor contacting scattered about. The layered appearance of this specimen is quite unique.
From the Tsumeb Mine (Tsumcorp Mine), Tsumeb, Otjikoto Region, Namibia.
Measures 7.2 cm by 11 cm by 6.8 cm in total size.
Comes with a custom made, engraved display base
Price $3500

- LINKS TO ALL THE EXCEPTIONAL ROOMS -
1 | 2 | 3 | 4 | 5 | 6 | 7 | 8 | 9 | 10 | 11 | 12
HOME | BEST OFFER MINERAL AUCTION | SPECIMENS FROM PAST SHOWS | CONTACT US