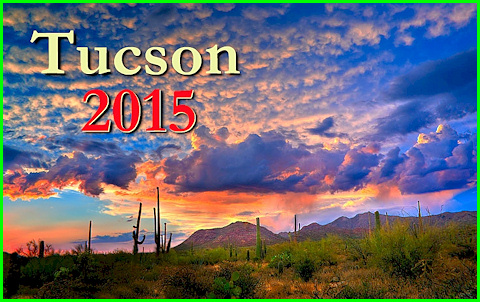 The Tucson 2015 Mineral Showrooms

* Updated August 7th, 2015 *
MIN#Tucson2015-162 NEW!
Gorgeous specimen featuring yellow Barite crystals with Calcite on purple Fluorite!
The Barite blades are thick and sturdy, measuring up to 2.6 cm in size. They sit atop a
base of purple Fluorite and each blade is studded by small Calcite crystals. Very nice!
From the Denton Mine, Hardin County, Illinois.
Measures 5 cm by 4.5 cm by 3 cm in total size.
Ex. Ross Lillie Mineral Collection
Price $895
MIN#Tucson2015-163 NEW!
Large lustrous plate of vibrant botryoidal Malachite!
This is an incredible large cabinet plate which features some of the most intense luster
I've seen in a Malachite specimen. The surfaces are dazzling, displaying a grape-like
botryoidal formation with several small stalactitic Malachites growing upwards toward
the back edge. This specimen is also very 3-dimensional with a rising ridge along the back
creating the impression of a mountain range with valley below. For a specimen of this size,
the rounded surfaces are in excellent condition with only a few slight contacts scattered about.
From the Shilu Mine, Yangchun Co., Yangjiang Prefecture, Guangdong Province, China.
Measures 6.3 cm by 18.8 cm by 9.8 cm in total size.
Ex. K. Cooper Mineral Collection
Price $4500
MIN#Tucson2015-165 NEW!
Fine specimen featuring Silver ps after Dycrasite!
This specimen caught my eye at the show because it looked so much like a Chlorargyrite
in form, texture, and color. It's actually Silver pseudomorphing Dycrasite crystals and one
of the most unique specimens of this material that I've seen. The display side crystals are
short and flat-topped with a slight texture. These rise upwards from a matrix consisting of
dendritic Silver crystals, imparting the specimen with a two sided personality. There's a really
neat vug near the right side which is completely lined with crystals. This is one of my favorites.
From PrÝbram, Central Bohemia Region, Bohemia, Czech Republic.
Measures 6.2 cm by 8 cm by 3.3 cm in total size.
Ex. Fred Meissner Mineral Collection
Price $1850
MIN#Tucson2015-166 NEW!
Large, doubly terminated crystal of light pink Calcite perched atop matrix!
This is a gorgeous gemmy crystal, displaying terminations at both ends and a light pink color
which glows when under incandescent lighting. The crystal is super glassy and well striated with
a rolling luster across all surfaces. It is in very good condition with a matrix contact along the back
side but this is completely out of view from the front display side. The placement is very aesthetic.
From the Verkhnii Mine, Dal'negorsk, Kavalerovo Mining Dist., Primorskiy Kray, Far-Eastern Region, Russia.
Measures 7.6 cm by 10 cm by 10.2 cm in total size.
Ex. Dawson Calcite Collection
Price $2850
MIN#Tucson2015-167 NEW!
Super fine specimen of crystalline Native Silver with white Calcite!
This specimen is crystalline dendritic form in all its wonder and glory. It's incredibly aesthetic
and the sharp crystal dendrites are some of the best I've seen recently from this classic locality.
From the White Pine Mine, Ontonagon County, Michigan.
Measures 3.5 cm by 4 cm by .8 cm in total size.
Ex. LaBerge Mineral Collection
Price $1500
MIN#Tucson2015-168 NEW!
Glassy green crystals of Datolite with Calcite blades accenting the edges!
This is a beautiful specimen which has a good amount of transparency as well. The Datolite crystals are very
lustrous with a pleasing, soft green coloration. The largest Datolite is framed by blades of tannish-white Calcite,
adding to the overall aesthetical balance and eye appeal of the specimen. In excellent condition with no detractions.
From the Bor Pit, Dal'negorsk, Kavalerovo Mining Dist., Primorskiy Kray, Far-Eastern Region, Russia
Measures 5.7 cm by 6.1 cm by 3.8 cm in total size.
Price $985
MIN#Tucson2015-169 NEW!
Rare specimen of Calcite crystals in cluster perched atop Marcasite matrix!
This is the first specimen I've offered from the Cadjebut Mine and they are anything but common. Most
specimens came to market about 20 years ago in the mid 1990's and quickly disappeared into private
collections. Mindat.org only has a few specimens pictured and this piece is far superior to all of those.
There are about a dozen crystals here, all well striated and lustrous with excellent transparency. They
also display a light golden coloration. The Calcite sit atop a matrix of lustrous Marcasite crystals which
is another mineral this locality is known for. All in all, in great condition with only a few minor contacts.
From the Cadjebut Mine, Fitzroy Crossing, Derby-West Kimberley Shire, Western Australia, Australia.
Measures 8.3 cm by 10 cm by 4.6 cm in total size.
Ex. Webb, Dawson Mineral Collections
Price $1850
MIN#Tucson2015-170 Sold!
Very rare and exceptional large cabinet sized crystal of Milky Quartz covered by Amethyst Quartz crystals!
One of the finest and largest crystals discovered at this one-time glacial deposit, this crystal features a full tip
with a termination which was originally Milky Quartz but was later overgrowth by a gemmy Amethyst layer
which extends from the top to bottom along half the crystal. The Amethyst side displays an "alligator-Quartz"
pattern of crystal faces with varying amounts of Amethyst color concentration. In excellent condition with
only a few areas of natural contacting, probably due to glacial action thousands of years ago. Very unique!
From Diamond Hill, Cumberland, Providence County, Rhode Island.
Measures 23 cm in height by 9.2 cm by 9 cm in total size.
P. O. R.
MIN#Tucson2015-171 NEW!
Sparkling specimen featuring elongated Calcite stalactites with Hematite colored Calcite crystals!
The Calcite stalactites are brilliant and shimmer with an intense sparkle while the attached Calcite
crystals are glassy and transparent. I love the way the far left stalactite is topped by two Calcites
while the far right stalactite is completely bare. The visual contrast between the two really makes
the specimen in my opinion. This cabinet sized display piece is in excellent condition with no contacts.
From the El Potosi Mine, Santa Eulalia, Chihuahua, Mexico.
Measures 11.8 cm by 8 cm by 4.6 cm in total size.
Ex. Dawson Calcite Collection
Price $1850
MIN#Tucson2015-172 NEW!
Eye catching specimen of baby-blue colored Turquoise in Quartz matrix!
This beautiful example of Arizona Turquoise is from the Cerbat Mountains.
The entire region there from Kingman to Chloride is quite rich with this mineral
and this one is attractively shaped with a great looking matrix pattern. Very nice!
From the Kingman area, Kingman District, Hualapai Mts, Mohave Co., Arizona.
Measures 7.5 cm by 4.8 cm by 4.2 cm in total size.
Price $685
MIN#Tucson2015-174 NEW!
Large and quite impressive cube of Galena set atop Fluorite and Quartz crystals!
These specimens are difficult to find, mainly because the Galenas are usually dull or coated.
This large 4.3 cm cube displays lustrous surfaces and sits perfectly between the reddish-purple
accented Fluorites octahedrons to its left and the sparkling Quartz crystals to its right. In great
condition with no detractions, this would make a great addition to a Fluorite or locality suite.
From the Mex-Tex Mine, Bingham, Hansonburg District, Socorro County, New Mexico.
Measures 8.8 cm by 9.4 cm by 5.7 cm in total size.
Price $1850
MIN#Tucson2015-178 NEW!
Aesthetic arrangement of Quartz points with modified Pyrite crystals!
This is a very well balanced specimen, featuring perfectly terminated Quartz points which are
surrounded at the base by lustrous Pyrites measuring to 2.5 cm. This specimen was collected in
July of 1989 by Bob Jackson, owner of the Spruce Claim. In excellent condition with no detractions.
From the Spruce claim (Spruce Ridge), Goldmyer Hot Springs, King County, Washington.
Measures 7 cm by 8 cm by 5.4 cm in total size.
Ex. Bob Jackson Mineral Collection
Price $1450
MIN#Tucson2015-180 NEW!
Impressive specimen featuring sharp crystals of Acanthite on Calcite matrix!
This is one of the best examples of Acanthite I've seen from this lesser seen locality. The mine is
located along the west slope of Wallace Mountain and is the result of a merger between the Bell
and Highland Lass mines. It has been mined since 1930 with the original workings having produced
ore since 1909. This specimen displays numerous crystals of lustrous Acanthite in a seam of white
Calcite. They measure to nearly 1 cm in size and have very distinct, well formed crystal faces.
From the Highland Bell Mine, Beaverdell, Greenwood Mining Division, British Columbia, Canada.
Measures 6 cm by 6 cm by 2.3 cm in total size.
Price $1500
- LINKS TO THE TUCSON 2015 SHOWROOMS -
1 | 2 | 3 | 4 | 5 | 6 | 7 | 8 | 10
HOME | EXCEPTIONAL MINERALS | MINERAL AUCTION | SPECIMENS FROM PAST SHOWS | CONTACT US