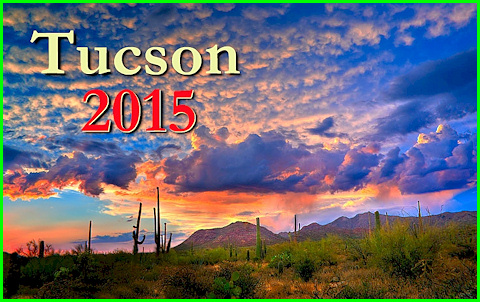 The Tucson 2015 Mineral Showrooms

* Re-Updated January 16th, 2017 *
MIN#Tucson2015-65 NEW!
Sharp, lustrous crystals of Azurite with Malachite on Calcite covered matrix!
This is a tremendous old time classic from Zacatecas. It was formally in the famed Romero Collection
before being donated to the University of Arizona Mineral Museum. With so much attention paid to the
Milpillas specimens these days, the old classic Azurites from Mexico are being somewhat overlooked
and this is definately one that should be taken notice of. The surface of this plate is covered from one
end to the other by dozens of glassy-lustrous Azurite crystals. The crystals measure to 1.4 cm in size
and average around 1 cm in size. They display chisel-tip terminations and many are doubly terminated.
Surrounding the dark blue Azurite crystals are transparent Calcites and a small cluster of Malachite
ps after Azurite crystals to the far right. They all sit atop a matrix covered with smaller Calcites and
the specimen is in excellent condition overall, with most contacts being limited to the trimming edge.
From Concepción del Oro, Mun. de Concepción del Oro, Zacatecas, Mexico.
Measures 9 cm by 14 cm by 4.8 cm in total size.
Ex. Miguel Romero, University of Arizona Mineral Museum Collections
Comes with a custom made, engraved letter base
Price $6500
MIN#Tucson2015-66 NEW!
Aesthetic large cabinet sized plate featuring Golden Calcite crystals on smaller Calcites!
This is an awesome specimen and it's one that is basically a geode. The irregularly shaped matrix
was split open to reveal perfect crystals of doubly terminated Calcite set against a surface covered
with smaller cream-colored Calcite crystals. The larger golden Calcites measure to 5 cm in size and
there is no damage to speak of since all were well protected by the concave structure of the matrix.
These are scarce specimens and I've only seen a few in the past decade. This was by far the largest.
From Dead Indian Hill, Park County, Wyoming.
Measures 16 cm by 20.4 cm by 10 cm in total size.
Price $2500
MIN#Tucson2015-69 NEW!
Very rare! Aesthetic combination featuring Anhydrite blades on yellow Calcite crystals with Fluorite!
This is a rare specimen, the likes of which I haven't seen in many years. Very few were discovered
and they are almost impossible to find in the marketplace. This piece, as almost all that appear for sale,
is from an older collection. Matrix specimens with aesthetics and isolated crystal sprays like this one are
a true prize! This competition-level specimen is unique for its aesthetics, in that the 3-dimensional cluster
of Anhydrite, with crystals measuring to 10 cm, is balanced against a pedestal of Calcite crystals. It is from
the noted Mexican collection of Dr. Peter Megaw, who travels extensively in Mexico and specializes in
Mexican minerals. These blue Anhydrite blades in in excellent condition and perfectly fram the Calcites.
From Mantos Mixtos, Naica Mine, Naica, Chihuahua, Mexico.
Measures 10.5 cm by 7.8 cm by 6.9 cm in total size.
Ex. Dr. Peter Megaw Mineral Collection
Price $5450
MIN#Tucson2015-70 NEW!
Exceptional combination of Beryl var. Aquamarine perched atop Cassiterite!
Also with Muscovite, this is a superb Aquamarine combo and the aesthetics are incredible.
The largest Aqua crystal measures nearly 7 cm in size and displays a lovely blue coloration
along with glassy surfaces and a gemmy, transparent interior. It is accompanied by several
smaller Aquamarines and fine Muscovite blades along the left edge. The Aquamarine sits
aesthetically atop a super lustrous, black Cassiterite crystal measuring 3.6 cm in size. The
combo is in excellent condition with the only contact being along the bottom separation zone.
From Mt Xuebaoding, Pingwu Co., Mianyang Prefecture, Sichuan Province, China.
Measures 7.5 cm by 5.5 cm by 4.7 cm in total size.
Price $5500
MIN#Tucson2015-71 NEW!
Elongated stalactites of reddish-orange Calcite!
This fine specimen displays at least five terminated stalactites, measuring to
6.5 cm at the center. The tips are complete and well rounded and any incomplete
crystals are limited to the back side where the specimen was trimmed from its host
matrix. The surfaces are slightly matted and the soft luster is subdued and satiny.
From Alzada, Carter County, Montana.
Measures 6.7 cm by 3.8 cm by 3.1 cm in total size.
Price $895
MIN#Tucson2015-73 NEW!
Exceptional plate featuring scalenohedral Calcite crystals with iridescent Chalcopyrite coatings!
This is an eye catcher of a Calcite plate, displaying full terminations, glassy-lustrous crystal faces and
a sparkling coating of iridescent Chalcopyrite crystals. The Chalcopyrite covers some of the face, not
all, and this allows the Calcite crystals to show themselves, creating contrast. The Chalcopyrite appears
in shades of red, gold, and green. The Calcite crystals are mostly phantomed with darker center inclusions.
From the Brushy Creek Mine, Greeley, Viburnum Trend District, Reynolds County, Missouri.
Measures 10 cm by 15.4 cm by 6.4 cm in total size.
Ex. Dawson Calcite Collection
Price $2450
MIN#Tucson2015-74 Sold!
Breathtaking specimen of bluish-lavender Fluorite cubes with Barite on Sphalerite!
This lovely specimen displays half a dozen transparent cubes of soft blue Fluorite, so clear
that you can see down to the matrix beneath. They are lustrous with a smooth flowing luster
which highlights every surface detail. The cubes are surrounded and partially covered along
the far left edge by snowy-white Barite crystals, making for one of the prettiest Illinois combos
in quite some time. In excellent condition with one incomplete crystal along the lower trim edge.
From the Minerva No. 1 Mine, Ozark-Mahoning Group, Cave-in-Rock Sub-District, Hardin Co., Illinois.
Measures 8.6 cm by 7.7 cm by 4.2 cm in total size.
Ex. Ross Lillie Mineral Collection #RCL1829
Price $2850
MIN#Tucson2015-75 NEW!
Classic large plate of crystalline Native Copper from Bisbee!
This impressive old timer has quite a provenance with 5 labels accompanying it. The structure
of the specimen is mostly dendritic and is covered with a beautiful reddish-brown patina. A small
amount of matrix is present for contrast and this is a specimen that could easily be displayed from
either side. I chose this side for the photograph only because there is a collection tag on the other.
From the Campbell Mine (Campbell shaft), Bisbee, Warren District, Mule Mts, Cochise Co., Arizona.
Measures 16.5 cm by 16.3 cm by 4.5 cm in total size.
Ex. Dr. Eugene Sensel, Kleine Mineral Collections
Price $2500
MIN#Tucson2015-77 NEW!
Gemmy crystal of Beryl var. Emerald on Schist matrix from Russia!
This 2.1 gem sits beautifully atop the reflective matrix. The crystal is mostly transparent with a
lovely light green coloration and glassy surfaces. It is doubly terminated with both terminations
set into the Schistic matrix. A good looking Russian Emerald specimen with a strong inner glow.
From Malyshevo, Ekaterinburg, Sverdlovskaya Oblast', Middle Urals, Urals Region, Russia.
Measures 3.3 cm by 2.5 cm by 1.7 cm in total size.
Ex. Williams Mineral Collection
Price $1500
MIN#Tucson2015-79 NEW!
Super lustrous crystal of Ferberite with Quartz and yellow Mica!
This 5.2 cm Ferberite is absolutely dazzling, with an intense rolling luster atop smooth, almost
glass-like surfaces. It's also doubly terminated with full completions at both ends. Beautifully
accented by Quartz and framed by yellow Mica, this is an eye catching miniature in all respects.
From the Yaogangxian W-Sn ore field, Yizhang Co., Chenzhou Prefecture, Hunan Province, China.
Measures 6 cm by 4.2 cm by 2.4 cm in total size.
Price $1500
MIN#Tucson2015-80 NEW!
Sparkling crystals of deep blue Azurite on an earlier layer of of larger, satiny Azurite crystals!
This specimen displays two distinct growth cycles of Azurite. The newest or last cycle was
represented by small, intensely lustrous Azurite crystals of a deep vibrant blue coloration.
The older or original crystal consisted of lighter colored, larger crystals which display a less
flashy satin luster. The contrast between the two is quite stark even though both are the same
mineral. In very good condition with only a few small contacts which easily get lost in the blue.
By the way - the backside is also covered by a coating of tiny, sparkling blue Azurite crystals.
From the Liufengshan Mine, Guichi District, Chizhou Prefecture, Anhui Province, China.
Measures 11.5 cm by 14.2 cm by 4 cm in total size.
Ex. K. Miller Mineral Collection
Price $2850
- LINKS TO THE TUCSON 2015 SHOWROOMS -
1 | 2 | 3 | 5 | 6 | 7 | 8 | 9 | 10
HOME | EXCEPTIONAL MINERALS | MINERAL AUCTION | SPECIMENS FROM PAST SHOWS | CONTACT US