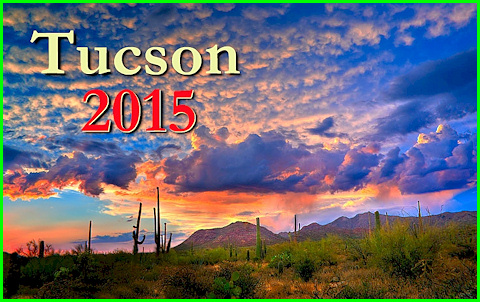 The Tucson 2015 Mineral Showrooms

* Re-Updated January 16th, 2017 *
MIN#Tucson2015-115 NEW!
RARE! Native Leaf Gold on Calcite-Quartz matrix from Alaska!
This specimen is from the obscure Purdy Mine near Chicken, Alaska. It's the first example
I've seen from this rare locality and mindat.org has no photographs of any specimens for
comparison. This mine was discovered by Fred and Arthur Purdy in the 1960s but it never
developed into a much larger operation and specimens of this richness are quite scarce.
From the Purdy Mine, Fortymile District, Southeast Fairbanks Borough, Alaska.
Measures 3.5 cm by 3.4 cm by 1.8 cm in total size.
Ex. Ralph Dietz, Hauck Mineral Collections
Price $1500
MIN#Tucson2015-116 NEW!
Rare! Traslucent green octahedrons of Fluorite on white Quartz!
This is the first and only specimen of Fluorite I've seen from this rare locality near Austin in
the great state of Nevada. I know Austin as a famous locality for Silver minerals but this obscure
Fluorite find appeared in the marketplace a couple of decades ago and quickly disappeared. There
are over half a dozen octahedrons of grassy-green Fluorite here, with the largest of these measuring
right at 4.3 cm in size. They also exhibit a bluish-purple fluorescence under UV lighting. Overall the
specimen sits well and is in very good condition with matted surfaces. Only 3 examples on mindat.org.
From a locality near Austin, Iowa Canyon District, Lander Co., Nevada.
Measures 8.5 cm by 6.5 cm by 5.3 cm in total size.
Ex. Trimingham Mineral Collection (Acquired in 1992)
Price $1850
- LINKS TO THE TUCSON 2015 SHOWROOMS -
1 | 2 | 3 | 4 | 5 | 7 | 8 | 9 | 10
HOME | EXCEPTIONAL MINERALS | MINERAL AUCTION | SPECIMENS FROM PAST SHOWS | CONTACT US