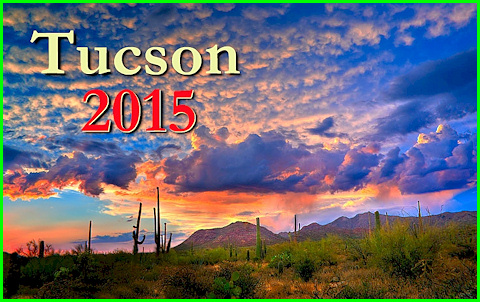 The Tucson 2015 Mineral Showrooms

* Re-Updated January 16th, 2017 *
MIN#Tucson2015-103 NEW!
Another beautiful Barite from Illinois - This one a blue Barite with Calcite on Fluorite!
The blue Barite crystals are in excellent condition, measuring to 2.5 cm in size as they
sit the Golden Calcite covering the reddish-purple Fluorite which serves as the base for
this lovely combination. The Barites are glassy and transparent with some slight frosting.
From the Minerva #1 Mine, Hardin County, Illinois.
Measures 6 cm by 7.7 cm by 3.8 cm in total size.
Circa early 1960's - Ex. Ryan Smith, Hammerslag Mineral Collections
Price $1450
MIN#Tucson2015-109 NEW!
Very rare specimen of fine Azurite crystals with Malachite on matrix!
This specimen is from Jerome, Arizona and despite all the material that was mined from this
well known locality over many decades, few specimens ever seem to make it to market. Other
than the specimens I self collected some years ago, this is the first Jerome Azurite I've seen
in a very long time. The Azurite crystals here are sharp and glassy-lustrous. They measure to
just under 1 cm in size and are scattered atop the matrix from top to bottom with Malachite
accenting along the outer edges where some alteration has occurred. In excellent condition
with barely a contact anywhere, this specimen represents a rare opportunity for collectors.
Discovered in 1900, this operation produced over 793 million pounds of Copper along with over
6.4 million ounces of Silver and over 152,000 ounces of Gold. This was a very rich mine indeed.
From the United Verde Extension Mine, Jerome, Verde District, Black Hills, Yavapai Co., Arizona.
Measures 5.3 cm by 3.8 cm by 1.1 cm in total size.
Ex. David Glenn Mineral Collection
Price $2450
MIN#Tucson2015-110 NEW!
Excellent example of an Illinois Galena specimen with surrounding Fluorite crystals!
This is easily one of the best Galena specimens I've seen from Illinois in terms of balance
and centering of crystals. It's a true work of natural art, with the largest cube in the middle
measuring 2.7 cm in size across the corners. It's surrounded by well over a dozen lustrous
Galenas and an accenting of small reddish-purple Fluorite crystals. In excellent condition.
From the Minerva No. 1 Mine, Cave-in-Rock Sub-District, Hardin Co., Illinois.
Measures 6.8 cm by 7.1 cm by 3 cm in total size.
Ex. Roy A. Smith Collection #1619
Price $1850
MIN#Tucson2015-111 NEW!
Super lustrous and quite unique specimen of Smithsonite with orange caps!
I call this specimen tri-colored because you have three distinct layers of growth and coloration
displayed here. The first is a powder-blue layer which covers the underlying matrix. The second
is a more lustrous white layer. The third and final layer is a very lustrous orange colored Cadmium
Smithsonite which appears as a top cap draped over the lower two layers. The end result is one of
the most unique looking and interesting specimens of Smithsonite that I've seen in recent years.
From the El Refugio Mine, Choix, Sinaloa, Mexico.
Measures 12 cm by 4.4 cm by 6.8 cm in total size.
Price $3450
MIN#Tucson2015-114 NEW!
Extremely rare Galena stalactite topped by Calcite crystals!
This incredible specimen was collected by Ross Lillie and he tells me only a few specimens
of this calibre were ever found. I've never seen a Galena stalactite of this form or size before
so I was amazed when I discovered the specimen at the show. The Galena is highly lustrous and
mirror-reflective in areas. The crystal form is elongated of course, but the look of the stalactite is
different from those smaller ones found in Missouri. The surface is more smooth and appears to
flow upwards like liquid with rounded crystal faces. At the top are numerous blades of Calcite which
formed after the stalactite had completed its formation. A rare opportunity to acquire something unique!
From the Gyudyurska Mine (Gjudurska), Zlatograd, Smolyan Oblast, Bulgaria.
Measures 15 cm by 7.5 cm by 6.8 cm in total size.
Ex. Ross Lillie Mineral Collection
Price $3500
MIN#Tucson2015-115 NEW!
RARE! Native Leaf Gold on Calcite-Quartz matrix from Alaska!
This specimen is from the obscure Purdy Mine near Chicken, Alaska. It's the first example
I've seen from this rare locality and mindat.org has no photographs of any specimens for
comparison. This mine was discovered by Fred and Arthur Purdy in the 1960s but it never
developed into a much larger operation and specimens of this richness are quite scarce.
From the Purdy Mine, Fortymile District, Southeast Fairbanks Borough, Alaska.
Measures 3.5 cm by 3.4 cm by 1.8 cm in total size.
Ex. Ralph Dietz, Hauck Mineral Collections
Price $1500
MIN#Tucson2015-116 NEW!
Rare! Traslucent green octahedrons of Fluorite on white Quartz!
This is the first and only specimen of Fluorite I've seen from this rare locality near Austin in
the great state of Nevada. I know Austin as a famous locality for Silver minerals but this obscure
Fluorite find appeared in the marketplace a couple of decades ago and quickly disappeared. There
are over half a dozen octahedrons of grassy-green Fluorite here, with the largest of these measuring
right at 4.3 cm in size. They also exhibit a bluish-purple fluorescence under UV lighting. Overall the
specimen sits well and is in very good condition with matted surfaces. Only 3 examples on mindat.org.
From a locality near Austin, Iowa Canyon District, Lander Co., Nevada.
Measures 8.5 cm by 6.5 cm by 5.3 cm in total size.
Ex. Trimingham Mineral Collection (Acquired in 1992)
Price $1850
MIN#Tucson2015-117 NEW!
Impressive specimen featuring pink patterned Calcite crystals on Calcite covered matrix!
These large, somewhat rounded Calcites sit atop a matrix of smaller, well terminated Calcite crystals.
The large Calcite measure 3.5 cm and 2 cm in size and display complete, lustrous faces on all sides.
This is easily one of the finest example of Calcite I've seen from this locality. In excellent condition.
From the Haramosh Mts., Skardu District, Baltistan, Gilgit-Baltistan, Northern Pakistan.
Measures 6.5 cm by 9 cm by 5.7 cm in total size.
Ex. Dawson Calcite Collection
Price $1850
MIN#Tucson2015-120 NEW!
Brilliant combination of Calcite crystals atop bluish-green Smithsonite on matrix!
Lustrous, blue botryoidal surfaces cover this fine specimen from one end to other, with a rich
coloration and fine tranparent Calcite crystals for accenting. Well trimmed with minimal contacts.
From the Kelly Mine, Magdalena, Magdalena District, Socorro Co., New Mexico.
Measures 3.8 cm by 7.5 cm by 3.2 cm in total size.
Price $1500
- LINKS TO THE TUCSON 2015 SHOWROOMS -
1 | 2 | 3 | 4 | 5 | 7 | 8 | 9 | 10
HOME | EXCEPTIONAL MINERALS | MINERAL AUCTION | SPECIMENS FROM PAST SHOWS | CONTACT US