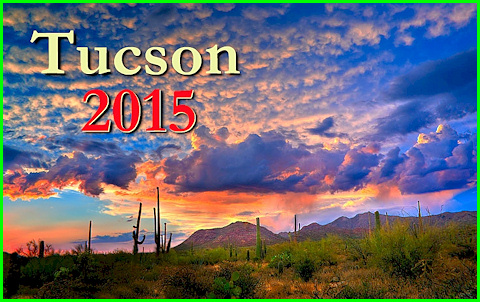 The Tucson 2015 Mineral Showrooms

* Updated August 7th, 2015 *
MIN#Tucson2015-141 NEW!
Exceptional specimen featuring dozens of fine Silver dendrites on Quartz matrix!
This is one of the most impressive San Genaro Silvers I've seen in years and it is literally
covered with Silver crystals, spinel-twins, and feather-like dendrites across the entire surface.
The crystals are sharp and lustrous with a golden-brown antique patina. The specimen is quite
heavy due to its coverage and the Quartz matrix is heavily filled with small Acanthite crystals.
From the San Genaro Mine, Castrovirreyna Dist., Castrovirreyna Prov., Huancavelica Dept., Peru.
Measures 4.5 cm by 8.2 cm by 5.4 cm in total size.
Price $5500
MIN#Tucson2015-142 NEW!
Classic old specimen of gemmy Calcite crystals in cluster with an embedded radial spray of Stibnite crystals!
This is a really neat and just simply aesthetic combination piece. The scalenohedral Calcites are colorless and
transparent with glassy faces. The Stibnite spray displays the fine lustrous metallic needles which light up with
reflective brilliance when the specimen is rotated. Combinations of this sort are not common. In fine condition.
From the San Martín Mine, San Martín-Sabinas District, San Martín, Mun. de Sombrerete, Zacatecas, Mexico.
Measures 7.4 cm by 6.9 cm by 3.4 cm in total size.
Ex. Heck Mineral Collection
Price $1250
MIN#Tucson2015-143 NEW!
Lustrous crystals of mustard-green Pyromorphite set atop Barite blades with Quartz!
Attractive specimen which is covered with the fine glassy Pyromorphite crystals, some
also appearing in small clusters. They sit atop the edges of the white Barite blades and
are visible from one side to the other. Any contacts are few and natural in origin. Overall,
the specimen is well balanced and pleasing. A small Smoky cluster appears at lower center.
From the Les Farges Mine, Ussel, Corrčze, Limousin, France.
Measures 8.2 cm by 8.1 cm by 5.2 cm in total size.
Price $1500
MIN#Tucson2015-145 NEW!
Super glassy crystals of deep blue Azurite with green Malachite sprays on matrix!
This is a screamer of an Azurite specimen if you appreciate chisel-perfect and highly lustrous
Azurite crystals. I won't make the comparison of these Azurites with those of Milpillas because
the look is somewhat different but they are every bit as impressive to me. The largest of these
freestanding Azurite crystals measures 2 cm in size and they were obviously well protected by the
concave pocket in which they formed because all are pristine, save for a couple of small ones
that touched matrix. This is a specimen that must be seen to be fully appreciated. The picture is
good but the specimen itself is many times better in person. The crystal luster is mind blowing.
From Daye County, Huangshi Prefecture, Hubei Province, China.
Measures 6 cm by 8.2 cm by 6 cm in total size.
Ex. K. Miller Mineral Collection
Price $3500
MIN#Tucson2015-151 NEW!
Gorgeous combination specimen featuring Spessartine Garnet with Apatite, Albite, and Muscovite!
A specimen with a superb arrangement that is both balanced and aesthetic. The deep red Garnets
climb upwards along the left side, penetrating a light pink Apatite crystal measuring 2.2 cm in the
process. They are flanked by bright white Albite crystals and balanced off by a series of large,
reflective Muscovite blades along the right edge. In great condition with no detracting contacts.
From the Shigar Valley, Skardu District, Baltistan, Gilgit-Baltistan (Northern Areas), Pakistan.
Measures 4.8 cm by 4.3 cm by 2 cm in total size.
Price $1850
MIN#Tucson2015-152 NEW!
Gorgeous golden Fluorite with color zoning surrounding Sphalerite and Calcite crystals!
A beautiful combination to say the least. This fine Fluorite has a rich, bright golden coloration with
lavender zoning on many of the gemmy cubes. It surrounds a large Sphalerite in the center and hosts
a smaller Sphalerite crystal near the top. The larger Sphalerite is accenting by doubly terminated,
light yellow Calcite crystals. In very good condition overall with only trimming edge contacting.
From the Ozark-Mahoning Mine, Cave-In-Rock Sub-District, Hardin Co., Illinois.
Measures 9.5 cm by 7.5 cm by 5.7 cm in total size.
Ex. Trimingham Mineral Collection (Acquired in 1968)
Price $2450
MIN#Tucson2015-155 NEW!
Lovely specimen featuring Quartz var. Citrine with Calcite on an Anhydrite crystal!
This is an amazing combo specimen that also features small, thin crystals of Anhydrite
scattered between the yellowish Citrine points. The specimen is a great looking cabinet
piece with lots of flash and luster. The entire cluster sits atop a thick Anhydrite crystal
which serves as the base for the specimen. There is one missing Citrine point near the
cluster center that is not very noticeable. This could be made less obvious if so desired.
From Naica, Mun. de Saucillo, Chihuahua, Mexico.
Measures 7 cm by 9.2 cm by 5.7 cm in total size.
Price $985
MIN#Tucson2015-158 NEW!
Stark and quite attractive specimen featuring pockerchip Calcites stacked alongside one another on Pyrite!
The flattened Calcites also have a greyish interior highlighting the otherwise pure white interiors. Very nice!
From Charcas, Mun. de Charcas, San Luis Potosí, Mexico.
Measures 7.5 cm by 4.2 cm by 5.6 cm in total size.
Ex. Dawson Calcite Collection
Price $985
MIN#Tucson2015-159 NEW!
Pretty specimen of green Fluorite on bright white Quartz matrix!
This is a beautiful specimen, and one that I don't see at the shows very often these days.
It comes from the Deer Trail Mine in Utah and the Fluorites actually have to be freed from
a thin Quartz druse coating. This is usually old material and quite beautiful material as well,
with a variation of the green color that I can't recall seeing from any other locality. It's a light
pastel green with just a hint of sea-green or blue-green in the mix. This small cabinet sized
plate is in excellent condition with few contacts and crystals on both the front and back sides.
From the Deer Trail Mine, Mount Baldy District, Cottonwood Creek, Tushar Mts, Piute Co., Utah.
Measures 8.6 cm by 9.2 cm by 3.3 cm in total size.
Price $685
- LINKS TO THE TUCSON 2015 SHOWROOMS -
1 | 2 | 3 | 4 | 5 | 6 | 7 | 9 | 10
HOME | EXCEPTIONAL MINERALS | MINERAL AUCTION | SPECIMENS FROM PAST SHOWS | CONTACT US