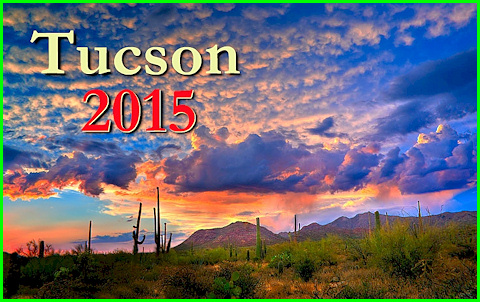 The Tucson 2015 Mineral Showrooms

* Re-Updated January 16th, 2017 *
MIN#Tucson2015-51 NEW!
Brilliant and quite exceptional crystalline Native Silver in white Calcite on matrix!
This is one of the finest Moroccan Silvers I've seen from Bou Azer. Not only is the crystalline structure
bright and lustrous, but it also sits atop the bright white Calcite which sits atop host matrix rock. I can't recall
seeing another on matrix Silver from this locality. The specimens I've seen in the past come with the Calcite
but not the hard rock matrix. The eye appeal of this specimen is superb with the transition from lustrous Silver
to white Calcite to gray matrix. Whoever did the trimming on this specimen did an excellent job. I love this piece!
From the Bouismas Mine, Bou Azer District, Tazenakht, Ouarzazate Province, Souss-Massa-Dra' Region, Morocco.
Measures 12.8 cm by 8.3 cm by 6 cm in total size.
Price $9500
MIN#Tucson2015-52 NEW!
Exceptional large cabinet plate of Amethyst crystals on a unique looking brown matrix!
Believe it or not, it was the matrix that first attracted my attention when I came across this very
impressive large plate at the show. It looked like the cracked clay bed of a dry river bottom and it
was covered with a sparkling druse. I've not another another matrix like it from Piedra Parada and
the large Amethyst crystals that sit atop are absolutely perfect and pristine. They are fully terminated
with gemmy interiors and a glowing purple coloration. The largest crystal is doubly terminated and lays
horizontally to the matrix. It measures 5.5 cm in length. The other Amethyst crystals vary in size and rise
vertically atop the dazzling surface. This is one of my favorites from the show. It's a superb display piece.
From Piedra Parada (Piedras Parado), Mun. de Tatatila, Veracruz, Mexico.
Measures 18 cm by 25 cm by 8.8 cm in total size.
Ex. Heinz Gugeler Mineral Collection
Price $4850
- LINKS TO THE TUCSON 2015 SHOWROOMS -
1 | 2 | 4 | 5 | 6 | 7 | 8 | 9 | 10
HOME | EXCEPTIONAL MINERALS | MINERAL AUCTION | SPECIMENS FROM PAST SHOWS | CONTACT US