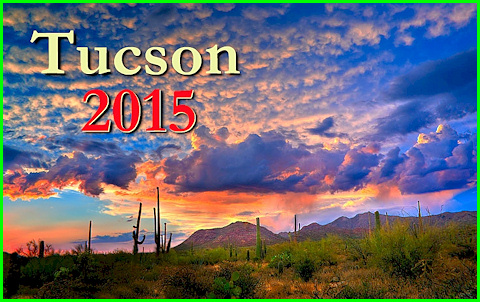 The Tucson 2015 Mineral Showrooms

* Re-Updated January 16th, 2017 *
MIN#Tucson2015-48 NEW!
Golden twinned Calcite crystal perched atop dark matrix!
What a beauty this specimen is! Both tips are perfectly terminated and the entire crystal is glassy and
gemmy with a gorgeous golden coloration. It's well striated and the luster flows evenly across the faces.
From the Dahegou Mine, Lushi Co., Sanmenxia Prefecture, Henan Province, China.
Measures 10 cm by 9.5 cm by 7.8 cm in total size.
Ex. Dawson Calcite Collection
Price $2500
MIN#Tucson2015-51 NEW!
Brilliant and quite exceptional crystalline Native Silver in white Calcite on matrix!
This is one of the finest Moroccan Silvers I've seen from Bou Azer. Not only is the crystalline structure
bright and lustrous, but it also sits atop the bright white Calcite which sits atop host matrix rock. I can't recall
seeing another on matrix Silver from this locality. The specimens I've seen in the past come with the Calcite
but not the hard rock matrix. The eye appeal of this specimen is superb with the transition from lustrous Silver
to white Calcite to gray matrix. Whoever did the trimming on this specimen did an excellent job. I love this piece!
From the Bouismas Mine, Bou Azer District, Tazenakht, Ouarzazate Province, Souss-Massa-Dra' Region, Morocco.
Measures 12.8 cm by 8.3 cm by 6 cm in total size.
Price $9500
MIN#Tucson2015-52 NEW!
Exceptional large cabinet plate of Amethyst crystals on a unique looking brown matrix!
Believe it or not, it was the matrix that first attracted my attention when I came across this very
impressive large plate at the show. It looked like the cracked clay bed of a dry river bottom and it
was covered with a sparkling druse. I've not another another matrix like it from Piedra Parada and
the large Amethyst crystals that sit atop are absolutely perfect and pristine. They are fully terminated
with gemmy interiors and a glowing purple coloration. The largest crystal is doubly terminated and lays
horizontally to the matrix. It measures 5.5 cm in length. The other Amethyst crystals vary in size and rise
vertically atop the dazzling surface. This is one of my favorites from the show. It's a superb display piece.
From Piedra Parada (Piedras Parado), Mun. de Tatatila, Veracruz, Mexico.
Measures 18 cm by 25 cm by 8.8 cm in total size.
Ex. Heinz Gugeler Mineral Collection
Price $4850
MIN#Tucson2015-55 NEW!
VERY RARE! Botryoidal mounds of brassy-golden Marcasite from Illinois!
This is an old time fine from the Amelia Mine and the first of this material that I have
seen from this obscure locality. Mindat.org doesn't even list a photograph for this mine.
Specimens are very rare in the marketplace and this fine example came out in the 1960s.
From the Amelia Mine, Galena District, Jo Daviess County, Illinois.
Measures 8 cm by 7 cm by 5.2 cm in total size.
Ex. Trimingham Mineral Collection
Price $1500
MIN#Tucson2015-56 NEW!
Impressive specimen featuring an Azurite crystals with Malachite on matrix!
This is a huge Azurite crystal and it is in sharp and in excellent condition with a full termination.
It measures 7 cm in size from base to tip, with a partial pseudomorphing to Malachite in the center.
This specimen could be displayed from either side. It sits atop smaller Azurite crystals on the side
displayed above and atop a horizontal crystal on the opposite size. Both displays are incredible to
see and there is literally no damage to speak of save for a few very tiny contacts here and there.
From the Tsumeb Mine, Tsumeb, Otjikoto Region, Namibia.
Measures 8.7 cm by 5 cm by 2.7 cm in total size.
Ex. Karlheinz Grosch Mineral Collection
Price $2850
MIN#Tucson2015-58 NEW!
Attractive specimen of bi-colored Hematite included Calcite crystals in cluster!
These crystals are distinctively bi-colored with white faces on the left side and brown,
hematite-colored faces on the right side. The surfaces range from nearly smooth to
highly textured where the brown coloration is present. Almost every Calcite crystal
is doubly terminated, measuring to 10.5 cm in size. The specimen displays a fine waxy
luster and is in very good condition with only minor natural contacts near a few of the
Calcite tips. The way the crystals in the background mimic the crystals in the foregound
is both interesting and aesthetic. The specimen also has the ability to sit without a stand.
From the Leiping Mine, Leiping, Guiyang Co., Chenzhou Prefecture, Hunan Province, China.
Measures 14 cm by 9.5 cm by 12.5 cm in total size.
Ex. Dawson Calcite Collection
Price $1850
- LINKS TO THE TUCSON 2015 SHOWROOMS -
1 | 2 | 4 | 5 | 6 | 7 | 8 | 9 | 10
HOME | EXCEPTIONAL MINERALS | MINERAL AUCTION | SPECIMENS FROM PAST SHOWS | CONTACT US