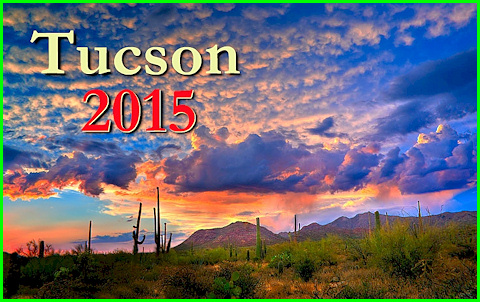 The Tucson 2015 Mineral Showrooms

* Re-Updated January 16th, 2017 *
MIN#Tucson2015-123 NEW!
VERY RARE! Lovely specimen featuring a combination of Amethyst crystals with Rhodochrosite!
This is a very rare specimen from a small, obscure find at the Broken Hill Mine in Australia. Only a handful
of these amazing specimens were found and very few were of quality like this one due to the restrictive nature
of the small pocket. Most were damaged or matrix contacted. This specimen features pinkish crystalline balls of
Rhodochrosite alongside numerous, well formed and terminated Amethyst Quartz crystals. In fine condition.
From the North Mine, Broken Hill, Yancowinna Co., New South Wales, Australia.
Measures 6.2 cm by 4.7 cm by 2.8 cm in total size.
Ex. Milton Lavers Mineral Collection
Price $985
MIN#Tucson2015-131 NEW!
Excellent crystal of vibrant orange Scheelite centered atop yellow Muscovite with Albite!
A very picturesque specimen, this 2.6 cm Scheelite, nearly pristine, displays perfect form and glassy
crystal faces over a glowing interior. Fine Scheelite specimens like this one have become difficult to find
in recent years as the supply has all but dried up. This specimen was personally chosen for its quality, lack
of contacts, and presentation atop the matrix. I think it meets all the criteria for a great display specimen.
From Pingwu, Mt Xuebaoding, Pingwu Co., Mianyang Prefecture, Sichuan Province, China.
Measures 5.1 cm by 7.4 cm by 4.8 cm in total size.
Ex. Smale Mineral Collection
Price $3500
MIN#Tucson2015-132 NEW!
Attractive specimen featuring two large crystals of Beryl var. Emerald on Schistic matrix!
The size of these Emerald crystals is very impressive considering that the specimen is from
Afghanistan and not Russia. Both crystals are fully terminated with flat terminations and have
better than average color with good translucency. They make a well matched pair of crystals
and display only a slight matrix influence. Both Emeralds measure 2.6 cm and 2.5 cm in size.
From Gamitha, Laghman Province, Afghanistan.
Measures 6.2 cm by 4.6 cm by 4.5 cm in total size.
Ex. L. DeRiggi Mineral Collection
Price $2500
MIN#Tucson2015-133 NEW!
Gorgeous crystals of gemmy golden Calcite on reddish Sphalerite crystal covered matrix!
This is a Tri-State classic, featuring transparent golden Calcites, some with internal phantoming. The crystals
are beautifully striated with a super glassy luster. The terminations are complete with barely a contact anywhere.
From Joplin Field, Tri-State District, Jasper County, Missouri.
Measures 14 cm by 12.3 cm by 5 cm in total size.
Ex. H. A. Ford Mineral Collection with original label
Price $2850
MIN#Tucson2015-136 NEW!
Rare specimen featuring slightly pink rhombs of brilliantly lustrous Calcite in cluster with Sphalerite and Quartz!
This is a difficult locality to collect because very few Calcites appear in the marketplace. This specimen probably
dates back to the 1960's or earlier. The largest rhombs are penetrating and almost appear to be twins. The crystal
in the center measures nearly 7 cm in size! In excellent condition with a wet, almost waxy looking surface luster.
From the Gibraltar Mine, Naica, Mun. de Saucillo, Chihuahua, Mexico.
Measures 9 cm by 6 cm by 6.4 cm in total size.
Ex. Stoudt Mineral Collection
Price $1500
MIN#Tucson2015-138 NEW!
RARE! Large crystals of Native Copper perched atop a cluster of crystalline Copper dendrites!
This impressive miniature is from one of the most obscure localities in the Keweenaw Peninsula - the old
Empire Mine. This mine, besides being the source of some incredible Datolite specimens through the years,
also produced some fine dendritic Copper specimens. This is the first I've seen which also included larger
Copper crystals and I was very pleased to find it at the show. The largest crystal measures just shy of an inch.
From the Iron City Mine (Empire Mine), Mosquito District, Copper Harbor, Keweenaw Co., Michigan.
Measures 5.5 cm by 4.8 cm by 3.4 cm in total size.
Price $985
MIN#Tucson2015-139 NEW!
Brilliant rhombs of transparent Calcite clustered atop a green Malachite covered matrix!
A lovely specimen with great visual contrast between the stark white and mostly translucent to
transparent Calcite rhombs and the mossy-green textured Malachite. Along the upper right edge
is a Malachite stalactite that rises as high or slightly higher than the Calcite crystal cluster to its
left. This adds great balance to the specimen. In very good condition with only minor contacts.
From the Ojuela Mine, Mapimí, Mun. de Mapimí, Durango, Mexico.
Measures 4.2 cm by 6 cm by 3.6 cm in total size.
Ex. Dawson Calcite Collection
Price $985
- LINKS TO THE TUCSON 2015 SHOWROOMS -
1 | 2 | 3 | 4 | 5 | 6 | 8 | 9 | 10
HOME | EXCEPTIONAL MINERALS | MINERAL AUCTION | SPECIMENS FROM PAST SHOWS | CONTACT US