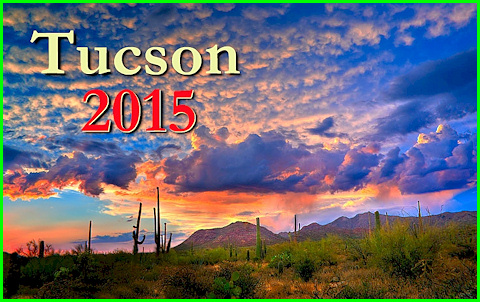 The Tucson 2015 Mineral Showrooms

* Re-Updated January 16th, 2017 *
MIN#Tucson2015-23 NEW!
Exceptional Native Silver wires with Acanthite crystals and on Silver matrix!
This is a MAJOR Native Silver and one of the finest I've ever seen from the Hongda Mine!
First of all, it's an impressive small cabinet in size. Secondly, the Native Silver - Acanthite base gives
rise to over a dozen wires, all curling upwards like flames of a fire. The wires are highly lustrous and
brilliant with some displaying a secondary crystallization atop the striated surfaces. It appears that
small Silver crystals began to form at some point atop some of the wires, giving them a serious amount
of sparkle to go with the noticeable luster. The base of the specimen is mostly Native Silver with some
scattered Acanthite crystals and Acanthite micro-crystals. There also appears to be a greenish mineral
along the left back side wires that may be Sphalerite. The surface patina is a beautiful golden-brown.
From the Hongda Mine, Xiaoqinggou Ag-Mn deposit, Lingqiu Co., Datong Prefecture, Shanxi Province, China.
Measures6.5 cm by 8.2 cm by 3.7 cm in total size.
Ex. Kevin Ward Mineral Collection
Price $55,000
MIN#Tucson2015-32 NEW!
Rich specimen of Native Gold on Quartz covered matrix!
This specimen is covered from one end to the other with fine crystalline clusters of Native
Gold and is probably one of the richest specimens at the show in terms of coverage. Under
magnification, you can see hundreds of fine crystals, all arranged in dense dendritic patterns.
This locality has been mined since the Romans and is literally full of ancient mines with an open pit.
From Rosia Montana (Verespatak), Alba County, Romania.
Measures 6.5 cm by 5.8 cm by 2.6 cm in total size.
Ex. N. Yedlin, Charles Leavitt, Hauck Mineral Collections
Price $2450
MIN#Tucson2015-36 NEW!
Brilliant reddish-orange Quartz crystals sitting atop Sphalerite crystals!
These eye catching specimens have become very rare in the current marketplace and this is one of the best
examples I've seen in a while. The orange Quartz crystals are in excellent shape and unusually clean with a deep
coloration that is mostly free of the Quartz frosting that one sees more often than not with these specimens. The
crystal faces are satiny and are well contrasted by the dark, lustrous Sphalerite crystals embedded on the back side.
From the 2nd Sovietskiy Mine, Dal'negorsk, Kavalerovo Mining District, Primorskiy Kray, Far-Eastern Region, Russia.
Measures 7 cm by 8.8 cm by 4.8 cm in total size.
Price $1500
MIN#Tucson2015-39 NEW!
Lovely combination featuring a doubly terminated Calcite sitting diagonally across Amethyst crystals!
This is a classic old specimen from the Valenciana Mine and features a perfect 6.3 cm bright white
Calcite crystal, contrasting starkly atop a cluster of purple Amethyst crystals beneath. The specimen is
well trimmed and free of damage. The Valenciana Mine is a Gold-Silver mine reaching depths of 1800 ft.
From the Valenciana Mine, Guanajuato, Mun. de Guanajuato, Guanajuato, Mexico.
Measures 6 cm by 10 cm by 4.3 cm in total size.
Ex. Stoudt Mineral Collection
Price $1850
- LINKS TO THE TUCSON 2015 SHOWROOMS -
1 | 3 | 4 | 5 | 6 | 7 | 8 | 9 | 10
HOME | EXCEPTIONAL MINERALS | MINERAL AUCTION | SPECIMENS FROM PAST SHOWS | CONTACT US