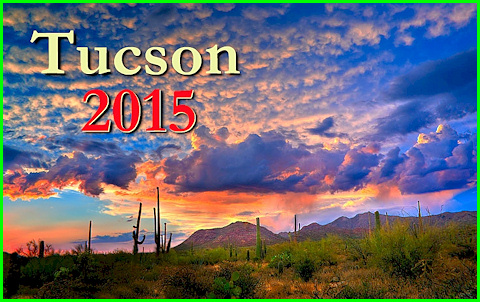 The Tucson 2015 Mineral Showrooms

* Updated August 7th, 2015 *
MIN#Tucson2015-184 Sold!
Very aesthetic specimen of Native Wire Silver rising up above a Native Silver matrix!
Stunning specimen of Native Silver in true arborescent style. I can't imagine a more attractive, tree-like
Native Silver from China. The wires of this specimen are perfectly balanced in size and position. They sit
atop a matrix that is a mix of wires and massive Silver and all of the main vertical wires seem to originate
from a central point or "trunk". The patina is a lovely soft, almost iridescent color over lustrous surfaces.
From Yueshan Ag-Pb-Zn deposit, Huangtun Township, Lujiang Co., Hefei Prefecture, Anhui Province, China
Measures 8 cm by 7 cm by 2.4 cm in total size.
Ex. Star, J. Webb Mineral Collections
Comes with a custom made, engraved display base
Price $12,500
MIN#Tucson2015-186 NEW!
Tri-State Classic featuring gorgeous crystals of deep golden Calcite on Chert matrix!
This is one of the finest Tri-State Calcites that I've ever offered. The crystals are gemmy with
some of the best golden color you'll ever see from this classic mining district. Their color is more
in line with something you'd see coming from the Elmwood Mine! I love the way three distinct
crystals habits appear on the same matrix, with the largest crystal in the back being doubly
terminated. It measures 7.5 cm in length and it as clear as glass near the tips and along the
upper edge. I can read the label card through the interior of the crystal! In excellent condition
with no damage to speak of - this specimen is incredibly well preserved considering its age.
From the Picher Mine, Picher Field, Tri-State District, Ottawa County, Oklahoma.
Measures 9 cm by 11.8 cm by 5.4 cm in total size.
Ex. Farnham Mineral Collection
Price $4500
MIN#Tucson2015-187 NEW!
Impressive plate featuring numerous Benitoite crystals on a bed of white Natrolite!
Well over a dozen Benitoite crystals atop this plate with lots of blue gem to appreciate if
you're a stone cutter. I prefer the specimen to remain as is however. The crystals exhibit
a strong satiny luster and average 1.5 cm in size. There are in excellent condition save for
a couple of small contacts near the trim edge that get lost without the aid of magnification.
Benitoite plates of this magnitude are few and far between in the marketplace today so this
represents a rare opportunity if you need a fine small cabinet sized plate for your collection.
From the Dallas Gem Mine, San Benito County, California.
Measures 7.5 cm by 8.2 cm by 4.5 cm in total size.
Price $7500
MIN#Tucson2015-188 NEW!
Stunning classic combination of Native Silver wires on sharp Acanthite crystals!
This is one of the most beautiful specimens I've seen from the famous Creede Silver
Mining District. It even features a perfect "rams-horn" curling wire along the far left
edge. The Acanthite crystals are sharp and impressive, appearing like mountain peaks
above the numerous, lustrous Silver wires which grow outwards from every recess.
From the Bulldog Mine, Creede Mining District, Mineral County, Colorado.
Measures 2.5 cm by 3.5 cm by 2.1 cm in total size.
Ex. Trimingham Mineral Collection
Price $3500
MIN#Tucson2015-190 Sold!
Very fine plate of deep green Pyromorphite crystals on matrix!
This plate is in excellent condition and I don't detect any visible contacts among the hundreds of
terminated crystals. The color can best be described as pure lime-green with just a light touch of
chartreuse. The surfaces are very lustrous and reflective, bouncing light as the specimen is rotated.
From the Daoping Mine, Gongcheng Co., Guilin Prefecture, Guangxi Zhuang Autonomous Region, China.
Measures 9 cm by 11.5 cm by 2.5 cm in total size.
Ex. J. Webb Mineral Collection
Comes with a custom made, labeled display base
Price $6500
MIN#Tucson2015-191 NEW!
Large gem Topaz crystals set atop Smoky Quartz from Namibia!
This was by far the most impressive Namibian multi-Topaz specimen at the show and it one of
the best I've seen in years. There are three terminated Topaz crystals here, measuring from
3 cm to nearly 4 cm in size. A fourth smaller Topaz is located on the back edge along the trimming
zone. The Smoky Quartz crystals are complete and terminated and display some internal phantoming
beneath the light brown exteriors. The crystals are all complete with some rehealing on the bottom
side. The Topaz crystals are gemmy for the most part with a very slight greenish-blue coloration.
From the Erongo Mountain, Usakos-Omaruru Districts, Namibia.
Measures 6.3 cm by 8.8 cm by 8.5 cm in total size.
Ex. Bahmann Mineral Collection
Price $3500
MIN#Tucson2015-192 NEW!
Bright, glowing orange crystals of translucent Orpiment on matrix!
A lovely specimen from the famous find of approximately seven years ago. I don't see many
in this size range these days and this specimen is very well trimmed with few contacts. The
largest crystal is nearly gemmy and measures 3.5 cm in size. The luster is strong and glassy.
From the Twin Creeks Mine, Potosi District, Humboldt County, Nevada.
Measures 8.5 cm by 5.9 cm by 4.8 cm in total size.
Ex. Saltzgaber Mineral Collection
Comes with a custom made, engraved acrylic base
Price $2500
MIN#Tucson2015-193 NEW!
Rare specimen of Native Gold with Pyrite crystals on Quartz from the Mother Lode!
Old time specimen featuring lustrous leaf Gold nestled between white crystal points! There
are Pyrite crystals scattered about and the leaf surfaces range from mirror-smooth to matted
in texture. I would date this specimen to the mid 1850's to as possibly as late as 1890. The old
label is brittle and in two pieces with the middle portion missing but the words Oro, quarzo, and
California are visible. Numerous Quartz crystals form the host matrix and some are terminated!
From the Mother Lode Region of California.
Weighs 29.7 total gram weight - Measures 5 cm by 3.5 cm by 2.5 cm in total size.

Ex. G. Lee Mineral Collection
Price $9500
MIN#Tucson2015-198 NEW!
Beautiful specimen of bluish-green Aurichalcite from the famous Kelly Mine!
Layers of various shades of blue-green color this specimen, all atop a concave structured
cast. The bottom side is displayed in the second photo and displays the radial patterned,
lustrous nodules that form the bottom side of the specimen. The specimen is in excellent
shape with barely a contact anywhere along the top layers which range from glossy smooth to
satiny. The thin crack seen along the right edge is only a small surface crack along one of the
top layer. It is natural in origin and has no bearing on the structural strength of the specimen.
From the Kelly Mine, Magdalena, Magdalena District, Socorro Co., New Mexico.
Measures 7.5 cm by 4.1 cm by 3 cm in total size.
Ex. Urish Mineral Collection
Price $1850
- LINKS TO THE TUCSON 2015 SHOWROOMS -
1 | 2 | 3 | 4 | 5 | 6 | 7 | 8 | 9
HOME | EXCEPTIONAL MINERALS | MINERAL AUCTION | SPECIMENS FROM PAST SHOWS | CONTACT US