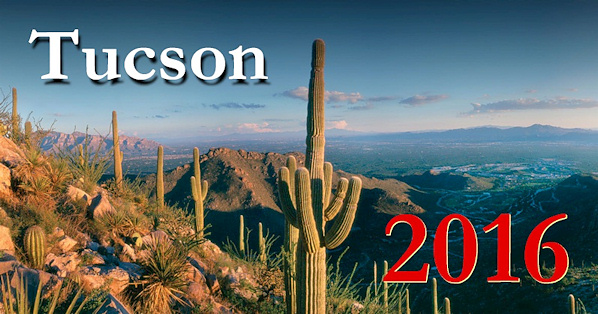 The Tucson 2016 Mineral Showrooms

* Re-Updated January 16th, 2017 *
MIN#Tucson2016-161 NEW!
Fine crystals of yellowish-orange Pyromorphite on Barite matrix!
Good Pyromorphites from Les Farges are becoming very difficult to find these days. This one
has a less common color, best described as yellowish or greenish-orange, with sharp crystals
and minimal contacts, mostly on the smaller less important crystals. There is one missing
crystal just beneath the largest crystal in the center but it is well hidden in the recesses.
The Pyromorphite has very good luster and almost complete covered the Barite matrix.
From the Les Farges Mine, Ussel, Corrèze, Limousin, France.
Measures 7.4 cm by 7.5 cm by 3.4 cm in total size.
Price $2500
MIN#Tucson2016-162 NEW!
Gemmy green cubes of modified Fluorite cubes in cluster with white Quartz crystals!
This is a lovely Fluorite specimen from the original find that came to market a decade ago.
The color is a bright apple-green and can appear lighter or darker depending on the light
source. The crystals are basically cubic but they do have stepped corners, giving the Fluorite
a modified appearance. The cubes are completely transparent all the way to the white Quartz
covered matrix below. There also appears to be a darker core in some of the Fluorites.
From the Xianghualing Mine, Chengzhou Prefecture, Hunan Province of China.
Measures 11 cm by 9.2 cm by 8.9 cm in total size.
Ex. John Fender Mineral Collection
Price $985
MIN#Tucson2016-163 NEW!
Brilliant crystals of Golden Smithsonite on matrix from Tsumeb!
Easily one of the prettiest Smithsonites I saw at the show, the color of these super gemmy
crystals could best be described as golden with just a hint of red. They measure to nearly
2 cm in size and display a glassy luster I don't often see on Tsumeb Smithsonites. The
cluster is in excellent condition with complete crystal tips and a well trimmed edge.
From the Tsumeb Mine, Tsumeb, Otjikoto Region, Namibia.
Measures 5 cm by 6 cm by 3.4 cm in total size.
Price $1500
MIN#Tucson2016-164 NEW!
Classic and very rare specimen of lustrous gray Acanthite crystals with Chalcopyrite on matrix!
The largest crystal in the middle measures 1.8 cm in length! The remainder of this very rich
Silver Sulfide is covered with smaller Acanthites and patches of iridescent Chalcopyrite.
From the Eldorado Mine, Port Radium, Mackenzie District, Northwest Territories, Canada.
(This locality was discovered in 1900 and mined as a source of Silver and Radium in the 1930's.
It was dewatered in 1976 and mined again for its Silver and Copper reserves before closing for
good in 1982. The mine and its settlement were destroyed by fire and no longer exist today.)
Circa 1930's - Measures 4.7 cm by 5.2 cm by 4.5 cm in total size.
Ex. Philadelphia Academy of Natural Sciences Collection
Ex. Kevin Ward Mineral Collection
Comes with a custom made, labeled display base
Price $8500
MIN#Tucson2016-165 NEW!
Colorful cabinet sized plate of Azurite with Malachite!
Of all the Azurite specimens I see from Utah, the Apex Mine is probably the scarcest locality.
Cabinet sized plates are even rarer. This specimen is a beautiful example which displays at least
two color variations of Azurite along with a botryoidal form and a micro-crystalline form which
sparkles under my office lights. The rolling Azurite surfaces are accented by round nodules of
green Malachite which appear as micro-crystalline balls and smooth, reflective balls. Overall,
this is a specimen that is quite 3-dimensional with a good number of recesses. It's in excellent
condition with no problems to speak of and would make a great display piece in any collection.
From the Apex Mine, Jarvis Peak, Tutsagubet District, Beaver Dam Mts, Washington Co., Utah.
Measures 8.6 cm by 13.6 cm by 8.5 cm in total size.
Ex. Presmyk Mineral Collection
Price $2850
MIN#Tucson2016-166 Sold!
Amazing specimen of Ram's Horn Selenite perched atop matrix!
I purchased this specimen about ten years ago for my personal cabinet and it has stayed there
ever since, always receiving a great number of compliments and questions regarding the price.
I decided the pull it out and finally let it see the light of day on the website. The specimen is
in perfect condition with two complete ram's horn curls at the top. Smaller curls can be seen
among the smaller Selenites at the base. The matrix is Selenite covered and quite lustrous.
From the Bou Bekker Mine, Touissit, Oujda-Angad Province, Oriental Region, Morocco.
Measures 15.5 cm by 8.2 cm by 5 cm in total size.
Ex. Kevin Ward Mineral Collection
Price $4500
MIN#Tucson2016-167 NEW!
Golden Fluorite in cluster from Germany!
This lovely miniature glows a rich golden-yellow and also displays a good amount
of sparkle due in part to the tiny Quartz crystals accenting some of the crystal faces.
There's some faint purplish zoning near the outer edges of some of the Fluorite cubes.
In excellent condition with no major contacts to speak of. Just lots of glassy luster.
From Mine #78, Frohnau, Annaberg-Buchholz, Annaberg District, Erzgebirge, Saxony, Germany.
Measures 6.5 cm by 4.8 cm by 2 cm in total size.
Ex. Jorg Walther Mineral Collection
Price $685
MIN#Tucson2016-168 NEW!
Exceptional specimen featuring Native Silver dendrites with Calcite matrix!
Look at the incredible crystalline dendrites that climb the matrix on both the front and back!
Another smaller Silver "feather" can be seen near the lower right in the first photo. There's a slight
iridescence coloring the surface of the larger dendrites and several spinel-twin crystals can be seen poking
out between the dendrites on all sides. Without a doubt, this is the most impressive Silver I've seen from the
San Genaro Mine and one of the largest as well. Everything else I've encountered has been thumbnails or
very small miniatures. None have featured the impressive coverage and crystallization of this stunning piece.
From the San Genaro Mine, Castrovirreyna District, Castrovirreyna Province, Huancavelica Department, Peru.
Measures 6 cm by 4.5 cm by 4 cm in total size.
Ex. James & Imelda Klein Mineral Collection
Price $7500
MIN#Tucson2016-169 Sold!
Rare specimen of Native Copper (Spinels and crystals) from Australia!
This specimen is not only rare, it's also pretty spectacular. The well formed Copper crystals which
form the majority of the specimen give rise to these incredible Spinel-twins along the top. These
crystals measure up to 1.7 cm in size and the dozen or so shoot out in various directions as they
seemingly "float" atop stacks of smaller Copper crystals below. This is an amazing specimen the
likes of which I have never seen before. It's in pristine condition with a original reddish-brown patina.
From the Broken Hill Proprietary Mine, Broken Hill, Yancowinna Co., New South Wales, Australia.
Measures 3.8 cm by 7.4 cm by 2.8 cm in size.
Ex. Webb Mineral Collection
Price $2850
MIN#Tucson2016-170 NEW!
EXCEPTIONAL!! Amazing specimen featuring lustrous Acanthite crystals sitting atop Polybasite!
Admittedly, I'm a Silver specimen fanatic and I go crazy when I see incredible combination pieces
like this one, but even non-Silver collectors can appreciate a specimen of this calibre! The pristine
Acanthites xls (largest measures 1.4 cm in size) sit perfectly atop very sharp blades of Polybasite
which are in turn, accented by a peppering of golden-iridescent Pyrite crystals. The Polybasite also
appears to be slightly coated by additional micro-Acanthites. I've never seen a specimen quite like
this one and the contrasting habits of both Silver Sulfides is what caught my attention. The largest
Polybasite is nearly 2 cm in width so it pretty hard not to notice! All crystals are sharp and distinct.
From the Reyes Mine, Guanajuato, Mun. de Guanajuato, Guanajuato, Mexico.
Measures 4.9 cm by 3.9 by 3.4 cm in total size.
Ex. Al Ordway, Kevin Ward Mineral Collections
Comes with a professionally made acrylic stand
Price $4500
MIN#Tucson2016-171 NEW!
Gorgeous, glowing specimen of Golden Fluorite cubes with Calcite crystals!
A stunning specimen that is pretty much pure golden except for a small amount of raspberry accenting along
the top edges. I mentioned there was an internal glow to this specimen and simply holding it in normal room
lighting makes this apparent. The cubes, which measure to nearly 8 cm at their largest, are very gemmy just
beneath the smooth, extremely glassy surfaces. This allows even the faintest light to easily penetrate the
Fluorite interiors where it then reflects off the more opaque centers. The visual impact of this is a warm,
golden-yellow glow with orange undertones. I can only imagine how much this specimen would light up if
given a direct spotlight. The specimen is overall in very good condition for a plate of its size. There are a
few scattered contacts but they pretty much get lost in the intensity of the specimen's color. Small doubly
terminated Calcite crystals accent the reflective surfaces. The trimming is excellent and there is some
slight etching along the edges which gives the specimen a look which is less trim-like and more natural.
From the Minerva Mine #1, Hardin County, Illinois.
Measures 13.5 cm by 21 cm by 9.5 cm in total size.
Price $3500
MIN#Tucson2016-172 NEW!
Textbook specimen of Tri-State Galena, Sphalerite, and Calcite on Chert matrix!
This specimen could be pictured in a mineralogy book! The three crystal habits are so
perfect for the minerals featured and the way they are all sitting there together on the
same matrix is amazing. The Galenas are cubes, the Calcite is scalenohedral and doubly
terminated, and the Sphalerite is tetrahedral. In excellent condition with no visible contacts!
This specimen was in my personal cabinet for years and I'm pleased to offer it here.
From the Lead-Zine Mines, Tri-State Mining District, Cherokee County, Kansas.
Measures 8.3 cm by 5 cm by 4 cm in total size.
Ex. Carlton M. Davis, Kevin Ward Mineral Collections
Price $2850
MIN#Tucson2016-173 NEW!
Lustrous golden cubes of Pyrite with Milky Quartz crystals!
The Pyrite cubes are bright and reflective, measuring to 1 cm in size. Some small secondary Pyrite
micro-crystals can be seen atop some of the crystal face. Terminated Quartz crystals surround the
Pyrite adding both balance and contrast of color. In very good condition with only a few trivial contacts.
From the Oppu mine, Naka-Tsugaru-gun, Aomori Prefecture, Tohoku Region, Honshu Island, Japan.
Measures 6.5 cm by 7.2 cm by 3.7 cm in total size.
Ex. Trimingham Mineral Collection
Price $895
MIN#Tucson2016-174 NEW!
Rare specimen of Azurite crystals in stalagmitic form atop Malachite matrix!
This is a locality that rarely appears on the market. It's covered with dark blue Azurite crystal clusters
which form stalagmites atop the massive Malachite surface. The specimen is in very good condition with
no visible contacts and a bright, reflective luster to the Azurite. A rare opportunity for locality collectors.
From the Silver Hill Mine (Gold Coin Mine), Cerro Colorado District, Cerro Colorado Mts, Pima Co., Arizona.
Measures 7.5 cm by 9 cm by 9.5 cm in total size
Ex. Scott Williams, Trimingham Mineral Collections
Price $2450
MIN#Tucson2016-175 NEW!
EXCEPTIONAL COPPER!! Bright, lustrous crystals of Native Copper!
A stunning cluster of Copper crystals with a super shiny surface and lustrous
faces. There's a combination of Quartz, Calcite, and Epidote accenting between
and atop several of the well formed crystals. No damage to speak of and one of
the prettiest patinas I've seen in a long time on a Michigan Copper specimen.
From the Calumet & Hecla Mine, Calumet, Houghton County, Michigan.
Circa late 1890's - Measures 6.5 cm by 4.1 cm by 3.2 cm in size.
Comes with a custom made, engraved base
Price $3500
MIN#Tucson2016-176 NEW!
Very impressive specimen of Rosasite on brown matrix!
This specimen is one of the finest Rosasites I've seen from the old Silver Bill Mine which is near
the ghost town of Gleeson in southeastern Arizona. The mineral formation is botryoidal in structure
and the powder-blue Rosasite covers most of the matrix and fills the recesses. In excellent condition
with no noticeable contacts or damage. This would make a great addition to an Arizona mineral collection.
From the Silver Bill Mine, Gleeson, Turquoise District, Dragoon Mts, Cochise County, Arizona.
Measures 12.7 cm by 8.6 cm by 4.2 cm in total size.
Ex. Korpi Mineral Collection
Price $2250
MIN#Tucson2016-177 NEW!
Rare specimen featuring Native Silver with Safflorite and Amphibole Asbestos from Cobalt, Ontario!
This specimen is entirely composed of Native Silver leaves and dendrites, nestled between crystal
balls of Safflorite and sprays of Amphibole Asbestos. The Native Silver is lustrous with a slightly
golden patina while the Safflorite is steel gray to dark gray. This impressive specimen from the
historical Cobalt area is quite heavy and loaded with Silver all the way through the solid base.
The Amphibole Asbestos appears as tightly packed fibers and they sit atop the surface of both
minerals as well as filling the concave openings in the solid matrix. This is a superb example of
the richness of the Cobalt area, one of the richest strikes of Silver ever recorded. I wouldn't be
surprised if there was also some Nickeline or Skutterudite in this very rich mineral specimen.
From the Cobalt area, Cobalt-Gowganda region, Timiskaming District, Ontario, Canada.
Measures 5.4 cm by 12.8 cm by 3.8 cm in total size.
Ex. Kleine Mineral Collection
Price $2850
MIN#Tucson2016-178 NEW!
Fine radial clusters of Pseudomalachite with Dioptase on tan matrix!
These fine clusters are lustrous and reflect the light along the length of their radial
structures, creating an intense rolling flash. The color of the Pseudomalachite is an
Emerald-green and there is translucency along the edges of each cluster. In excellent
condition with some small crystals of Dioptase and Quartz scattered about the matrix.
From the Harquahala Mine, Harquahala Mts., near Salome, La Paz County, Arizona.
Measures 5.3 cm by 9.3 cm by 4.2 cm in total size.
Ex. Jack Parnau, Trimingham Mineral Collections
Price $785
MIN#Tucson2016-179 NEW!
Unique specimen featuring Native Silver inside Mohawkite vugs!
Mohawkite is a rare mixture of Algodonite, Domeykite and Arsenic-rich Copper. It was originally
discovered in the Mohawk-Ahmeek area of Keweenaw County, Michigan, making this the type
locality for the mineral. This specimen displays colorful surfaces which are typically irregular
and naturally polished. Tucked away in small vugs are lustrous sheets of Native Silver, making
this a pretty rare combination specimen. I can't recall seeing another like it at any of the shows.
From the Mohawk Mine, Mohawk, Keweenaw County, Michigan.
Measures 5.7 cm by 3.7 cm by 2.5 cm in total size.
Price $1500
MIN#Tucson2016-180 NEW!
Rare classic featuring fine crystals of Azurite set among Malachite "pillars"!
The Azurite crystals are sharp and incredibly glassy with brilliant, reflective surfaces.
They measures to 1.7 cm in size and contrast beautifully with a unique looking pillars
of Malachite in the background. The specimen is in excellent condition and is one of
the rarer localities I've come across recently for an Azurite and Malachite specimen.
From the Block 14 opencut, Broken Hill, Yancowinna Co., New South Wales, Australia.
Measures 4.5 cm by 6.5 cm by 5.6 cm in total size.
Ex. Antonen, Trimingham Mineral Collections
Price $1850
ADDITIONAL TUCSON 2016 SHOWROOMS COMING SOON!!
- LINKS TO THE TUCSON 2016 SHOWROOMS -
1 | 2 | 3 | 4 | 5 | 6 | 7 | 8 | 10
HOME | EXCEPTIONAL MINERALS | MINERAL AUCTION | DENVER 2016 SHOWROOMS | CONTACT US