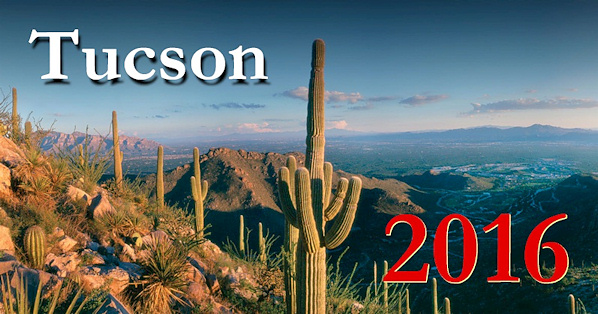 The Tucson 2016 Mineral Showrooms

* Re-Updated January 16th, 2017 *
MIN#Tucson2016-121 NEW!
Aesthetic specimen featuring a phantomed Fluorite cubes with a perfect Sphalerite crystal!
Studded with Calcites, this visually pleasing specimen boasts the most lustrous 4 cm Sphalerite
crystal imaginable overlooking two complete and well zoned Fluorite crystals. Only one minor
corner cleave to speak of on the top Fluorite. Otherwise, this specimen is in perfect condition.
From the Elmwood Mine, Smith County, Tennessee.
Measures 7.2 cm by 5.5 cm by 4 cm in total size.
Ex. Steve Neely Mineral Collection
Price $2500
MIN#Tucson2016-122 NEW!
Large, SUPER LUSTROUS crystals of Ferberite with Quartz and Pyrite!
This is one "black ugly" that's pretty darn attractive. These intensely lustrous, well striated
Ferberite crystals are clustered together as terminated blades of varying sizes. Between the two
layers of Ferberites, there are a scattering of Quartz points and Pyrite cubes. This really makes
the darker Ferberite crystals pop. The terminations are slanted, chisel-like tips and the entire
specimen is in great condition with only minor contacts. The far right side shows matrix influence.
From the Kara-Oba W deposit, Betpakdala Desert, Karagandy Province, Kazakhstan.
Measures 10.5 cm by 13 cm by 4.4 cm in total size.
Price $2450
MIN#Tucson2016-123 NEW!
Sharp crystals of bipyramidal Wulfenite on Limonite matrix!
These were collected in January of 2008 and have been very popular since coming to market.
These specimen is in excellent condition with very little in the way of contacts. The crystals
appear to be sitting on Descloizite coated matrix but I haven't tested to be certain.
From Level 6, San Juan Poniente Vein, Ojuela Mine, Mapimí, Mun. de Mapimí, Durango, Mexico.
Measures 6.9 cm by 10 cm by 5.3 cm in size.
Price $1500
MIN#Tucson2016-124 NEW!
Lustrous pyramidal crystal clusters of Acanthite with Native Silver wires!
An amazing combination featuring stacked Acanthite ps. after Argentite (Silver Sulfide) crystals with Native
Silver wires throughout! Obviously the Sulfur component was removed at some point during the development
of this specimen, allowing for the Native Silver growth. Specimens like this always amaze me. They are both
beautiful and extremely interesting in a geological as well as an historical sense. This specimen is a classic
rarity from a major Silver mining district which has faded into the past. Fortunately, great specimens survive
for all collectors to enjoy. I might point out that this specimen is very heavy and nearly solid Silver mineral!
From the Foster Mine, Glen Lake, Coleman Township, near Cobalt, Ontario, Canada.
Measures 8.4 cm by 7 cm by 7.8 cm in total size.
Currently in the Kevin Ward Mineral Collection
Comes with a custom made, labeled stand
Price $9500
MIN#Tucson2016-125 NEW!
Large cabinet plate of vibrant purple Fluorite with Barite blades in cluster!
These purple cubes are pure gems with internal phantoming and transparency all the way
down to the matrix! They sit atop a sparkling matrix of Quartz and provide a wonderful
color contrast for the creamy white Barite blade clusters. In very good condition overall.
From the Berbes Mine, Berbes, Asturias, Spain.
Measures 9.8 cm by 14 cm by 8.2 cm in total size.
Price $1850
MIN#Tucson2016-127 NEW!
Beautifully patinaed specimen of crystalline Native Copper on Copper spinels!
The color of the Copper crystals changes from bright Copper to reddish Copper as you move towards
the bottom. The largest crystals have the deepest patina color and all are sharp with lustrous faces.
I love the way the crystal habits change with each level of growth, mimicking the color change.
From the Centennial Mine, Keweenaw County, Michigan.
Measures 6 cm by 6 cm by 3.4 cm in size.
Price $2500
MIN#Tucson2016-128 NEW!
Large and very distinct crystals of bronze Pyrrhotite with golden Chalcopyrite!
Also with some Calcite crystals, this impressive combination piece boasts a 5.2 cm
Pyrrhotite crystal at top to go along with a 4.2 cm Chalcopyrite in the center! Actually,
the Chalcopyrite is complete surrounded by thick Pyrrhotite crystals on all sides!
From the Nikolaevskiy Mine, Nikolaevskoe Pb-Zn-Ag deposit, Dal'negorsk, Primorskiy Kray, Russia.
Measures 7.4 cm by 9.5 cm by 6.5 cm in total size.
Ex. Pilipenko, Star van Schriver, Edward David Mineral Collections
Price $2850
MIN#Tucson2016-129 NEW!
Exceptional, museum quality large cabinet plate of lustrous Sphalerite clusters with Barite on Dolostone!
No doubt about it! This is easily the finest Elmwood Sphalerite plate I have ever seen or offered on the website.
Usually large plates of Sphalerite are either dull or damaged but this specimen is completely pristine! The crystal
clusters are super reflective and lustrous and the specimen is as close to perfect as you can find. The plate is
very well proportioned and balanced with one side being more Sphalerite and the other more Barite clusters.
I could see this plate standing alone or being the centerpiece of a fine Elmwood collection.
From the Elmwood Mine in Smith County, Tennessee.
Measures 24 cm by 33 cm by 8.4 cm in total size with a 9.5 cm Sphalerite cluster at top left.
Ex. Charlie Key Mineral Collection
Comes with a custom made, labeled base
Price $12,500
MIN#Tucson2016-130 NEW!
Classic specimen of crystalline Azurite balls with Malachite on matrix!
This old specimen is from the old mining town of Clifton which sits just below the Morenci
open pit. The town of Clifton was a thriving mining town but has dwindled in recent years
as the population has left and main street is now nearly deserted. This specimen is from
the early mining days (circa late 1880's) and is an old A. E. Foote specimen with an attached
Foote label glued to the bottom side. Most likely an Arizona Copper Company specimen.
From Clifton, Clifton-Morenci District, Greenlee County, Arizona.
Measures 6.5 cm by 6.3 cm by 5.2 cm in total size.
Comes with an attached A. E. Foote label - circa 1880's.
Price $1850
MIN#Tucson2016-131 Sold!
Sweet specimen of Arsenian Pyromorphite crystals on matrix!
This is a wonderful miniature with no visible damage and enough sparkle and flash for several
specimens. The crystals are bright yellowish-orange and display a visible translucence. Upon
closer examination with a 16x loupe, I can see just how glassy the crystal faces are and most
of the Pyromorphite crystals display a pyramidal termination. The matrix is brown and cast-like/
From the Bunker Hill Mine, Kellogg, Shoshone County, Idaho.
Measures 4 cm by 5.7 cm by 3.8 cm in total size.
Price $1850
MIN#Tucson2016-132 NEW!
Impressive specimen featuring LARGE Galena octahedrons on Quartz from Colorado!
I don't think I've seen a specimen with larger crystals from this locality outside of a museum.
The largest modified Galena crystal measures 6 cm in size and the others are of a similar size.
This would rate as one of the most impressive Colorado Galena specimens I've ever come across.
From the New Jersey Zinc Eagle Mine (Gilman Mine), Gilman, Gilman District, Eagle Co., Colorado.
Measures 7.4 cm by 14 cm by 10.2 cm in total size.
Ex. Dr. Gary Hansen Mineral Collection
Price $2850
MIN#Tucson2016-133 NEW!
Gemmy crystals of bright yellow Native Sulfur inside matrix vugs!
A beautiful Sulfur specimen from a lesser seen locality in Mexico. The crystals are
very gemmy and range in size from .4 cm to .8 cm. There are dozens and dozens of
crystals covering the white Aragonite lined surfaces and vugs of the matrix. Very
flashy and very pretty cabinet sized Sulfur specimen. In excellent conditional overall.
From San Felipe, Mun. de Mexicali, Baja California, Mexico.
Measures 13.3 cm by 11 cm by 6.6 cm in total size.
Price $785
MIN#Tucson2016-136 NEW!
Classic American example of Vanadinite crystals on matrix.... from Arizona!
This large plate is from the Old Yuma Mine, one of the top localities for fine Vanadinite crystal specimens
prior to the finds in Morocco. This plate is richly covered with a large number of bright orange crystals in
various sizes. It's in very good condition for a plate of this size, with sharp crystals and very few contacts.
From the Old Yuma Mine, Saguaro National Monument, Amole District, Tucson Mts, Pima Co., Arizona.
Measures 12 cm by 12.2 cm by 3.1 cm in total size.
Price $895
MIN#Tucson2016-137 NEW!
Elogated stack of lustrous Pyrrhotites on Quartz crystals!
The bronze colored and quite lustrous Pyrrhotites contrast beautifully with the orange tinted Quartz
and the entire specimen is very three dimensional in appearance. The stack climbs some 9.5 cm
in height above the Quartz and has been stabilized along a matrix crack on the backside to
strengthen a weak point. I believe this is the longest Pyrrhotite stack I've ever offered.
From the Nikolaevskiy Mine, Dal'negorsk, Primorskiy Kray, Russia.
Measures 10 cm by 9.2 cm by 6.3 cm in total size.
Price $2500
MIN#Tucson2016-138 NEW!
Rare specimen featuring three terminated gem Topaz crystals in hard Calcite matrix!
One of the few multi-crystal specimens I've found from Katlang. The Topaz crystals are all
very glassy and gem with good terminations. The fatter Topaz at top measures 2.2 cm by 1.5 cm
while the Topaz at bottom measures 2.4 cm by 1.2 cm in size. The third smaller 1 cm Topaz can be
seen just to the right of this crystal. No damage to speak of, only some minor internal crazing lines.
From Katlang, Mardan District, Khyber Pakhtunkhwa, Pakistan.
Measures 8 cm by 8.4 cm by 6.5 cm in total size.
Ex. Herbert Obodda Mineral Collection
Price $4500
MIN#Tucson2016-140 NEW!
Sweet specimen of greenish-yellow Pyromorphite in individual clusters on matrix!
Brilliant miniature which exhibits a great deal of eye appeal and flash! The glassy Pyromorphite
crysta;s have grouped themselves together into little spheres, creating an unique and very aesthetic
presentation. The specimen is in great condition with barely a contact. Formally a competition piece.
From the Daoping Mine, Gongcheng Co., Guilin Prefecture, Guangxi Zhuang Autonomous Region, China.
Measures 5.2 cm by 4.3 cm by 2.3 cm in total size.
Come with a custom made, labeled wooden base for competition display
Price $1500
- LINKS TO THE TUCSON 2016 SHOWROOMS -
1 | 2 | 3 | 4 | 5 | 6 | 8 | 9 | 10
HOME | EXCEPTIONAL MINERALS | MINERAL AUCTION | DENVER 2016 SHOWROOMS | CONTACT US