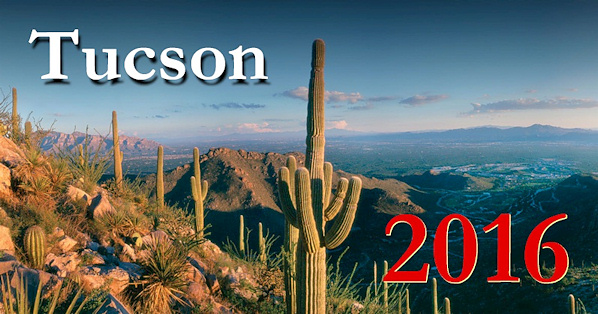 The Tucson 2016 Mineral Showrooms

* Re-Updated January 16th, 2017 *
MIN#Tucson2016-181 NEW!
Gorgeous display specimen featuring large white stalactites of Aragonite perched alongside green Fluorite!
This is an impressive specimen to say the least. It's the first combination of Fluorite with Aragonite that
I've seen in the marketplace even though it's found throughout the Rogerley Mine. I would guess that not
many are preserved during the extraction process. The stalactites of Aragonite here are absolutely beautiful
with five distinct points and snowy-white surfaces. They sit atop the left side of the matrix with gemmy green
Fluorite crystals measuring to 2.2 cm in size covering the entire right side. The Fluorites are often twinned
and display a strong fluorescence. Small frosted Galenas are scattered about among the Fluorite. In very
good condition overall with only a scattering of minor contacts. This is a superb large cabinet centerpiece.
From the Rogerley Mine, Rogerley Quarry, Frosterley, Weardale, North Pennines, Co. Durham, England.
Measures 25 cm by 16.5 cm by 11.4 cm in total size.
Comes with a custom made, engraved display base
Price $12,500
MIN#Tucson2016-182 NEW!
VERY RARE!! Historic specimen featuring Acanthite crystals on Erythrite (Cobalt bloom) covered matrix!
Specimens of this combination from Cobalt are so rare that you'd be lucky to see one in a decade. This is the first I've offered
in the history of this website (15 years) and I've seen no others, not even during my visit to Cobalt several years ago. Simply
put, not many large Acanthite specimens with their original Erythrite coating survive from the Cobalt Mining Disrict. Most
were cleaned or had their Erythrite bloom removed and that is a shame because it's such a large part of the region's history.
Erythrite, being a Cobalt mineral, is also the reason behind the town's name. This large plate has been preserved since it
was mined in the early 1900's and the Acanthite crystals are lustrous, measuring to 1.5 cm in size. They are well scattered
atop the red surfaces. This specimen is a rare opportunity to acquire an original specimen from a great Silver mining district.
From the O'Brien Mine, Coleman Township, Cobalt area, Cobalt-Gowganda region, Timiskaming District, Ontario, Canada.
Measures 12 cm by 13.5 cm by 3.4 cm in total size.
Ex. Robert W. Hauck Mineral Collection
Price $15,000
MIN#Tucson2016-183 NEW!
Very fine specimen featuring reddish-pink rhombs of Rhodochrosite atop micro-Quartz crystals!
This is one of the finest Sunnyside Rhododchrosite specimens that I've seen in years and while they
do appear in the marketplace from time to time, they are rarely of this quality and depth of color.
The rhombs are sharp, measuring to 1.2 cm in size, and they beautifully cover the snowy-white Quartz.
This is a specimen that will both attract your eye with color and dazzle with sparkling Quartz brilliance.
From the Sunnyside Mine (American Tunnel), Gladstone, Eureka District, San Juan County, Colorado.
Measures 8 cm by 6 cm by 3.4 cm in total size.
Price $4500
MIN#Tucson2016-184 Sold!
Brilliant crystals of Native Silver set aesthetically atop Quartz covered matrix!
This is one of the most unique Batopilas Silvers I've acquired in quite some time and it
is as equally attractive. The Silver appears as a cluster of distinct crystals which branch
outwards at the edges as stacked dentritic pillars. The crystals at the top actually rise above
the Quartz covered matrix and stand alone approximately 2 cm above the host rock, giving
the specimen a dramatic appearance. I feel this specimen probably formed as a thin seam
of crystalline Silver. When the top portion split off at a later date, it exposed the Silver and
gifted us the 3-dimensional beauty that exists today. If you're looking for a crystalline Silver
from Batopilas to go with your wire or herringbone specimen, I strongly recommend this one.
From Batopilas, Andres del Rio District, Mun. de Batopilas, Chihuahua, Mexico.
Measures 7 cm by 5 cm by 4.1 cm in total size.
Ex. Rolf Wein Mineral Collection
Price $4500
MIN#Tucson2016-185 NEW!
Classic old specimen of Rhodochrosite on Quartz ps after Rhodochrosite!
I rarely find impressive specimens from the Grizzly Bear Mine so this one immediately caught
my attention. It dates to the 1960's and features fine rhombs of reddish-pink Rhodochrosite atop
Quartz casts pseudomorphing Rhodochrosites. The Rhodo rhombs are in excellent condition and
measure to 1.8 cm in size. This is one of the finest miniatures I've seen in years from this locality.
From the Zanett Tunnel, Grizzly Bear Mine, Bear Creek Canyon, Ouray, Ouray Dist., Ouray Co., Colorado.
Measures 5.2 cm by 7.2 cm by 2.7 cm in total size.
Ex. Vendl Mineral Collection
Price $2450
MIN#Tucson2016-186 NEW!
Exceptional Native Copper featuring a large single crystal atop smaller Copper crystals!
This is a specimen that could be displayed from either the front or back sides and still look
incredible. The main crystal is beautifully formed with sharp, lustrous faces and a gorgeous
reddish-brown patina. This is a specimen that has not been messed with over the decades.
The crystal itself measures 5 cm in size and sits atop several smaller crystals at the base.
From the Copper Mining District, Keweenaw Peninsula, Michigan.
Measures 7 cm by 6.2 cm by 4.7 cm in total size.
Ex. David Roter Mineral Collection
Price $5500
MIN#Tucson2016-187 NEW!
Beautifully phantomed Calcite crystal perched atop Dolomite with Ankerite!
A great looking specimen which exhibits a boldly phantomed Calcite crystal with a "saw-toothed"
edge which is completely natural. The satiny Calcite sits atop a matrix of Dolomite crystals and
Ankerite which are brown-stained by Hematite. In excellent condition with no major contacts.
From the 240 meter level, Pohla Mine Group, Erzgebirge, Freiberg, Saxony, Germany.
Measures 5.7 cm by 4.7 cm by 2.5 cm in total size.
Ex. Jorg Walther Mineral Collection
Price $685
MIN#Tucson2016-188 NEW!
Lovely specimen featuring stacked crystals of Manganoan Calcite forming pillars in cluster!
These lovely pink Calcite specimens are of recent discovery and consist of numerous stacked crystals
which rise upwards atop one another, forming a skyline of pillars. There is no matrix as the specimen
is all Manganoan Calcite, from top to bottom. The surfaces are super glassy and lustrous and there
is no damage to speak of. The color could best be described as a glowing, translucent pastel-pink.
From the Shizhuyuan Mine, Dongpo Ore Field, Yizhang Co., Chenzhou Pref., Hunan Province, China.
Measures 9.5 cm by 14 cm by 8 cm in total size.
Ex. Dawson Calcite Collection
Price $1850
MIN#Tucson2016-189 NEW!
Transparent crystals of light golden Barite clustered high atop Manganoan Dolomite covered matrix!
From a recent find, never seen before in Peru. The thin Barite crystals are super clear and fully
transparent with sharp edges and a glassy luster. They sit pristinely atop a matrix covered by reddish-
pink Manganoan Dolomite crystals which also form small pillars or "fingers". In excellent condition.
From Cerro Warihuyn, Miraflores, Huamalíes Province, Huánuco Department, Peru.
Measures 8.8 cm by 5.2 cm by 4.1 cm in total size.
Price $985
MIN#Tucson2016-190 NEW!
Fine cabinet plate of zoned Fluorite with Calcite accents!
A very attractive specimen which displays a strong golden-yellow interior beneath purple exteriors.
The Calcites are sprinkled atop the cubes in various sizes and all are very gemmy.
From the Minerva #1 Mine, Hardin County, Illinois.
Measures 14 cm by 11 cm by 6.5 cm in total size.
Ex. Matthew Webb Mineral Collection
Price $1850
MIN#Tucson2016-191 NEW!
Fine, glassy crystals of Cerussite with Malachite atop matrix!
Aesthetic specimen featuring half a dozen Cerussite crystals measuring to 2.5 cm in size.
The largest crystal (shown in the close up photo) is gemmy to translucent with a glassy luster.
It display a sixling crystal structure and only a couple of very minor contacts along the edges.
It's surrounded by smaller Cerussite crystals and a scattering of green Malachite atop the matrix.
From the Tsumeb Mine, Tsumeb, Otjikoto Region, Namibia.
Measures 8 cm by 4.2 cm by 4.7 cm in total size.
Price $2500
MIN#Tucson2016-192 NEW!
Bright yellow crystal sprays of Legrandite on Limonite matrix!
This specimen has a good amount of Legrandite for its size. There are at least three sprays
covering the center of the matrix, covering an area the measures 3.3 cm in width. The crystals
are brilliant and glassy lustrous with gemmy transparent tips. In excellent shape with no damage.
From the Ojuela Mine, Mapimi, Durango, Mexico.
Measures 4 cm by 7.2 cm by 2.9 cm in total size.
Price $1850
MIN#Tucson2016-193 NEW!
Impressive specimen of thick iridescent blades of Covellite with Pyrite on matrix!
A gorgeous old classic, the iridescence of this specimen is beautiful with its deep flashes of blue
and reddish-purple! The blades are in very good condition with only a few scattered areas of matrix
contact near the bottom. They are not bunchy as some Covellites tend to be. There is space between
the blades, setting them apart and providing the specimen with visual depth. A small cluster of golden
Pyrite crystals can be seen at center with Pyrite accenting at the edges. This specimen is circa 1940's.
From the East Colusa Mine, Butte, Butte District, Silver Bow County, Montana.
Measures 5.8 cm by 5.5 cm by 4.3 cm in total size.
Ex. Norman Dawson Mineral Collection (1962 dated label)
Price $3500
MIN#Tucson2016-194 NEW!
Beautifully crystallized Native Copper "fan" on Native Copper crystals!
This specimen is somewhat unusual for the White Pine Mine which is usually known for its
wires and fine dendrites. The top portion is an impressive crystalline fan that can be displayed
from either the front or back sides. The fan sits atop a more typical dendritic crystal formation at
the bottom and I love the visual impact of a large fan-like arrangement of crystals atop a smaller
dendritic growth. This is the way the specimen is displayed on its acrylic base as well. The surfaces
are lustrous and the crystallization is sharp and distinctive. A lovely antique patina covers all surfaces
and also allows the reddish color to peak through between the crystal faces. This is a great display piece.
From the White Pine Mine, White Pine, Ontonagon County, Michigan.
Measures 19.7 cm by 8.7 cm by 1.8 cm in total size.
Comes with a custom made, labeled display base
Price $6500
MIN#Tucson2016-195 NEW!
Impressive cluster of Azurite and Malachite ps Azurite crystals!
This rosette is mostly large Azurite crystals but there are some areas of pseudomorphing to Malachite.
This cluster is basically round with crystals extending from all sides and it is in excellent condition with
good luster to the Azurite surfaces. Some traces of the host Fraipontite-Montmorillonite clay are present.
From the Rancho Santa Rosa Mine, Concepción del Oro, Mun. de Concepción del Oro, Zacatecas, Mexico.
Measures 7 cm by 6 cm by 4.8 cm in total size.
Ex. Trimingham Mineral Collection
Price $985
MIN#Tucson2016-196 NEW!
Fine dark blue crystal sprays of Cornetite on Chrysocolla!
Beautiful specimen with a full coverage of lustrous blue Cornetite crystals and radial Cornetite sprays from
one side to the other. The intensity of the luster is quite stunning, with a sparkling eye appeal atop the more
subdued Chrysocolla coating. The radial "starbursts" measure to 6 mm in size and there is no damage.
From L'Etoile du Congo Mine, Lubumbashi, Katanga Copper Crescent, Katanga, Dem. Republic of Congo.
Measures 6 cm by 9.7 cm by 2 cm in total size.
Price $895
MIN#Tucson2016-197 NEW!
Dazzling cabinet plate of super brilliant Olmiite crystal cluster balls set atop matrix!
These crystals balls are some of most impressive I've ever seen, with a rich peachy-orange coloration
and incredibly glassy crystal faces. The luster is intense and wet looking atop crystal balls that are
translucent in the center and gemmy around the edges. The eye appeal of this specimen is off the charts
and the largest crystal ball measures 3.3 cm in size. This specimen would look incredible without lighting
but lights up and glows under warm cabinet lighting. There are some slight surface contacts atop several
of the crystal balls and these are natural in origin. The seam narrowed and a few of the balls made contact
with the surrounding matrix. Some edge trimming could correct most of this but they really don't bother me
because they tend to get lost in the overall size and flash of the plate. Olmiite specimen of this size are rare.
From the N'Chwaning II Mine, Kuruman, Kalahari manganese field, Northern Cape Province, South Africa.
Measures 11 cm by 16 cm by 5.2 cm in total size.
Ex. K. Miller Mineral Collection
Price $3500
MIN#Tucson2016-198 NEW!
Rare specimen of grape-like Hematite on Hematite matrix from Bisbee!
While I'm sure they found a fair amount of Hematite in Bisbee, Arizona, this is the first specimen
I've seen in the marketplace. In my book that makes it pretty rare. I would surmise that very few
specimens were preserved, especially specimens of this calibre with highly glossy-lustrous rounded
surfaces of a hemispherical nature. In excellent conditional overall with associate Calcite crystals.
From the Southwest Mine, Bisbee, Warren District, Mule Mts, Cochise County, Arizona.
Measures 7.2 cm by 6.2 cm by 5 cm in total size.
Price $1250
MIN#Tucson2016-199 NEW!
Large Chalcopyrite crystals with greenish-yellow Sphalerite!
The largest Chalcopyrite is 3 cm in size and there is a definate flash of iridescence atop its
lustrous, striated surfaces. The Sphalerites are gemmy and accent the upper portion of
the dark, sparkling matrix. In excellent condition and from the find that appeared in 2007.
From the Emperious Vein, Commodore Mine, Creede, Mineral County, Colorado.
Measures 6 cm by 8 cm by 3.7 cm in total size.
Price $895
MIN#Tucson2016-200 NEW!
Fine locality specimen of white Calcite crystals over brown Calcite stalactites!
The inner cores of these two lustrous pillars are brown Calcite stalactites and this is visible
from the bottom side. The outer layer consists of very lustrous and glassy Calcite crystals
of the purest white. These crystals completely cover all sides and form a "mushroom" top at
the tip of the stalactites with the left side tip being the largest and widest. Virtually pristine.
From the Buffalo Mine, Lion Hill area, Ophir District, Oquirrh Mts, Tooele County, Utah.
Measures 7 cm by 6.2 cm by 4.5 cm in total size.
Price $985
- LINKS TO THE TUCSON 2016 SHOWROOMS -
1 | 2 | 3 | 4 | 5 | 6 | 7 | 8 | 9
HOME | EXCEPTIONAL MINERALS | MINERAL AUCTION | DENVER 2016 SHOWROOMS | CONTACT US