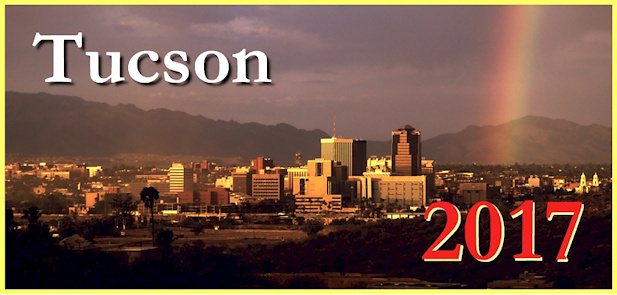 The Tucson 2017 Mineral Showrooms

* Re-Updated January 1st, 2018 *
MIN#TUCSON2017-1 NEW!
Brilliant specimen of crystalline Native Gold with white Quartz accenting!
This is one great looking specimen of Native Gold - definately one of the finest from the show.
It measures over 8 cm in height so it's small cabinet in size and I can't stress enough just how
incredibly bright and flashy the crystalline structure is, top to bottom! Looking at the specimen
using a 15X loupe reveals dozens and dozens of flattened trigons mixed with octahedrons and
dendrites. Near the very bottom the gold becomes more semi-crystalline as seams of Native
Gold pop in and out of the white Quartz matrix in this area. Smaller accenting bits of white
Quartz are also present here and there throughout the entire structure. The contrast between
the Gold and Quartz is gorgeous and the entire specimen is covered with an intense luster.
From the Eagle's Nest Mine, Placer County, California.
Measures 8.4 cm by 6.2 cm by 1.5 cm in total size.
Ex. J. van den Berg Mineral Collection
Price $18,500
MIN#TUCSON2017-2 NEW!
Attractive specimen featuring fine crystals of Acanthite and Chalcopyrite on Quartz atop Silver-rich matrix!
I love the look of this specimen with the fine cubes of Acanthite and bright golden Chalcopyrite sitting inside
what is probably a Quartz lined pocket that has been opened and exposed. These crystals sit atop a matrix
that is quite rich and full of Silver mineralization. They are bright and lustrous with sharp crystal habits.
From the Proano Mine, Fresnillo, Mun. de Fresnillo, Zacatecas, Mexico.
Measures 6.3 cm by 7.5 cm by 4.8 cm in total size.
Price $1500
MIN#TUCSON2017-3 NEW!
Gemmy crystals of Andradite (var. Demantoid) Garnet on matrix!
These represent some of the finest quality Demantoid Garnets available in the marketplace today.
This specimen features five glassy, gemmy crystals which are transparent all the way to the matrix!
From the Ghazni Province (Gazni Province), Afghanistan.
Measures 5 cm by 2.6 cm by 1.8 cm in total size.
Ex. Brown Mineral Collection
Price $1250
MIN#TUCSON2017-4 NEW!
Sharp crystals of golden Smithsonite ps after Calcite crystals!
This is a beautiful cluster featuring incredibly sharp and distinct crystals which have perfectly preserved
the original habit of the Calcites. The specimen is in excellent condition with barely a contact anywhere and
displays a fine, lustrous sparkle that flows across the golden crystal surfaces in even the faintest lighting.
From the San Antonio Mine, East Camp, Santa Eulalia District, Mun. de Aquiles Serdán, Chihuahua, Mexico.
Measures 5.2 cm by 9 cm by 4.8 cm in total size.
Ex. Webb Mineral Collection
Comes with a custom made, labeled base
Price $2450
MIN#TUCSON2017-5 NEW!
Gemmy cubes of Fluorite with dark purple phantoming on Sphalerite crystal matrix!
An attractive specimen with lots of flashy eye appeal. The cubes measure to nearly 3 cm in size and are
very transparent, allowing for light to enter and bounce around, giving the crystals a strong brlliance.
The darker phantoms are very distinct and the contrast between the Fluorite and the super lustrous
Sphalerite crystals which form the matrix is stunning. In great shape with only one tiny corner cleave.
From the Elmwood Mine, Smith County, Tennessee.
Measures 4.3 cm by 9.4 cm by 4.5 cm in total size.
Price $985
MIN#TUCSON2017-6 NEW!
Large cabinet sized plate from a new find of greenish-lavender Fluorite from Weardale!
This aesthetic specimen displays numberous bi-colored Fluorite cubes, all of which display a superb
fluorescence under UV. The cubes are mostly green with some lavender-purple around the edges and
an accenting of golden-brown Siderite along the bottom with a smaller amount at top. In excellent shape.
From the Weardale, North Pennines, Co. Durham, England.
Measures 8.9 cm by 15.7 cm by 3.4 cm in total size.
Price $2450
MIN#TUCSON2017-7 NEW!
Stacked crystals of Calcite perched atop Stibnite crystal sprays!
Aesthetic specimen featuring several glassy opaque Calcite crystals, measuring to 4.7 cm in length.
The Stibnite crystals are brilliantly lustrous and perfectly terminated. They are almost all accented by a
secondary coating of bright white Calcite micro-crystals, mostly along the right edge of each vertical blade.
Per Ross Lillie's comments - This is from a unique pocket and very rare to find at the Boldut Mine.
Circa 2003 - From the Boldut Mine, Cavnic, Maramureș Co., Romania.
Measures 7 cm by 9.2 by 5.5 cm in total size.
Price $1850
MIN#TUCSON2017-9 NEW!
Superb cluster of Acanthite crystals with Pyrite on Calcite matrix!
Sharp crystals and an intense luster highlight this very aesthetic cluster. The Acanthite
crystals are all positioned vertically atop the Calcite which adds to the visual impact. The
largest crystal measures just shy of 2 cm in length. Some of the Acanthites display a slight
hoppering resulting from their quick transition from the higher temperature Argentite.
The specimen is in excellent condition with a back side stabilization along the right edge
to add structural support to the crystals in the area. The matrix is very well trimmed.
From the San Juan de Rayas Mine, Guanajuato, Mun. de Guanajuato, Guanajuato, Mexico.
Measures 5.4 cm by 4.2 cm by 2.9 cm in total size.
Ex. Stoudt Mineral Collection
Price $3850
MIN#TUCSON2017-10 NEW!
Golden crystals of gemmy Calcite perched atop matrix from Ohio!
Fine old classic, this small cabinet sized specimen boasts a 6.3 cm, doulby terminated Calcite
crystal at atop and at least three additional Calcites of varying size along the edges and bottom
side of the brown matrix. In excellent condition with no detractions, this would make a great addition to
any mineral cabinet or Calcite collection. The gemminess and luster is among the best I've seen from here.
From the Pugh Quarry (France Stone Co. Custar Quarry), Wood County, Ohio.
Measures 8.5 cm by 6.4 cm by 6.8 cm in total size.
Ex. Chris Ascione Collection
Price $1250
MIN#TUCSON2017-11 NEW!
Great looking old time Pyromorphite from Idaho!
This is a incredibly good specimen from this locality which although being not too far from the more famous
Bunker Hill Mine, is very distinct and specimens of this quality are certainly uncommon. The specimen is
covered with super lustrous, hoppered crystals measuring to 1 cm in size. I must admit I was surprised by
the quality of the specimen because most Pyromorphites from here are dull and ugly green. This one is
so good that it almost looks German and it is also in excellent condition. This is a major American Pyro.
From the Sherman Mine (Leary Mine), Burke, Coeur d'Alene District, Shoshone County, Idaho.
Measures 4.8 cm by 6.1 cm by 3.4 cm in total size.
Price $1850
MIN#TUCSON2017-12 NEW!
Fine specimen featuring sharp crystals of Tennantite on sparkling matrix!
The crystals themselves are very distinct with excellent form. The largest measures
2.5 cm in size. The sit atop a druse covered matrix, surrounded by smaller crystals of
Tennantite which climb the center of the specimen. In excellent condition with great luster.
From the Tsumeb Mine, Tsumeb, Otjikoto Region (Oshikoto), Namibia.
Measures 7.3 cm by 6.4 cm by 3.2 cm in total size.
Price $785
MIN#TUCSON2017-13 NEW!
Gorgeous specimen featuring fine terminated crystals of Barite in cluster!
This is a superb specimen with dozens of prismatic crystals, measuring to 4.5 cm in
length, arranged vertically with chisel-tip terminations. The crystals are in excellent
condition with a strong golden translucency beneath glassy-lustrous surfaces. In very
good condition overall with well formed tips and no major contacts. An old French classic.
From the Maine Mine, Cordesse, Lucenay-l'Evêque, Saône-et-Loire, Burgundy, France.
Measures 6.4 cm by 10 cm by 5.3 cm in total size.
Ex. Trimingham Mineral Collection
Price $2500
MIN#TUCSON2017-15 NEW!
Tremendously rich specimen of Native Silver leaves and dendrites in and on white Quartz matrix!
This is a heavy cabinet sized specimen that is literally a block of Native Silver. Large leaves can be seen to the top left
and these change over to a large mesh of Silver mixed with fine dendrites. the specimen is covered by Silver on all sides,
including the bottom and displays a handwritten label on the back side which reads Brady Lake, Silver Miller, Cobalt. This
locality was mined in the 1947-1950's period to recover ores beneath the lake and produced over 7,000,000 ounces of Silver!
From the Silver Miller Mine, Coleman Township, Cobalt Area, Cobalt-Gowganda Region, Timiskaming District, Ontario, Canada.
Measures 10.5 cm by 13.7 cm by 8.3 cm in total size.
Ex. Bishop Mineral Collection
Price $2850
- LINKS TO THE TUCSON 2017 MINERAL SHOWROOMS -
2 | 3 | 4 | 5 | 6 | 7 | 8 | 9 | 10 | 11 | 12

HOME | EXCEPTIONAL MINERALS | MINERAL AUCTION | SPECIMENS FROM PAST SHOWS | CONTACT US