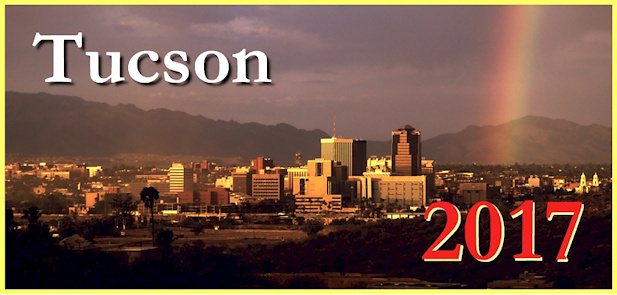 The Tucson 2017 Mineral Showrooms

* Re-Updated January 1st, 2018 *
MIN#TUCSON2017-21 NEW!
Gorgeous specimen of Grossular var. Hessonite Garnets, isolated on white Pectolite covered matrix!
Hessonite Garnets from the Jeffrey Mine are considered the best in the world, and this is a fine, representative specimen.
This large plate has dozens of isolated and gemmy, well striated Hessonite Garnets with minor Pectolite for color contrast.
The Garnets measures to 9 mm across. The specimen is in excellent condition with only a few scattered tiny contacts which
is typical for any large plate from this locality. The eye appeal is off the charts. I've always found the isolated Garnet look
to be much more desirable and aesthetic in comparison to the more common clustered look. Especially when on white matrix!
From the Jeffrey Mine, Asbestos, Les Sources RCM, Estrie, Québec, Canada.
Measures 9 cm by 16 cm by 4.6 cm in total size.
Ex. Dr. Art Soregaroli Collection
Price $3500
MIN#TUCSON2017-22 NEW!
Brilliant specimen of crystalline Native Gold perched high atop stark white Quartz matrix!
I love the presentation of this specimen. To me it resembles a golden cloud, hovering atop a snowy
mountain peak. I don't often find Italian Golds that spark my interest but this specimen caught my
eye at the show and I acquired it for the website. The Gold is brilliant with an intense luster and the
cluster sits slightly elevated atop the matrix, giving the golden "cloud" the appearance of floating
above the white Quartz surfaces. In excellent condition, this specimen is an eye catcher in any cabinet.
From the Brusson Mine, Brusson, Aosta Valley, Italy.
Measures 7.1 cm by 7.5 cm by 5.8 cm in total size.
Comes with a custom made display base
Price $5450
MIN#TUCSON2017-24 NEW!
Spectacular Kongsberg specimen loaded with crystals of Native Silver and Sphalerite on Calcite!
This is a true classic and one of the finest examples of Silver crystals that I've seen from Kongsberg.
Numerous crystals of Native Silver climb up the center of the Calcite matrix, over the top of a large
2.2 cm reddish-brown Sphalerite crystal, finally concluding in a "Matterhorn-like" cluster which rises
above the matrix at the very top. All in all, the Silver crystal cluster measures 6.5 cm in length. The
Calcite matrix is composed of glassy surfaced rhombs which were cleaved to display the crystals. I'm
always looking for fine crystalline Kongsberg specimens and this ranks at the very top of those I've seen.
From the Kongsberg Silver Mining District, Kongsberg, Buskerud, Norway.
Measures 7.3 cm by 6 cm by 4.2 cm in total size.
Ex. B. R. M. Mineral Collection
Price $9500
MIN#TUCSON2017-25 NEW!
Very fine specimen featuring Native Copper spinels with Smithsonite on matrix!
There are actually spinel-twins all over this specimen but the two at the very top really peak
the aesthetics of this great looking specimen. Colorless, lustrous rice-grain crystals of Smithsonite
are scattered about the Copper crystals and along the matrix on the right side. In excellent condition.
From the Tsumeb Mine, Tsumeb, Otjikoto Region (Oshikoto), Namibia.
Measures 6.2 cm by 3.4 cm by 3.6 cm in total size.
Price $1500
MIN#TUCSON2017-30 NEW!
Green-tipped crystals of Quartz with Dolomite accenting, a Calcite cluster and Chalcopyrite on matrix!
I love the display this specimen offers, with its fat Quartz crystals that taper perfectly to a light green
tip. I suspect the green coloration is an inclusion of Chlorite. Inside the green tips are multiple phantoms
which are very noticeable under lighting. The Quartz crystals are accented along the back faces by dozens
of Dolomite crystals. This is topped off by a 3.5 cm Calcite cluster and golden Chalcopyrite. No detractions.
From the Boldut Mine, Cavnic, Maramureș County, Romania.
Measures 10.2 cm by 10.2 cm by 6.9 cm in total size.
Price $1850
MIN#TUCSON2017-31 NEW!
Super gemmy crystal balls of Olmiite with gemmy Calcite!
This brilliant specimen of sparkling pinkish-orange Olmiite features two nearly pristine attached spheres
on a bed of gem Calcite crystals. The surfaces are dazzling and lustrous, with both spheres at 3 cm in width.
From the N'Chwaning II Mine, Kalahari Manganese Fields, Northern Cape Province, South Africa.
Measures 2.8 cm by 4.4 cm by 2.3 cm in total size.
Ex. Charlie Key Mineral Collection
Price $1850
MIN#TUCSON2017-32 NEW!
Fine blades of deep orange Wulfenite on Barite clusters!
Impressive miniature, with blades measuring to 1.5 cm in size. The blades are sharp, well formed,
and translucent with a glasssy surface luster. They are almost all perfect with only one incomplete
blades near the exterior of the cluster. This was probably attached to the matrix prior to trimming.
From the Mibladen Mining District, Midelt Province, Drâa-Tafilalet Region, Morocco.
Measures 4.3 cm by 5.2 cm by 3.1 cm in total size.
Price $985
MIN#TUCSON2017-34 NEW!
Tremendous plate featuring cauliflower-style crystal clusters of Hemimorphite on matrix!
One of the largest plates I've seen, this impresssive display features numerous white crystals of Hemimorphite
rising upwards from a Limonite base across the entire surface of this large cabinet sized plate. They reach their
largest size along the back side and take on a myriad of shapes and terminations. Some are jagged while others
are rounded in appearance. Translucent to direct light and satiny lustrous, this specimen is in excellent condition.
From the San Antonio Mine, East Camp, Santa Eulalia District, Mun. de Aquiles Serdán, Chihuahua, Mexico.
Measures 12 cm by 16.7 cm by 9 cm in total size.
Ex. Webb Mineral Collection
Price $2500
- LINKS TO THE TUCSON 2017 MINERAL SHOWROOMS -
1 | 3 | 4 | 5 | 6 | 7 | 8 | 9 | 10 | 11 | 12

HOME | EXCEPTIONAL MINERALS | MINERAL AUCTION | SPECIMENS FROM PAST SHOWS | CONTACT US