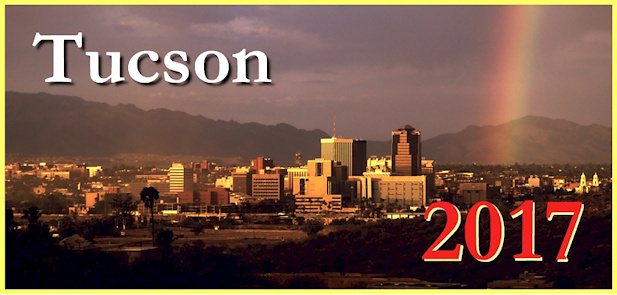 The Tucson 2017 Mineral Showrooms

* Re-Updated January 1st, 2018 *
MIN#TUCSON-61 NEW!
Large crystal of terminated Tanzanite on matrix!
This is one of the first Tanzanite matrix specimens to appear in America I am told. It was acquired
in the 1970's by famed collector F. J. Barlow and was a major addition to his collection at that time
because Tanzanites, and especially matrix Tanzanite, were pretty much making their initial splash
after the stone was only just discovered in 1967. This is an impressive stone and was probably one
of the finest examples at that time although much larger specimens have since come to market. It
displays a perfect textbook termination and is unheated so the trichroic properties are fully present.
The stone itself measures just shy of 4 cm tall at 3.8 cm by 2.1 cm by 2.1 cm in total size. It is gemmy
but does display some of the common internal crazing. It sits atop a matrix of Calcite and Zoisite.
This is a good looking matrix Tanzanite but the fact that it was one of the first to come to America and
its famous provenance make it historically significant. It is also pictured under Tanzanite on Wikipedia.
From the Merelani Hills (Mererani), Lelatema Mts, Simanjiro District, Manyara Region, Tanzania.
Measures 4.8 cm by 3.5 cm by 3.8 cm in total size.
Ex. F. J. Barlow Collection
Comes with a custom made display stand
Price $17,500
MIN#TUCSON-63 NEW!
Very rare specimen featuring a thin layer of Native Silver atop Chalcocite from the Tsumeb Mine!
Fine examples of Native Silver from the Tsumeb Mine are rare enough but this specimen exhibits a nearly 3 cm
Native leaf Silver atop the center crystal faces of the grayish-iridescent Chalcocite! Also with Quartz along the edges.
From the Tsumeb Mine, Tsumeb, Otjikoto Region, Namibia.
Measures 6 cm by 6.7 cm by 4.6 cm in total size.
Ex. Uli Bahmann Mineral Collection
Price $2850
MIN#TUCSON-64 Sold!
Super aesthetic specimen of Native Wire Silver from Freiberg!
This is easily one of the most artistic looking German Native Wire Silvers I've seen in the miniature
size range. The specimen takes on the appearance of a bending tree as it leans towards the left and
gives rise to numerous smaller wires which sprout out and upwards from the much thicker "trunk".
Interestingly, one wire bends downward and touches the ground. Beautifully patinaed and structured.
Arborescent Silvers are always among the most popular and this one fully captures that appearance.
From the Himmelsfurst Mine, Freiberg District, Erzgebirge, Saxony, Germany.
Measures 5.5 cm by 8 cm by 3 cm in total size.
Ex. Wendel, Kevin Ward Mineral Collections
Price $18,500
MIN#TUCSON-66 NEW!
Gorgeous display specimen featuring large white stalactites of Aragonite perched alongside green Fluorite!
This is an impressive specimen to say the least. It's the first combination of Fluorite with Aragonite that
I've seen in the marketplace even though it's found throughout the Rogerley Mine. I would guess that not
many are preserved during the extraction process. The stalactites of Aragonite here are absolutely beautiful
with five distinct points and snowy-white surfaces. They sit atop the left side of the matrix with gemmy green
Fluorite crystals measuring to 2.2 cm in size covering the entire right side. The Fluorites are often twinned
and display a strong fluorescence. Small frosted Galenas are scattered about among the Fluorite. In very
good condition overall with only a scattering of minor contacts. This is a superb large cabinet centerpiece.
From the Rogerley Mine, Rogerley Quarry, Frosterley, Weardale, North Pennines, Co. Durham, England.
Measures 25 cm by 16.5 cm by 11.4 cm in total size.
Comes with a custom made, engraved display base
Price $12,500
MIN#TUCSON-67 NEW!
Impressive specimen featuring several Staurolites on Schistic matrix!
This nearly large cabinet sized plate features a perfect Staurolite cross right in the middle.
Very aesthetic and definately not as common these days. especially in this size range.
From Keivy Massif, Kola Peninsula, Russia.
Measures 14.5 cm by 9.2 cm by 3.8 cm in total size.
Ex. Rolf Wein Collection
Price $1450
MIN#TUCSON-68 NEW!
Fine specimen of mustard-yellow Wulfenite blades with Calcite accents on Goethite covered matrix!
This is a classic specimen from the old Glove Mine and features fine glassy blades measuring to 2.5 cm.
Many of the blades are accented by sparkling Calcite along the tops and down the back sides. This gives a snowy
appearance to the cluster and makes for a beautiful contrast. In much better condition than what I normally see.
From the Glove Mine (Sunrise Mine), Cottonwood Canyon, Tyndall District, Santa Rita Mts, Santa Cruz Co., Arizona.
Measures 5.2 cm by 10 cm by 6.2 cm in total size.
Ex. Willard Wulff Collection
Price $1450
MIN#TUCSON-69 NEW!
Lovely crystal of Spodumene var. Kunzite with Quartz!
This is a doubly terminated crystal which features a strong rolling luster atop well
striated surfaces. The color is very nice and even more intense when viewed across
the crystal length. One interesting feature is the color shift towards Spodumene just
above the bottom termination. You could almost call the crystal bi-colored and when
exposed to a light source, it glows from one end to the other. In excellent condition.
From Mawi Pegmatite, Nilaw-Kolum Pegmatite Field, Du Ab Dist., Nuristan Prov., Afghanistan.
Measures 5.8 cm by 3.8 cm by 2.7 cm in total size.
Price $1500
MIN#TUCSON-71 NEW!
Old time specimen of ISOLATED yellow Smithsonite nodules on Quartz crystals!
This is old Rush, Arkansas material, mined back in the early 1960s. It features a very unique look
with lustrous yellow nodules on brilliant Quartz crystals. These specimens are true Smithsonite and not
the "Turkey fat" pseudomorphs after Dolomite you usually see in the marketplace these days. This piece
is over 50 years old and is extremely rare. It's also in excellent condition with no visible contacts anywhere.
From Rush, Rush Creek District, Marion County, Arkansas.
Measures 5.2 cm by 6 cm by 2.2 cm in total size.
Ex. Bynum Mineral Collection
Price $985
MIN#TUCSON-72 NEW!
Exceptional specimen featuring a brown Fluorite set atop white Calcite crystals inside a matrix vug!
A perfect stepped cube of rootbeer-brown Fluorite measuring 2.5 cm in size is perfectly set among bright
white Calcite scalenohedrons which line the interior surfaces of the matrix pocket. In excellent condition.
From the Pint's Quarry, Raymond, Black Hawk County, Iowa.
Measures 9.2 cm by 9.2 cm by 3.2 cm in total size.
Ex. Jacques Evlard Collection
Price $1500
MIN#TUCSON-73 NEW!
Highly lustrous cluster of Calcite rhombs with snowy-white Calcite accents!
Fine Calcite specimens from New Mexico are quite rare but this cluster is really quite exceptional.
The rhombs exhibit a wet lustrous brilliance and most measure to 3.5 cm in size across the corners.
They sit atop a host rock matrix which displays a good amount of Sphalerite and Pyrite in addition
to a micro-crystalline Calcitic drusy which accents the back side of the rhombs and formed hollow
stick-like structures between some of the rhombs. In excellent condition with no contacts or bruises.
From the Groundhog Mine, Vanadium, Central District, Grant County, New Mexico.
Measures 9 cm by 8.2 cm by 6 cm in total size.
Price $1850
MIN#TUCSON-76 NEW!
Brilliant red crystals of Cuprite on white Dickite over a thin layer of smaller Cuprite crystals!
These fine crystals measure to just under 1 cm in size and exhibit an intense rolling luster over deep
red coloration. This specimen features a layer of white Dickite which further enhances the crystal color.
From the Milpillas Mine, Cuitaca, Mun. de Santa Cruz, Sonora, Mexico.
Measures 4.3 cm by 2.1 cm by 1.6 cm in total size.
Ex. Phillips Mineral Collection
Price $685
MIN#TUCSON-77 NEW!
Glowing scepter crystal of Quartz var. Citrine perched atop a dark Smoky Quartz point!
This perfectly formed and boldly phantomed scepter crystal is a gorgeous example of Halluluah Junction
Citrine. Very aesthetic and in excellent condition with a rich, vibrant color and glassy, lustrous faces.
The interiors are completely gemmy to the point that you can read through the scepter like orange glass.
From Hallelujah Junction pit, Red Rock, Lassen County, California.
Measures 6.6 cm by 2.8 cm by 2.4 cm in total size.
Price $1450
MIN#TUCSON-78 NEW!
Superb plate of lustrous pink Smithsonite!
This is a dazzling specimen, with a strong luster over unblemished botryoidal surfaces.
The color is pure pink with reddish undertones and the entire Smithsonite sits atop a small
bit of matrix with some slight layering. This is a very attractive and flashy Smithsonite and
specimens of this color and quality have become almost impossible to track down at the shows.
From the El Refugio Mine, Choix, Mun. de Choix, Sinaloa, Mexico.
Measures 11.2 cm by 6.9 cm by 3.3 cm in total size.
Ex. Barnett Mineral Collection
Price $1450
- LINKS TO THE TUCSON 2017 MINERAL SHOWROOMS -
1 | 2 | 3 | 5 | 6 | 7 | 8 | 9 | 10 | 11 | 12

HOME | EXCEPTIONAL MINERALS | MINERAL AUCTION | SPECIMENS FROM PAST SHOWS | CONTACT US