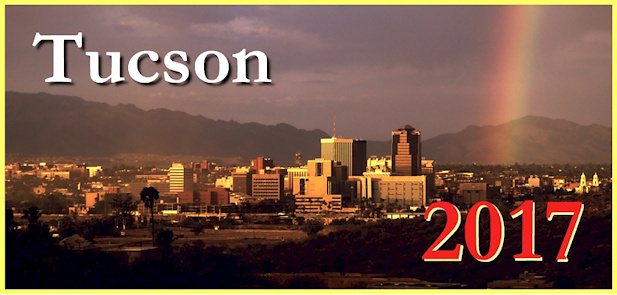 The Tucson 2017 Mineral Showrooms

* Updated May 8th, 2017 *
MIN#TUCSON-61 NEW!
Brilliant specimen of crystalline Native Gold on Quartz!
This specimen represents the famous Eagle's Nest Mine very well indeed. It's completely crystalline from
top to bottom with flatterned trigons and crystal leaves. The edges are crystal covered as well and all display
a rich, beautiful color with a vibrant luster. The Native Gold rises upwards from a matrix of white Quartz matrix
and presents itself beautifully from either side. This is a true 360 degree display specimen with superb aesthetics.
From the Eagle's Nest Mine, Placer County, California.
Measures 7 cm by 4.8 cm by 2 cm in total size.
Comes with a custom made, labeled display base
Price $22,500
MIN#TUCSON-62 Sold!
Gorgeous, large Morganite crystal set atop Albite matrix with Quartz, Muscovite, and Indicolite Tourmaline!
A specimen that is simply beautiful. The Morganite crystal in the middle is a gemmy deep pink and complete on all sides.
It is accompanied by a smaller Morganite on the back side along with a Kunzite crystal. Thin, gemmy Indicolite crystals
lay atop the golden Muscovite blades that frame the 6.5 cm Morganite along the lower right edge. To the left are large,
slightly smoky Quartz crystal points and it is these that the Morganite sits atop. This was one of the finest Morganites
at the show this year and I love the association. In excellent condition with glassy pink interiors and only trivial contacts.
From Nuristan, Laghman Province, Afghanistan.
Measures 10.7 cm by 18 cm by 14.8 cm in total size.
Price $25,000
MIN#TUCSON-63 NEW!
Large crystal of terminated Tanzanite on matrix!
This is one of the first Tanzanite matrix specimens to appear in America I am told. It was acquired
in the 1970's by famed collector F. J. Barlow and was a major addition to his collection at that time
because Tanzanites, and especially matrix Tanzanite, were pretty much making their initial splash
after the stone was only just discovered in 1967. This is an impressive stone and was probably one
of the finest examples at that time although much larger specimens have since come to market. It
displays a perfect textbook termination and is unheated so the trichroic properties are fully present.
The stone itself measures just shy of 4 cm tall at 3.8 cm by 2.1 cm by 2.1 cm in total size. It is gemmy
but does display some of the common internal crazing. It sits atop a matrix of Calcite and Zoisite.
This is a good looking matrix Tanzanite but the fact that it was one of the first to come to America and
its famous provenance make it historically significant. It is also pictured under Tanzanite on Wikipedia.
From the Merelani Hills (Mererani), Lelatema Mts, Simanjiro District, Manyara Region, Tanzania.
Measures 4.8 cm by 3.5 cm by 3.8 cm in total size.
Ex. F. J. Barlow Collection
Comes with a custom made display stand
Price $17,500
MIN#TUCSON-64 NEW!
Breathtaking specimen featuring small nodules of Blue Smithsonite on matrix!
This is a rarer variety of Kelly Mine Smithsonite - much rarer than the pure botryoidal variety,
and the luster it exhibits is intense and brilliant! The photograph above displays some of the
brilliance but the piece must be seen in person to be fully appreciated. In excellent condition.
From the Kelly Mine, Magdalena, Magdalena District, Socorro County, New Mexico.
Measures 5.5 cm by 7.8 cm by 4.1 cm in total size.
Price $785
MIN#TUCSON-65 Sold!
Gorgeous, dazzling crystal balls of Olmiite on Bultfonteinite covered matrix!
Many of these specimens were originally labeled as Poldervaartite but analysis has shown that these are indeed Olmiite - a Mn dominant
Poldervaartite. This lustrous specimen boasts a 4 cm Olmiite crystal ball of a translucent reddish color surrounded by smaller crystal balls
to the left and right. The color of these is peachy-gold and they are equally as brilliant! This is the first specimen I've seen with Olmiite
on white acicular needles of Bultfonteinite and I am told this is a very rare combination. It adds a wonderful white background for the
colorful Olmiite balls. In excellent condition with only the normal edge trimming contacts along the very bottom. Exceptional cabinet place!
From the N'Chwaning II Mine, Kalahari Manganese Fields, Northern Cape Province, South Africa.
Measures 10 cm by 9.3 cm by 5 cm in total size.
Price $7500
MIN#TUCSON-66 NEW!
Very rare specimen featuring a thin layer of Native Silver atop Chalcocite from the Tsumeb Mine!
Fine examples of Native Silver from the Tsumeb Mine are rare enough but this specimen exhibits a nearly 3 cm
Native leaf Silver atop the center crystal faces of the grayish-iridescent Chalcocite! Also with Quartz along the edges.
From the Tsumeb Mine, Tsumeb, Otjikoto Region, Namibia.
Measures 6 cm by 6.7 cm by 4.6 cm in total size.
Ex. Uli Bahmann Mineral Collection
Price $2850
MIN#TUCSON-67 Sold!
Exceptional cluster of gemmy blue Aquamarine crystals with Schorl Tourmaline!
This is one great looking Erongo specimen - much better than what I normally see offered in the
marketplace today. The crystals are a deep blue and very gem except for the normal opaqueness
near the centers. The terminations are complete and the faces are glassy and lustrous. The shiny
black Schorl contrasts beautifully with the gem crystals and is perfectly terminated. Very aesthetic.
From Erongo Mountain, Erongo Region, Namibia.
Measures 6 cm by 7.8 cm by 3.6 cm in total size.
Price $2850
MIN#TUCSON-68 Sold!
Super aesthetic specimen of Native Wire Silver from Freiberg!
This is easily one of the most artistic looking German Native Wire Silvers I've seen in the miniature
size range. The specimen takes on the appearance of a bending tree as it leans towards the left and
gives rise to numerous smaller wires which sprout out and upwards from the much thicker "trunk".
Interestingly, one wire bends downward and touches the ground. Beautifully patinaed and structured.
Arborescent Silvers are always among the most popular and this one fully captures that appearance.
From the Himmelsfurst Mine, Freiberg District, Erzgebirge, Saxony, Germany.
Measures 5.5 cm by 8 cm by 3 cm in total size.
Ex. Wendel, Kevin Ward Mineral Collections
Price $18,500
MIN#TUCSON-69 NEW!
Attractive cluster of yellowish-orange Wulfenite crystals in cluster!
This is a really fine specimen and the condition of these thin Wulfenite blades is excellent.
The blades are very glassy and transparent to translucent with a mustard-yellow coloration.
There's only a couple of incomplete crystal blades which is pretty amazing and the host matrix
is dark, allowing for excellent color contrast. From the old Defiance Mine which is still located
near the old Arizona ghost towns of Courtland and Gleeson. The mine is visible in the distance.
From the Defiance Mine, Gleeson, Turquoise District (Courtland-Gleeson Dist.), Cochise Co., Arizona.
Measures 10.3 cm by 6.5 cm by 2.8 cm in total size.
Price $895
MIN#TUCSON-70 Sold!
Beautiful combination of Spessartine Garnet, pink Apatite, Schorl Tourmaline, and Muscovite on Albite!
The specimen with a little bit of everything. The Spessartine are deep red and highly lustrous. The pink Apatites are
translucent to gemmy. A large pink Apatite hugs the back side of the far right Spessartine. The Schorl cystal in the
foreground is glassy reflective with a perfect termination at top. In excellent condition with an incredible presentation.
From the Shengus (Shingus), Haramosh Mts., Skardu District, Baltistan, Gilgit-Baltistan, Northern Areas of Pakistan.
Measures 6.3 cm by 7.5 cm by 7 cm in total size.
Price $2850
MIN#TUCSON-71 Sold!
Beautifully lustrous crystalline Gold nugget!
This lovely crystalline nugget is from the Mother Lode Area of California. Even with the moderate rounding
from water action, the crystal structures remain very apparent. This would make an excellent specimen or
jewelry piece if so desired. Easily one of the prettiest California nuggets I saw while at the Tucson Show.
From the Mother Lode District of California. Weighs 10 grams.
Measures 2.5 cm by 1.7 cm by 1 cm in total size.
Ex. Jahfrey Mineral Collection
Price $1850
MIN#TUCSON-72 NEW!
Gorgeous display specimen featuring large white stalactites of Aragonite perched alongside green Fluorite!
This is an impressive specimen to say the least. It's the first combination of Fluorite with Aragonite that
I've seen in the marketplace even though it's found throughout the Rogerley Mine. I would guess that not
many are preserved during the extraction process. The stalactites of Aragonite here are absolutely beautiful
with five distinct points and snowy-white surfaces. They sit atop the left side of the matrix with gemmy green
Fluorite crystals measuring to 2.2 cm in size covering the entire right side. The Fluorites are often twinned
and display a strong fluorescence. Small frosted Galenas are scattered about among the Fluorite. In very
good condition overall with only a scattering of minor contacts. This is a superb large cabinet centerpiece.
From the Rogerley Mine, Rogerley Quarry, Frosterley, Weardale, North Pennines, Co. Durham, England.
Measures 25 cm by 16.5 cm by 11.4 cm in total size.
Comes with a custom made, engraved display base
Price $12,500
MIN#TUCSON-73 NEW!
Impressive specimen featuring several Staurolites on Schistic matrix!
This nearly large cabinet sized plate features a perfect Staurolite cross right in the middle.
Very aesthetic and definately not as common these days. especially in this size range.
From Keivy Massif, Kola Peninsula, Russia.
Measures 14.5 cm by 9.2 cm by 3.8 cm in total size.
Ex. Rolf Wein Collection
Price $1450
MIN#TUCSON-74 NEW!
Fine specimen of mustard-yellow Wulfenite blades with Calcite accents on Goethite covered matrix!
This is a classic specimen from the old Glove Mine and features fine glassy blades measuring to 2.5 cm.
Many of the blades are accented by sparkling Calcite along the tops and down the back sides. This gives a snowy
appearance to the cluster and makes for a beautiful contrast. In much better condition than what I normally see.
From the Glove Mine (Sunrise Mine), Cottonwood Canyon, Tyndall District, Santa Rita Mts, Santa Cruz Co., Arizona.
Measures 5.2 cm by 10 cm by 6.2 cm in total size.
Ex. Willard Wulff Collection
Price $1450
MIN#TUCSON-75 NEW!
Lovely crystal of Spodumene var. Kunzite with Quartz!
This is a doubly terminated crystal which features a strong rolling luster atop well
striated surfaces. The color is very nice and even more intense when viewed across
the crystal length. One interesting feature is the color shift towards Spodumene just
above the bottom termination. You could almost call the crystal bi-colored and when
exposed to a light source, it glows from one end to the other. In excellent condition.
From Mawi Pegmatite, Nilaw-Kolum Pegmatite Field, Du Ab Dist., Nuristan Prov., Afghanistan.
Measures 5.8 cm by 3.8 cm by 2.7 cm in total size.
Price $1500
MIN#TUCSON-76 NEW!
Lovely specimen featuring Golden Topaz crystals with Muscovite on Albite matrix!
Every now and then I see fine examples of Golden Topaz off matrix but matrix specimens with fully transparent crystals
have become nearly impossible to find in today's market. The only specimens that appear every now and then are all from
collections, as this piece is. This specimen displays two golden Topaz crystals, the largest of which measures 5 cm in size.
The color is a glowing golden which deepens in incandescent lighting. The largest Topaz is so gemmy and transparent
that it's like gazing through a piece of golden colored glass. I can easily read print through the crystal. The surfaces of
both are glassy-lustrous with an excellent flash when rotated. The Topaz crystals sit atop a matrix of sparkling white
Cleavelandite blades and are accented along the right side by fine vertical blades of Muscovite. In excellent condition.
From Nyet-Bruk, Braldu Valley, Skardu District, Northern Areas of Pakistan.
Measures 7.5 cm by 10 cm by 5.8 cm in total size.
Ex. Wally Mann, Webb Mineral Collections
Comes with a custom made, labeled display base
Price $14,500
MIN#TUCSON-77 NEW!
Old time specimen of ISOLATED yellow Smithsonite nodules on Quartz crystals!
This is old Rush, Arkansas material, mined back in the early 1960s. It features a very unique look
with lustrous yellow nodules on brilliant Quartz crystals. These specimens are true Smithsonite and not
the "Turkey fat" pseudomorphs after Dolomite you usually see in the marketplace these days. This piece
is over 50 years old and is extremely rare. It's also in excellent condition with no visible contacts anywhere.
From Rush, Rush Creek District, Marion County, Arkansas.
Measures 5.2 cm by 6 cm by 2.2 cm in total size.
Ex. Bynum Mineral Collection
Price $985
MIN#TUCSON-78 NEW!
Lustrous specimen featuring Native Silver crystal clusters sitting high atop Native Copper!
Dazzling Silver specimen with numerous irregular shaped Native Silver crystals perched atop Native Copper in two
clusters, both left and right, connected by a seam which extends across the center. Due to the brilliance of the crystals,
this was a very difficult specimen to capture and it is much better in person. The Silver crystals are incredibly lustrous
and bright with an intense metallic frost. The irregular surfaces which highlight some of the Silver crystals are due to
the influence of the matrix inside which the crystals formed. Smooth surfaced crystals and a well formed crystal fan
can be seen mixed in with the irregular crystals. In excellent condition with no detractions and great eye appeal.
From the Central Mine, Central, Keweenaw County, Michigan.
Measures 6.5 cm by 6.6 cm by 5.5 cm in total size.
Price $4500
MIN#TUCSON-79 NEW!
Exceptional specimen featuring a brown Fluorite set atop white Calcite crystals inside a matrix vug!
A perfect stepped cube of rootbeer-brown Fluorite measuring 2.5 cm in size is perfectly set among bright
white Calcite scalenohedrons which line the interior surfaces of the matrix pocket. In excellent condition.
From the Pint's Quarry, Raymond, Black Hawk County, Iowa.
Measures 9.2 cm by 9.2 cm by 3.2 cm in total size.
Ex. Jacques Evlard Collection
Price $1500
MIN#TUCSON-80 NEW!
Highly lustrous cluster of Calcite rhombs with snowy-white Calcite accents!
Fine Calcite specimens from New Mexico are quite rare but this cluster is really quite exceptional.
The rhombs exhibit a wet lustrous brilliance and most measure to 3.5 cm in size across the corners.
They sit atop a host rock matrix which displays a good amount of Sphalerite and Pyrite in addition
to a micro-crystalline Calcitic drusy which accents the back side of the rhombs and formed hollow
stick-like structures between some of the rhombs. In excellent condition with no contacts or bruises.
From the Groundhog Mine, Vanadium, Central District, Grant County, New Mexico.
Measures 9 cm by 8.2 cm by 6 cm in total size.
Price $1850
MIN#TUCSON-80b NEW!
Large, impressive crystal of Garnet var. Spessartine sitting atop Albite matrix!
Obviously the size of the Garnet far overshadows its small bit of white Albite matrix and I think
that's excellent from an aesthetic viewpoint. It emphasizes the size of the 3.5 cm Spessartine and
helps make the large crystal appear even larger. The Spessartine is in excellent condition with
beautifully striated surfaces and a strong rolling luster atop the faces. A great competition piece.
From the Shigar Valley, Skardu District, Baltistan, Gilgit-Baltistan, Northern Areas of Pakistan.
Measures 4 cm by 3 cm by 3.1 cm in total size.
Price $985
MIN#TUCSON-80c NEW!
New Find! Impressive specimen of banded canary yellow Cadmium Smithsonite!
Yellow is one of the rarest colors of Smithsonite and this specimen is from a small recent find in
China and bright yellow coloration is very similar to older finds in Italy and Mexico. The surfaces
are satiny lustrous and very botryoidal in form with deep rolling mounds and grooves. Along both
edges is a beautiful banding of yellow over radiant white. In fine condition with pristine surfaces.
From Wei Nan, Wenshan Autonomous Prefecture, Yunnan Province, China.
Measures 3.6 cm by 5.2 cm by 4.3 cm in total size.
Price $785
MIN#TUCSON-80d NEW!
Aesthetic specimen featuring a stair stepping display of Wulfenite tabs on Calcite!
I look the way the Wulfenites step up the matrix in ascending size until they reach the
largest crystal at top, measuring 2.2 cm in size. In excellent condition with barely a contact
anywhere and displaying lustrous, bright orange surfaces. One of the better miniatures I've seen.
From the Erupción Mine, Los Lamentos Mts (Sierra de Los Lamentos), Mun. de Ahumada, Chihuahua, Mexico.
Measures 3.6 cm by 3 cm by 5.7 cm in total size.
Price $1500
MIN#TUCSON-80e NEW!
Brilliant red crystals of Cuprite on white Dickite over a thin layer of smaller Cuprite crystals!
These fine crystals measure to just under 1 cm in size and exhibit an intense rolling luster over deep
red coloration. This specimen features a layer of white Dickite which further enhances the crystal color.
From the Milpillas Mine, Cuitaca, Mun. de Santa Cruz, Sonora, Mexico.
Measures 4.3 cm by 2.1 cm by 1.6 cm in total size.
Ex. Phillips Mineral Collection
Price $685
MIN#TUCSON-80f NEW!
Glowing scepter crystal of Quartz var. Citrine perched atop a dark Smoky Quartz point!
This perfectly formed and boldly phantomed scepter crystal is a gorgeous example of Halluluah Junction
Citrine. Very aesthetic and in excellent condition with a rich, vibrant color and glassy, lustrous faces.
The interiors are completely gemmy to the point that you can read through the scepter like orange glass.
From Hallelujah Junction pit, Red Rock, Lassen County, California.
Measures 6.6 cm by 2.8 cm by 2.4 cm in total size.
Price $1450
MIN#TUCSON-80g NEW!
Superb plate of lustrous pink Smithsonite!
This is a dazzling specimen, with a strong luster over unblemished botryoidal surfaces.
The color is pure pink with reddish undertones and the entire Smithsonite sits atop a small
bit of matrix with some slight layering. This is a very attractive and flashy Smithsonite and
specimens of this color and quality have become almost impossible to track down at the shows.
From the El Refugio Mine, Choix, Mun. de Choix, Sinaloa, Mexico.
Measures 11.2 cm by 6.9 cm by 3.3 cm in total size.
Ex. Barnett Mineral Collection
Price $1450
- LINKS TO THE TUCSON 2017 MINERAL SHOWROOMS -
HOME | EXCEPTIONAL MINERALS | MINERAL AUCTION | SPECIMENS FROM PAST SHOWS | CONTACT US