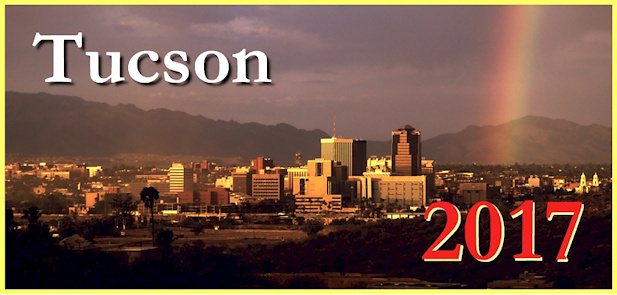 The Tucson 2017 Mineral Showrooms

* Re-Updated January 1st, 2018 *
MIN#TUCSON2017-41 NEW!
Elegant specimen featuring gemmy green Tourmalines with blue capped terminations on Quartz!
This is an amazing cluster, featuring half a dozen Tourmalines, all of them super glassy and beautifully
striated with a rolling luster. Five of the Tourmalines display a vivid blue cap termination above the
gemmy to translucent green lengths. The sixth Tourmaline is a rehealed termination which displays the
faint beginnings of a blue cap which did not fully develop. The cluster of Tourmalines sit atop the front
side of a Quartz crystal which serves as the host matrix.
From Barra do Salinas, Coronel Murta, Minas Gerais, Brazil.
Measures 6.5 cm by 8.2 cm by 5.2 cm in total size.
Price $4850
MIN#TUCSON2017-42 NEW!
Exceptional Native Leaf Silver with Safflorite and Skutterudite from the Cobalt Mining District!
This is an amazing Silver - Easily one of the finest Cobalt specimens I've ever seen and I acquired
it for the website the moment it was offered to me. Atop the white matrix you have a beautiful display
of numerous lustrous Native Leaf Silvers, all standing upright, with grayish Safflorite crystal clusters
and Skutterudite nestled between. The leaves average around 2 cm in size and the visual display of
the specimen is very 3-dimensional. In excellent condition and very, very impressive! The Castle Mine
is a Silver Mine just west of Cobalt which has produced since 1917. It produced 6.5 million ounces of
Silver and 300,000 lbs of Cobalt by the end of 1931. The mine opened and closed again in the 1980's.
Mindat.org displays only a handful of photos for the locality with none being as impressive as this one.
From the Castle Mine, Haultain Township, Cobalt-Gowganda Region, Timiskaming District, Ontario, Canada.
Measures 6.1 cm by 6.6 cm by 4.8 cm in total size.
Ex. Liebetrau Mineral Collection
Comes with an custom made, labeled display base
Price $8500
MIN#TUCSON2017-43 NEW!
Gorgeous cluster of Aqua-blue Beryl var. Aquamarine crystals with minor Feldspar!
I love these pointed tip specimens from Brazil and this one features multiple terminations
atop gemmy, lustrous surfaces of bluish-green Aquamarine. The middle crystal with the
pointed termination is perfectly centered and framed by numerous crystals of varying size.
Those few terminations which are not complete are rehealed. In excellent condition.
From Mimoso do Sul, Espírito Santo, Brazil.
Measures 5.5 cm by 5 cm by 3.8 cm in total size.
Price $2850
MIN#TUCSON2017-44 NEW!
Tremendous rarity! A large lilac Apatite crystal sitting alongside a Beryl var. Aquamarine on Quartz!
Also with Albite and Muscovite, this is easily the finest Apatite-Beryl combo specimen I've seen from Maine
and I don't know of any others that even come close. This specimen was acquired privately back in 1969
by Richard Kosnar from Perham's Mineral Store which was located in West Paris, Maine. The specimen
actually comes with the original bill of sale. The purplish Apatite crystal is glassy lustrous and measures
2 cm in size. Its companion Aquamarine crystal measures a well matched 1.8 cm and is also quite lustrous
with reflective surfaces. Both crystals are sharp with only trivial contacts. The north side of the Aqua is
slightly irregular where it formed around a now missing Albite crystal. I can't stress how incredibly rare
a combination of this calibre is from Maine pegmatites, especially one in this condition and with the
aesthetical qualities of this very special, small cabinet sized specimen. In excellent condition overall.
From the Greenlaw Quarry, East Mount Apatite District, Auburn, Androscoggin County, Maine.
Measures 6.7 cm by 4.5 cm by 3.4 cm in total size.
Ex. Steve Perham, R. Kosnar Mineral Collections
Price $4850
MIN#TUCSON2017-45 NEW!
Exceptional specimen of Calaverite crystals on Quartz matrix!
This is a very rich specimen of Calaverite which is a Gold Telluride. The Quartz matrix displays
numerous veins of the lustrous mineral alongside well formed Calaverite crystals. A closer look
with a loupe shows a surface which is literally covered with crystals, including one that measures
.6 cm in size! Specimens of this calibre from the old Cripple Creek Mining District are few and
far between and this is one of the richest and best examples of Calaverite that I've seen in years.
From Cripple Creek, Cripple Creek Mining District, Teller County, Colorado.
Measures 5.5 cm by 10.2 cm by 5.2 cm in total size.
Price $3250
MIN#TUCSON2017-48 NEW!
Exceptional halfbreed of dendritic Native Copper partially coated by Native Silver!
This specimen is from the famous White Pine Mine and the finest Coppers and Silvers from
there have an incredible dendritic form of growth. This one however features fine dendritic
crystals of both minerals together on the same large specimen. The display is spectacular and
the luster flows freely over both the white Silver surfaces and reddish-brown Copper crystals.
The Silver near the top becomes so heavy in areas that it almost appears to be pseudomorphing
the Copper crystals but I still think it may just be a secondary coating. Regardless, the visual
impact and eye appeal is incredible. Can be displayed from either side but this is my favorite.
From the White Pine Mine, White Pine, Ontonagon County, Michigan.
Measures 16.5 cm by 10.2 cm by 2 cm in total size.
Price $4500
MIN#TUCSON2017-49 NEW!
Great looking specimen of Galena cubes stacked atop Dolomite covered matrix with Calcite crystals!
One of my favorite specimens from Tucson, this cabinet display piece features three large mirror-bright
Galena cubes perched atop one another. The largest of these measures 6.5 cm across the corners. At the
top are a couple of frosted Calcite crystals and along the base and bottom side are numerous golden Calcites.
The Galenas are complete with a stepped back side formation. In wonderful condition with loads of eye appeal.
From the Brushy Creek Mine, Greeley, Viburnum Trend District, Reynolds County, Missouri.
Measures 11.2 cm by 11.2 cm by 7.5 cm in total size.
Price $2850
MIN#TUCSON2017-50 NEW!
Impressive specimen featuring stacked crystal cubes of Halite from Poland!
I love these classic Halite specimens and this is the largest stacked cube pillar that I've seen in a long
time. The bottom cubes are colored brown by Hematite coating and as you move up the pillar towards
the top, the Halite cubes become clearer and translucent. You can still see the Hematite inclusions but they
become more of an internal phantom near the top. Lustrous and glassy, the crystal surfaces are all pristine.
From the Wieliczka Mine, Wieliczka, Małopolskie, Poland.
Measures 15 cm by 4 cm by 3.3 cm in total size.
Ex. Robert Nowakowski Mineral Collection
Price $2450
MIN#TUCSON2017-53 NEW!
Cute miniature sized halfbreed featuring rounded crystals of Native Silver on Native Copper!
The Silver crystals are lustrous and bright, measuring to .9 cm. They formed inside a small opening
between the Copper and the vug can be seen in the very center of the specimen. It opens up and goes all
the way through to the backside. The Central Mine was opened in 1854 and remains a favorite of collectors.
From the Central Mine, Central, Keweenaw County, Michigan.
Measures 5.2 cm by 4 cm by 1.8 cm in total size.
Ex. Phillips Mineral Collection
Price $895
MIN#TUCSON-54 NEW!
Spectacular large cabinet specimen of sparkling Rhodochrosite over Sphalerite and Galena matrix!
This is easily the largest Mexican Rhodochrosite I've ever seen. I'm told it is one of the largest specimens in private
hands. The surfaces are virtually pristine with a heavy coverage of sparkling Rhodochrosite atop the Sulfide crystal matrix.
The Rhodochrosite is micro-crystalline with a strong reddish-pink salmon coloration. This would make a wonderful centerpiece.
From the Potosí Mine, Aquiles Serdán, West Camp, Santa Eulalia District, Mun. de Aquiles Serdán, Chihuahua, Mexico.
Measures 15.2 cm by 13.7 cm by 9.2 cm in total size.
Ex. Webb Mineral Collection
Comes with a labeled display stand
Price $12,500
MIN#TUCSON-55 NEW!
Very fine example featuring numerous Boleite cubes on hardened matrix!
There are literally dozens of these lustrous blue crystals, with the largest cubes measuring around .6 cm
in size. All are stable on the matrix and there is no damage to speak of except for trivial bumps. The cubes
are also mostly clean with very little matrix attachment. The corners glow under lighting. In excellent condition.
From the Amelia Mine, Boleo District, Santa Rosalía, Mun. de Mulegé, Baja California Sur (BC Sur), Mexico.
Measures 7.5 cm by 7 cm by 4.8 cm in total size.
Price $3500
MIN#TUCSON-56 Sold!
Rich grape jelly-purple Fluorite with zoning and Barite crystals!
One of the prettiest Berbes Fluorite from the show, this specimen has all the qualities collectors look for.
Deep, gemmy purple cubes. Strong color zoning. And last but not least, large blades of cream colored
Barite atop the cluster and along the base. In excellent condition with no contacts worth mentioning.
From Berbes, Berbes Mining Area, Ribadesella, Asturias, Spain.
Measures 10.2 cm by 8.3 cm by 4.2 cm in total size.
Comes with an engraved display stand
Price $2850
- LINKS TO THE TUCSON 2017 MINERAL SHOWROOMS -
1 | 2 | 4 | 5 | 6 | 7 | 8 | 9 | 10 | 11 | 12

HOME | EXCEPTIONAL MINERALS | MINERAL AUCTION | SPECIMENS FROM PAST SHOWS | CONTACT US