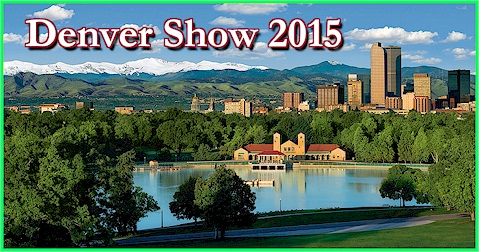 The Denver 2015 Mineral Showrooms

* Re-Updated January 16th, 2017 *
MIN#Denver2015-101 NEW!
Graceful and artistic display of Native Wire Silver rising up from a Calcite and Acanthite matrix!
This is one of the prettiest wire Silvers I've seen in a long time from Guanajuato. The largest curling
wire rises 4 cm above the matrix before looping around at the top. Smaller curling wires can be seen
around the periphery and all are bright and lustrous. A very impressive wire Silver miniature for sure.
From Guanajuato, Mun. de Guanajuato, Guanajuato, Mexico.
Measures 6 cm by 6 cm by 3.2 cm in total size.
Ex. Kevin Ward Mineral Collection
Comes with an custom made, labeled display base
Price $4500
MIN#Denver2015-103 NEW!
Excellent combination specimen featuring large tabular crystals of Golden Barite with Stibnite sprays!
This is the first of these that I've seen in years and the Barite crystals are the largest I've ever seen
from this locality. They glow a deep golden coloration and are gemmy to translucent (more gemmy at
or near the edges and tips), with a strong surface glassy luster. The Stibnite sprays jut outwards near
the lower right and are complete and undamaged. A very attractive combo that is almost impossible to
find at the shows these days. This specimen came from an older collection and is in excellent condition.
From the Cavnic Mine, Cavnic, Maramures County, Romania.
Measures 6.5 cm by 5.4 cm by 4.2 cm in total size.
Ex. Charles M. Noll Mineral Collection
Price $1250
MIN#Denver2015-104 NEW!
Aesthetic specimen featuring blue Azurite crystal blades with chatoyant Malachite!
This is one of the better Bisbee Azurite with Malachite specimens of this size range that I've seen in
a number of years. The blades are sharp and very lustrous, standing upright atop the gossan matrix
with minimal contacting. They are accented by Malachite, including the two wonderful radial sprays
of chatoyant green near the lower edge. The eye appeal of this 125 year old specimen is excellent!
Circa 1880s - From the Copper Queen Mine, Bisbee, Warren District, Mule Mts, Cochise Co., Arizona.
Measures 6.7 cm by 5.8 cm by 4.7 cm in total size.
Ex. Barnett Mineral Collection
Price $3500
MIN#Denver2015-105 NEW!
Fine crystals of Beryl var. Goshenite nestled atop Schorl Tourmaline!
This is a really cute specimen. A group of these fine Goshenite on Schorls recently came to market
and I cherry picked some of the best specimens from those available. The Goshenites are mostly
doubly terminated and gemmy to translucent with glassy crystal faces. They contrast very well
with the shiny black surfaces of the Schorl Tourmaline crystals they sit atop. In excellent condition.
From the Erongo Mountain, Erongo Region, Namibia.
Measures 5.5 cm by 4.2 cm by 3.8 cm in total size.
Price $985
MIN#Denver2015-107 NEW!
Rare old classic featuring Hematite colored Calcite crystals surrounded by light green Barite!
A seldom seem locality combination from the Pallaflat Mine which has been worked since the
1880's. The Calcites are centered perfectly and exhibit reddish-brown tips due to a slight inclusion
of Hematite. Light green Barite tabs surround the Calcite crystals and are transparent with a strong
glassy luster. This is a gorgeous miniature and a rare opportunity. Very clean with few contacts.
From the Pallaflat Mine, Bigrigg, West Cumberland Iron Field, Cumbria, England.
Measures 5.5 cm by 7.5 cm by 3.6 cm in total size.
Price $1850
MIN#Denver2015-108 NEW!
Exceptional combination specimen featuring dark green Epidote crystals with Quartz on matrix!
This is one of the finest plates of Epidote from the Green Monster that I've seen in years. It's also unusual because it
displays large, terminated Epidote crystals standing upright in isolation among the crystal-clear Quartz points. Usually
these specimens appear as clusters of criss-crossing Epidote crystals so this specimen really stands out. I prefer the
isolated look over the clusters and this specimen is certain to please with it's glassy-lustrous crystals and lack of contacts.
From Green Monster Mountain, Prince of Wales Island, Ketchikan Dist., Prince of Wales-Outer Ketchikan Borough, Alaska.
Measures 13 cm by 12.5 cm by 11.8 cm in total size.
Ex. Barnett Mineral Collection
Price $3850
MIN#Denver2015-109 NEW!
Attractive specimen of Amber Barite crystals perched atop yellow Calcite crystal covered matrix!
Gemmy golden-brown crystals of Barite stand mostly upright, surrounded by bright yellow Calcite.
The tips are terminated and the crystals are transparent with a strong internal glow beneath glassy
crystal faces. The specimen is in excellent condition with only one tiny contact on the back edge crystal.
From the Elk Creek locality, Dalzell, Meade County, South Dakota.
Measures 7.5 cm by 9 cm by 4.5 cm in total size.
Price $1500
MIN#Denver2015-111 NEW!
Incredible plate of large pristine and gemmy Calcite crystals on smaller hexagonal Calcites!
Stunning plate featuring several large and super gemmy Calcite crystals sitting atop a plate covered
by dozens of smaller hexagonal Calcite crystals. The crystals are all very glassy and lustrous and the
smaller Calcites are mostly upright white the larger Calcites lay across the top. In excellent condition.
From Daye County, Huangshi Prefecture, Hubei Province, China.
Measures 13 cm by 13 cm by 5.4 cm in total size.
Price $1850
MIN#Denver2015-112 NEW!
VERY RARE!! Fine Native Gold crystals on Quartz matrix from North Carolina!
This is a very impressive crystalline Gold specimen from the site of America's first gold rush!
A rich scattering of fine Gold crystals is spread across the surface of this grainy Quartz matrix.
I don't have an exact date for this specimen but I would estimate it dates back to the mid to late
1800's. This would make a great addition to a type Gold or North Carolina mineral collection.
From the old Gold Mining District of North Carolina.
Measures 5.5 cm by 8.4 cm by 2.3 cm in total size.
Ex. Hauck Mineral Collection
Price $2500
MIN#Denver2015-113 NEW!
Superb combination plate featuring Beta Quartz crystals on green Datolite with Quartz accents!
This is a lovely large cabinet specimen and one that stood out in the same display case as the large Amethyst
plate in the earlier showroom. The plate is completely covered by glassy green Datolite crystals which range
from gemmy to translucent. These crystals are accented by small Quartz crystals which outline the edges and
fill the recesses between the Datolites. Sitting in the very center of this flashy plate is an impressive cluster
of Beta Quartz crystals, with the largest measuring 5 cm in size. Beta Quartz is a hexagonal bipyramidal form
of Quartz that occurs at high temperature. At room temperature it is actually Quartz ps. after Beta Quartz but
the unique crystal habit remains. There are a half dozen of these crystals in the center cluster. This is a very
fine plate and one of my favorites from the show. It is very well trimmed with few contacts. A true centerpiece.
From the Bor Pit, Dal'negorsk, Kavalerovo Mining District, Primorskiy Kray, Far-Eastern Region, Russia.
Measures 18.3 cm by 14 cm by 7.4 cm in total size.
Ex. Heinz Gugeler Mineral Collection
Price $3500
MIN#Denver2015-114 NEW!
Exceptional specimen featuring pinkish Calcite crystals atop Hematite stalactites!
This is a rare specimen from Iron River, Michigan. It features Calcite crystals measuring to 2 cm in size set atop Calcite
and Hematite stalactites. I must admit, this is the first of these unique specimens that I've seen and it is very aesthetic
and in perfect condition. The crystals are complete and lustrous and the stalactites are uncontacted with full rounded tips.
From Iron River, Menominee iron range, Iron County, Michigan.
Measures 12 cm by 7.5 cm by 6 cm in total size.
Price $2850
MIN#Denver2015-115 NEW!
Very rare specimen featuring dendritic Native Copper crystals branching outwards atop matrix!
This is a Jerome, Arizona Copper specimen and this has to be one of the most difficult localities to find
anywhere. I've only seen two or possibly three specimens of Native Copper from Jerome in all my years
of searching and this is by far the finest of those. The crystalline structure of the specimen is very distinct
and dendritic and it's apparent the crystals formed inside a very narrow pocket inside matrix, hence there
somewhat flattened appearance. The crystals are lustrous beneath an antique patina which is original.
From the Jerome, Verde District, Black Hills, Yavapai County, Arizona.
Measures 6.5 cm by 7.5 cm by 3.6 cm in total size.
Price $2500
MIN#Denver2015-116 NEW!
Classic specimen of white Calcite "fingers" rising up from matrix!
This very aesthetic specimen is from Silverton, Colorado and dates back to the mining days
of the 1940s - 1950's. It is in excellent condition with complete fingers and a sparkling, lustrous
surface that really sets off some serious flash under any type of lighting. One of the first I've seen.
From the Sunnyside Mine group (American Tunnel Mine), Eureka District, San Juan Co., Colorado.
Measures 4.2 cm by 6 cm by 4.5 cm in total size.
Ex. David Shannon Collection
Price $985
MIN#Denver2015-117 NEW!
Extremely rare specimen of Native Silver wires with Galena on layered matrix!
There are numerous patches of Native Silver wires atop and between the layered matrix and some
display wires of good thickness like the wires near the bottom. This is a very rich specimen and one
of the finest examples I've encountered from the Broken Hill locality. They are so rare that I only
come across one every few years or so and this is by far the largest plate (cabinet sized) I've seen.
From Browne's Shaft, Junction Mine, Broken Hill, Yancowinna Co., New South Wales, Australia.
Measures 10.7 cm by 8.4 cm by 3.5 cm in total size.
Ex. Milton Lavers Mineral Collection
Price $4500
MIN#Denver2015-118 Sold!
Lovely specimen featuring a cluster of gemmy-clear golden-yellow Fluorite cubes from France!
This is a beautiful specimen but it's also pretty neat because the bottom side is a geode-like recess,
indicating that the cluster formed atop a cast matrix. The Fluorites are uniform in size and average
around 1.8 cm. They are very transparent and glow with a brilliant color through highly lustrous,
glassy surfaces. In excellent condition and very well trimmed. The specimen sits like a golden hill
and most Fluorites I've seen from this locality are opaque to translucent, not gemmy like this one.
From the Birrity Quarry, Arbouet-Sussaute, Pyrénées-Atlantiques, Aquitaine, France.
Measures 5.5 cm by 10 cm by 6.2 cm in total size.
Price $1850
MIN#Denver2015-119 NEW!
Impressive plate of brown phantomed Calcite crystals atop dark brown Fluorite!
This is one of the larger Pugh Quarry Calcites I've seen in recent years. It resembles a mountain
with its peaks and valleys and translucent white tips. Most of the Calcite crystals display a brown
center which may be indicative of the brown Fluorite matrix beneath or simply a brown Calcite
phantom. This specimen displays very well with flashy surfaces and is in excellent condition.
From the Pugh Quarry (France Stone Co. Custar Quarry), Weston, Wood County, Ohio.
Measures 15.5 cm by 11 cm by 7.2 cm in total size.
Ex. Ben de Wit Mineral Collection
Price $1500
MIN#Denver2015-120 NEW!
Gemmy green spiral clusters of Green Apophyllite on lustrous Stilbite crystals!
These popular "Well" Apophyllites have become very difficult to find in recent years
since most specimens have now disappeared into private collections and no new discoveries
have been made. This cabinet sized plate features two separate radial sprays, a "bow tie"
spray at upper left and a ball spray to the right. The Stilbite crystals cover the front and
climb over to backside of the volcanic matrix. In excellent condition with a great display.
From Momin Akhada, Rahuri, Ahmadnagar, Maharashtra, India.
Measures 11.5 cm by 16 cm by 6.7 cm in total size.
Ex. Lincoln Mineral Collection
Price $3500
- LINKS TO THE DENVER 2015 SHOWROOMS -
Link to the Tucson 2016 Mineral Showrooms
HOME | EXCEPTIONAL MINERALS | MINERAL AUCTION | SPECIMENS FROM PAST SHOWS | CONTACT US