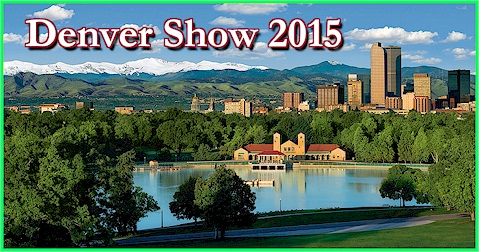 The Denver 2015 Mineral Showrooms

* Re-Updated January 16th, 2017 *
MIN#Denver2015-41 NEW!
Classic museum calibre specimen featuring Amethyst with Calcite, Chalcopyrite, and Quartz!
This is one of my first specimens as a collector and it was formally in the mine director's personal collection.
It's a stunning combination of crystals with golden Chalcopyrites and large, well formed Calcite crystals. The
smoky-purple Amethyst crystal points add the perfect contrast and complete a very beautiful cabinet piece.
In excellent condition with large, perfectly terminated Amethyst crystals amid brilliant, lustrous Chalcopyrites.
From Taxco de Alarcón, Mun. de Taxco, Guerrero, Mexico.
Measures 16.6 cm by 12.7 cm by 8.9 cm in total size.
Ex. David Morrell, Kevin Ward Mineral Collections
Price $12,500
MIN#Denver2015-42 NEW!
Rare specimen featuring light blue Celestine crystals sitting atop bright yellow Sulfur!
This is an Italian classic, the likes of which I rarely see in the marketplace. The Celestine
crystals are perfectly terminated, rising nearly 3 cm above the Sulfur surface. They exhibit
transparent to translucent interiors and glassy-lustrous surfaces. The Sulfur matrix is a very
bright yellow and offers a beautiful contrast to the blue Celestine. In excellent condition with
barely a contact anywhere. The Sulfur has been stabilized on the bottom side along a crack.
From the Cozzo Disi Mine, Casteltermini, Agrigento Province (Girgenti Province), Sicily, Italy.
Measures 3.8 cm by 6.1 cm by 3.5 cm in total size.
Price $2850
MIN#Denver2015-43 NEW!
Super lustrous plate of brilliant pink Smithsonite!
This is a dazzling specimen, with a strong luster over unblemished botryoidal surfaces.
The color is pure pink with reddish undertones and the entire Smithsonite sits atop a small
bit of matrix with some slight layering. This is a very attractive and flashy Smithsonite and
specimens of this color and quality have become almost impossible to track down at the shows.
From the El Refugio Mine, Choix, Mun. de Choix, Sinaloa, Mexico.
Measures 11.2 cm by 6.9 cm by 3.3 cm in total size.
Ex. Barnett Mineral Collection
Price $1250
MIN#Denver2015-44 NEW!
Dramatic specimen featuring Native Copper crystals with Native Silver banding!
This is a tremendous halfbreed and definately one of the most attractive I've seen from the
White Pine Mine. It's almost completely crystalline and features Silver banding near the base,
just above the base, and at the midpoint of the "V". The color and luster shift is quite noticeable
and makes for great aesthetics. I see what appears to be a spinel-twin Copper crystal along the
right side of the upper branches and the Copper luster is evident through the reddish-brown patina.
From the White Pine Mine, White Pine, Ontonagon County, Michigan.
Measures 11 cm by 10.4 cm by 1.5 cm in total size.
Ex. Liebetrau Silver Collection
Comes with a custom made, labeled display base
Price $7500
MIN#Denver2015-45 NEW!
Rare old classic featuring crystals of Native Copper snug inside a matrix vug!
This is a really neat specimen which displays the brown patinaed Copper crystals in a cluster
that is protected inside a matrix seam which opened to form a small vug. The mine from which
this specimen came, the Virneberg Mine, is an ancient German Copper mine which has been
worked since Roman times and was active between 1611-1872. The entrance to the mine now
sits in a hillside beside a highway. This specimen displays dozens of sharp, blocky crystals in a
somewhat dendritic pattern which just a touch of green Malachite. Both aesthetic and historical.
From the Virneberg Mine, Rheinbreitbach, Linz am Rhein, Westerwald, Rhineland-Palatinate, Germany.
Measures 7.7 cm by 6.3 cm by 5.7 cm in total size.
Price $1500
MIN#Denver2015-52 Reserved!
Very aesthetic Native Silver dendrite with Acanthite and spinel-twin Silver crystals!
The herringbone-dendritic crystalline Silver at top sits above a surface of Acanthite crystals
and vertical spinel-twin Silver crystals. On the back side, just beneath the main crystalline
structure are two more crystalline dendrites and Acanthite crystals. This is a specimen that
could easily be displayed from all sides in a 360 degree setting. It looks great from all angles.
From Batopilas, Andres del Rio District, Mun. de Batopilas, Chihuahua, Mexico.
Measures 3.7 cm by 3.5 cm by 2.3 cm in total size.
Ex. Webb, Barnett Mineral Collections
Price $2500
MIN#Denver2015-55 NEW!
Brilliant semi-crystalline Native Gold in white Quartz on matrix!
This is an Italian Gold specimen! And easily one of the richest Italian Golds I've seen in a good
number of years. The Gold is everywhere atop the Quartz and is highly lustrous, exhibiting thick
leaves with a bright yellow color. Rarely does one see an Italian Gold with such heavy coverage.
From the Brusson Mine, Brusson, Ayas Valley, Aosta Valley, Italy.
Measures 3.8 cm by 4 cm by 2.8 cm in total size.
Ex. Hauck Mineral Collection
Price $4500
MIN#Denver2015-56 NEW!
Rare specimen of Acanthite crystals with Proustite on matrix!
This specimen is loaded with lustrous Acanthites and ruby-red Proustite crystals. I can't recall
seeing such a rich concentration on a single matrix before from Germany. The Acanthites are
sharp and raised up from the matrix. The largest triangular crystal in the close up photo measures
.7 cm in size. These crystals are surrounded by red Proustites and some are even partially covered
by them. The Proustites vary in size from a few mms to .5 cm. Overall the specimen is in excellent
shape with complete crystals and good aesthetics. A few of the Proustites are contacted but this is
pretty normal for Proustite specimens and it doesn't detract. You'd need a loupe to see the contacts.
From Shaft #186, Schlema, Schlema-Hartenstein District, Erzgebirge, Saxony, Germany.
Measures 5.2 cm by 5.4 cm by 2.2 cm in total size.
Ex. W. Wendel Mineral Collection
Price $2850
MIN#Denver2015-57 NEW!
Classic specimen featuring shiny crystals of Cubanite with Pyrrhotite on a Dolomite stalactite!
This is a specimen I rarely see in the marketplace and it displays numerous Cubanite crystals
alongside the larger Pyrrhotites. Both crystals display a thin hexagonal structure with surface
luster. They sit atop a cluster of transparent Dolomite rhombs that appears to be a stalactite.
Circa 1960's - From the Morro Velho Gold Mine, Nova Lima, Iron Quadrangle, Minas Gerais, Brazil.
Measures 8.8 cm by 4.2 cm by 6.8 cm in total size.
Ex. Trimingham Mineral Collection
Price $985
MIN#Denver2015-58 NEW!
Gemmy green crystal sprays of Apophyllite atop Stilbite blades!
Very pretty specimen from the much sought after Well Apophyllite fine of about ten years
ago. The crystals are bright and lustrous with glassy surface and their placement atop the
Stilbite blades is near perfect. In excellent condition with no major contacts or detractions!
From Momin Akhada, Rahuri, Ahmadnagar, Maharashtra, India.
Measures 6 cm by 6.2 cm by 4.5 cm in total size.
Ex. DeRiggi Mineral Collection
Price $1250
MIN#Denver2015-59 NEW!
Stunning specimen featuring highly lustrous Sphalerite crystals with Quartz points!
The Sphalerite crystals are incredibly reflective and lustrous and offer an exceptional
visual contrast with the Quartz crystal points which jut out in all directions, completely
surrounding the black Sphalerite crystals in the center. In excellent condition with sharp,
triangular crystal faces and brilliantly striated surfaces, this specimen is loaded with
eye appeal. The Quartz points are complete and perfectly terminated and the only real
contacts are the normal ones that are found along the trimming edges of the specimen.
From the Krushev dol deposit, Krushev dol mine, Madan, Rhodope Mts, Smolyan Oblast, Bulgaria.
Measures 9.4 cm by 11.8 cm by 7 cm in total size.
Ex. Van Tichelen Mineral Collection
Price $2500
MIN#Denver2015-60 NEW!
Exceptional large plate featuring yellow Barite crystals on Calcite accented purple Fluorite!
This is a true Illinois classic! Dozens of terminated Barite tabs cover the upper half of this Fluorite
plate while the bottom half is covered by small, colorless Calcite crystals. This is one of the largest
and most impressive Illinois Barite specimens that I've acquired and it is in excellent condition with
very few contacts that are easily lost in the sheer number of crystals. The plate displays beautifully.
From the Denton mine, Harris Creek Sub-District, Hardin County, Illinois.
Measures 13.3 cm by 11.6 cm by 5.4 cm in total size.
Price $2850
- LINKS TO THE DENVER 2015 SHOWROOMS -
HOME | EXCEPTIONAL MINERALS | MINERAL AUCTION | SPECIMENS FROM PAST SHOWS | CONTACT US