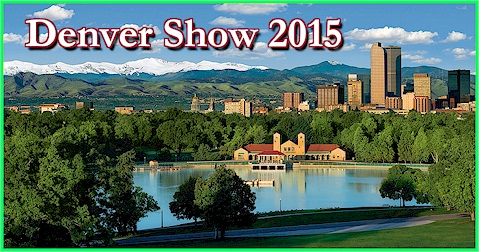 The Denver 2015 Mineral Showrooms

* Re-Updated January 16th, 2017 *
MIN#Denver2015-61 NEW!
Gemmy, colorless crystals of Calcite surrounded by Stilbite crystals on matrix!
This is a beautiful specimen, featuring Calcite crystals to 6 cm in size, one of which displays
a gorgeous internal rainbow! The Calcites are highly lustrous with transparent interiors and
are framed by equally lustrous Stilbite crystals, many of which are doubly terminated. The
display is very aesthetic and the combination is stunning. In excellent condition with few
contacts and no damage. The specimen can also displayed in a myriad of ways, all attractive.
From the Jalgaon District, Maharashtra, India.
Measures 10 cm by 10.8 cm by 6 cm in total size.
Price $2850
MIN#Denver2015-62 NEW!
Emerald-green crystals of Dioptase covering a white Calcite crystal matrix!
This is one of my favorite combinations from the mineral world and I know I share this
opinion with many other collectors. This specimen offers an abundance of glassy green
Dioptase crystals, measuring up to 1.3 cm in size, and displays an incredible amount of
flash and internal luminescence. Rotating the specimen in my hand makes the crystals
sparkle wildly as each smooth face reflects the light with an incredible intensity. It is also
very evident that this specimen is in excellent condition with very few contacts and well
tucked trimming edges. The white Calcite crystal surface beneath the Dioptase peaks out
along both the left and right sides and displays a good translucence with no visible contacts.
From the Tsumeb Mine, Tsumeb, Otjikoto Region (Oshikoto), Namibia.
Measures 6.6 cm by 4 cm by 2.7 cm in total size.
Ex. DeRiggi Mineral Collection
Price $4500
MIN#Denver2015-79 NEW!
Historical and very rare specimen of Native Gold with Silver Sulfides on matrix from Nevada!
This cabinet sized plate is an amazing example of American and Nevada mining history. It's from
the old mining district of Tonopah, Nevada which was the home to a huge Silver mining boom in the
early 1900's. While Silver was the main ore discovered in Tonopah, there were also gold deposits
although most were a bit further south in Goldfield. This specimen displays a large Rhyolitic volcanic
plate, naturally seamed, into which flowed Native Gold. The Gold cooled to form micro-crystalline
clusters. The close up photos display the front and right edge of the specimen which is covered with
the brilliant precious metal. The Gold is mostly crystalline dendritic with some small trigons, leaves,
and mesh also present. Gray Silver Sulfide is also present in the matrix but the Gold is the main draw.
Specimens of this size with this much Gold coverage from Tonopah, Nevada are incredibly rare today.
Circa 1910 - From the Tonopah District, San Antonio Mts, Nye County, Nevada.
Measures 15.4 cm by 12.6 cm by 5.2 cm in total size.
Price $3500
- LINKS TO THE DENVER 2015 SHOWROOMS -
HOME | EXCEPTIONAL MINERALS | MINERAL AUCTION | SPECIMENS FROM PAST SHOWS | CONTACT US