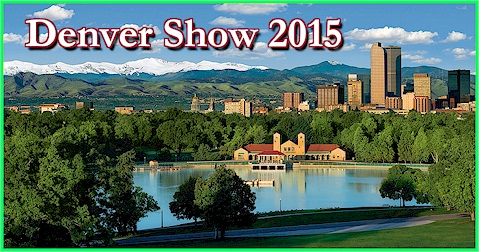 The Denver 2015 Mineral Showrooms

* Re-Updated January 16th, 2017 *
MIN#Denver2015-61 NEW!
Gemmy, colorless crystals of Calcite surrounded by Stilbite crystals on matrix!
This is a beautiful specimen, featuring Calcite crystals to 6 cm in size, one of which displays
a gorgeous internal rainbow! The Calcites are highly lustrous with transparent interiors and
are framed by equally lustrous Stilbite crystals, many of which are doubly terminated. The
display is very aesthetic and the combination is stunning. In excellent condition with few
contacts and no damage. The specimen can also displayed in a myriad of ways, all attractive.
From the Jalgaon District, Maharashtra, India.
Measures 10 cm by 10.8 cm by 6 cm in total size.
Price $2850
MIN#Denver2015-62 NEW!
Emerald-green crystals of Dioptase covering a white Calcite crystal matrix!
This is one of my favorite combinations from the mineral world and I know I share this
opinion with many other collectors. This specimen offers an abundance of glassy green
Dioptase crystals, measuring up to 1.3 cm in size, and displays an incredible amount of
flash and internal luminescence. Rotating the specimen in my hand makes the crystals
sparkle wildly as each smooth face reflects the light with an incredible intensity. It is also
very evident that this specimen is in excellent condition with very few contacts and well
tucked trimming edges. The white Calcite crystal surface beneath the Dioptase peaks out
along both the left and right sides and displays a good translucence with no visible contacts.
From the Tsumeb Mine, Tsumeb, Otjikoto Region (Oshikoto), Namibia.
Measures 6.6 cm by 4 cm by 2.7 cm in total size.
Ex. DeRiggi Mineral Collection
Price $4500
MIN#Denver2015-63 NEW!
Dark reddish crystals of Rutile sitting atop matrix!
There are 4 crystals here, all sharp and highly lustrous, with the largest measuring just
shy of 3 cm. It is the largest Rutile crystal that sits atop two of the smaller Rutiles below.
The crystals are a dark blackish-red but a strong direct light brings out flashes of deep red.
From Graves Mountain, Lincoln County, Georgia.
Measures 4.8 cm by 6.2 cm by 3.1 cm in total size.
Price $1450
MIN#Denver2015-65 NEW!
Super combination plate of Sphalerite crystals with brown Siderite on Pyrite crystals and Calcite!
What a great specimen this would be for Valentine's Day. It's heart shaped and covered with minerals
that are both very distinct and have contrasting colors that are quite eye catching. The Sphalerites
measure to over 2 cm in size and are a highly lustrous black or very dark brown. The Siderite which
is present between the Sphalerite is a yellowish-brown. The Pyrite displays as lustrous golden cubes
and the entire back side of the specimen is covered with graying Calcite blades. In excellent condition.
From the Trepca Stan Terg Mine, Trepca complex, Trepca Valley, District of Kosovska Mitrovica, Kosovo.
Measures 9.3 cm by 9.2 cm by 3.6 cm in total size.
Price $1850
MIN#Denver2015-68 NEW!
Sparkling specimen of blue Chrysocolla covered by Quartz with Quartz arches!
This is beautiful specimen and the first I've seen with Quartz arches which stretch across the
matrix vug from one side to the other, forming a slightly curved bridge of micro-Quartz crystals.
The surface of the matrix is covered with blue Chrysocolla which itself has been covered by the
micro-crystalline Quartz. Very flashy with an intense brilliant sparkle in even the faintest lighting.
From the Lily Mine (Lilly Mine), Pisco Umay, Ica Department, Peru.
Measures 9 cm by 8.4 cm by 7.5 cm in total size.
Price $985
MIN#Denver2015-70 NEW!
Very pretty combination of zoned Fluorite with golden Calcite and Sphalerite on matrix!
This is an unusual specimen but one that is covered with lots of great looking crystals.
The Fluorite cubes are bluish-lavender with raspberry zoning. The Calcites are a light
golden color and most are doubly terminated. In the background are micro-crystals of
Sphalerite against what appears to be a Limestone nodule which serves as the host matrix.
From the Denton Mine, Harris Creek Sub-District, Hardin Co., Illinois.
Measures 11.2 cm by 10 cm by 5.3 cm in total size.
Price $1500
MIN#Denver2015-73 Sold!
Exceptional specimen of Native Silver crystals, one atop the other, atop a Native Silver base!
This is an old classic specimen, dating back to the 1880's, and it comes from the same collection
my "Pine Tree on Copper" specimen came from. Both were preserved by the same miner over
130 years ago and remained in his family before being sold just recently. This specimen is pure
Silver with no Copper present, and is formed from numerous crystals measuring to 2 cm in size.
Even the base appears to be a crystal or crystals that were flattened somewhat by surrounding
matrix which has long since been removed. The specimen is highly lustrous and exhibits a gentle
antique greyish-golden patina. It's very sculptural with a beautiful form and even includes a natural
opening formed by touching crystals along the top left. This was easily one of the most impressive
Native Silvers at the show and is completely original. It also offers a lot of size for a reasonable price.
From the Calumet & Hecla Mine, Calumet, Calumet Township, Houghton Co., Michigan.
Measures 9.7 cm by 3.6 cm by 2.1 cm in total size.
Ex. Kevin Ward Mineral Collection
Comes with a custom made, labeled display base
Price $9500
MIN#Denver2015-74 NEW!
Lovely golden Calcite cluster on matrix!
This is a beautiful, well balanced cluster of three perfect, gemmy Calcites. The Calcites are
all terminated with glassy surfaces and a strong rolling luster which further highlights the golden
interiors. The matrix is the typical Limestone and one of the crystals is doubly terminated on the back.
From the Stoneco Auglaize Quarry (Maumee Stone Co. Quarry), Junction, Paulding Co., Ohio.
Measures 6.3 cm by 5 cm by 3.7 cm in total size.
Ex. Buck Keller Mineral Collection
Price $850
MIN#Denver2015-75 NEW!
Large cabinet sized specimen featuring two impressive crystals of Selenite on matrix!
This is a specimen that will instantly impress the viewer. The Selenite crystal faces
are nearly pristine (amazing for a specimen of this size) with transparent glassy faces
and an intense rolling luster. The luster is even stronger along the slightly striated edges!
From Naica, Mun. de Saucillo, Chihuahua, Mexico.
Measures 22 cm by 17.5 cm by 22 cm in total size.
Ex. K. Miller Mineral Collection
Price $1850
MIN#Denver2015-76 NEW!
Large, golden, barrel-shaped Calcite crystals with Marcasite and Fluorite on matrix!
Amber colored Calcites, highly glassy and very lustrous with the largest doubly terminated
crystal on the left measuring 8.5 cm in size. There appears to be a darker phantom inside each
Calcite, possibly an earlier Calcite crystal that was later overgrowth. In good condition with some
contacting here and there but nothing serious. The smaller Calcite has a bit of Fluorite at the bottom.
From the Irving Materials Quarry, Anderson, Madison Co., Indiana.
Measures 10.4 cm by 7.7 cm by 5 cm in total size.
Ex. Dawson Calcite Collection
Price $985
MIN#Denver2015-77 NEW!
Light green cluster of Fluorite cubes from a classic Austrian Fluorite locality!
A great looking specimen that is glassy Fluorite all the way around, on all sides. The cubes vary
in size but all display a light green coloration through gemmy interiors and lustrous surfaces. The
color actually gets deeper when the specimen is exposed to direct lighting. In great shape overall,
with just some minor contacts scattered about but nothing that really detracts from this classic piece.
From Rieding Lake, Weißeck area, Murwinkel, Lungau, Salzburg, Austria.
Measures 6.5 cm by 6.2 cm by 5.8 cm in total size.
Price $785
MIN#Denver2015-78 NEW!
Aesthetic specimen featuring a Native Silver wire rising atop Acanthite crystals!
This fine Silver is from the Porco Mine which is the oldest Silver mine in all of Bolivia.
It has been mined for hundreds of years and was one of the main Silver mines for the
Spanish beginning in the 1530's. This specimen displays a curling Silver wire that rises
over 3 cm atop the Acanthite crystal matrix. The wire is firmly attached and sturdy.
From the Porco Mine, Agua de Castilla, Antonio Quijarro Prov., Potosí Department, Bolivia.
Measures 4.4 cm by 2.6 cm by 2 cm in total size.
Price $1850
MIN#Denver2015-79 NEW!
Historical and very rare specimen of Native Gold with Silver Sulfides on matrix from Nevada!
This cabinet sized plate is an amazing example of American and Nevada mining history. It's from
the old mining district of Tonopah, Nevada which was the home to a huge Silver mining boom in the
early 1900's. While Silver was the main ore discovered in Tonopah, there were also gold deposits
although most were a bit further south in Goldfield. This specimen displays a large Rhyolitic volcanic
plate, naturally seamed, into which flowed Native Gold. The Gold cooled to form micro-crystalline
clusters. The close up photos display the front and right edge of the specimen which is covered with
the brilliant precious metal. The Gold is mostly crystalline dendritic with some small trigons, leaves,
and mesh also present. Gray Silver Sulfide is also present in the matrix but the Gold is the main draw.
Specimens of this size with this much Gold coverage from Tonopah, Nevada are incredibly rare today.
Circa 1910 - From the Tonopah District, San Antonio Mts, Nye County, Nevada.
Measures 15.4 cm by 12.6 cm by 5.2 cm in total size.
Price $3500
MIN#Denver2015-80 NEW!
Large and dramatic plate featuring Danburite crystals in cluster with Quartz!
This is a wonderful plate displaying numerous large Danburite crystals, all completely
terminated and glassy with an accenting of tiny golden Pyrites. The tips of these crystals
become much more transparent while the majority of the thick crystals are mostly opaque
and translucent. Also with Quartz scattered about. In excellent condition with a great display.
From Charcas, Mun. de Charcas, San Luis Potosí, Mexico.
Measures 12 cm by 16 cm by 9.9 cm in total size.
Ex. Rausch Mineral Collection
Price $2850
- LINKS TO THE DENVER 2015 SHOWROOMS -
HOME | EXCEPTIONAL MINERALS | MINERAL AUCTION | SPECIMENS FROM PAST SHOWS | CONTACT US