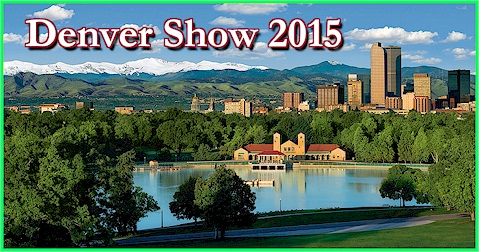 The Denver 2015 Mineral Showrooms

* Re-Updated January 16th, 2017 *
MIN#Denver2015-81 NEW!
Exceptional specimen featuring Amethyst sceptered Quartz crystals on Microcline!
This is an amazing specimen, with all points completely Amethyst and the larger crystals
displaying full scepters of purple Amethyst. The crystals in the center measure to 5.5 cm
in size and all display glassy-lustrous surfaces. In excellent condition with a great display.
From the Brandberg Area, Erongo Region, Namibia.
Measures 8 cm by 9.2 cm by 5 cm in total size.
Ex. Bahmann Mineral Collection
Price $4500
MIN#Denver2015-82 NEW!
Exceptional combination of Scheelite with crystal-clear Fluorite on Muscovite!
These combos have become very rare in the marketplace and this is one of the best I've seen in years.
The Scheelite is vibrant and translucent with glassy-lustrous surfaces while the size of both the Fluorite
and Scheelite at 2.5 cm offers an beautiful matching display. In excellent condition with no contacting.
From the Mt. Xuebaoding Mine, Pingwu, Sichuan Province of China.
Measures 6.2 cm by 5 cm by 3.3 cm in total size.
Price $2500
MIN#Denver2015-83 NEW!
Fine crystal of Beryl var. Aquamarine standing upright atop white Albite!
A beautiful blue crystal with a transparent gemmy tip standing tall against the starkly
contrasting Albite crystal surface. This Aquamarine measures 5 cm in size and displays
glassy surfaces with a perfect flat termination. In excellent condition with no detractions.
From the Erongo Mountain, Erongo Region, Namibia.
Measures 8.5 cm by 6 cm by 4.4 cm in total size.
Price $1850
- LINKS TO THE DENVER 2015 SHOWROOMS -
HOME | EXCEPTIONAL MINERALS | MINERAL AUCTION | SPECIMENS FROM PAST SHOWS | CONTACT US