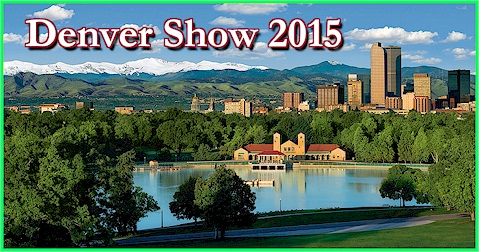 The Denver 2015 Mineral Showrooms

* Re-Updated January 16th, 2017 *
MIN#Denver2015-1 NEW!
Classic specimen featuring a large reddish-pink Rhodochrosite rhombs perched atop Fluorite crystals!
This is a wonderful combination piece from the classic locality of Silverton, Colorado. The largest rhomb
measures 3 cm in width and sits atop several smaller rhombs. Beneath the Rhodos is a lustrous cluster of
colorless Fluorite octahedrons. They cover the top and front side of the Quartz matrix. In excellent condition.
From Silverton, Animas District, San Juan County, Colorado.
Measures 6.2 cm by 5.5 cm by 6.4 cm in total size.
Price $2850
MIN#Denver2015-2 Sold!
Exceptional specimen of Native Wire Silver on Calcite crystals!
This is one of the most unique specimens I've seen from Kongsberg recently. It is covered with dozens
of curling and twisting wires of Native Silver, many of which spread out at the top, like a forest of trees
atop a mountain peak. The white Calcite base is actually stacked hexagonal crystals, with distinct faces
along the top and edges. The Silver wires rise up from between these crystals and emerge from the tops,
sides, and base where they became really numerous in number. The wires are mostly firm and sturdy and
range from lustrous white to slightly patinaed with a light Acanthite coating in the darker portions. This
is a tremendously aesthetic and classic specimen of Native Silver on Calcite at a very reasonable price.
From the Kongsberg Silver Mining District, Svene, Flesberg, Buskerud, Norway.
Measures 8.4 cm by 5.3 cm by 3 cm in total size.
Original antique handwritten label included
Comes with an engraved display base
Price $12,500
MIN#Denver2015-3 NEW!
Impressive two-sided specimen featuring Azurite crystals with Malachite nodules!
This is a specimen that could be displayed from either side, depending on preference. On one side,
there are dozens of lustrous, sparkling bladed Azurite crystals. On the other side, there are large
fibrous nodules of Malachite with lustrous Azurite crystals inbetween. A classic specimen from the
early days of mining at Morenci, Arizona. It excellent condition with tons of flash and color contrast.
MUCH better in person. The brilliance of the Azurite crystals is impossible to capture with a camera.
From the Morenci Mine, Morenci, Copper Mountain District, Shannon Mts, Greenlee County, Arizona.
Measures 5.8 cm by 10.5 cm by 5.2 cm in total size.
Price $2500
MIN#Denver2015-4 NEW!
Stunning specimen featuring crystals of Celestine atop a bed of Native Sulfur!
This is an great looking old classic from the mining heyday's of Sicily and specimens of this
calibre have become few and far between in today's marketplace. This cabinet plate features
numerous terminated crystals of white Celestine, standing upright atop the bright yellow Sulfur
matrix. The crystals are in excellent condition with smooth tips and glassy luster. Smaller crystals
of very tranparent Celestine crystals can be seen in a cluster along the very top of the specimen.
From the La Grasta mine, Delia, Caltanissetta Province, Sicily, Italy.
Measures 12.5 cm by 9.8 cm by 5.6 cm in total size.
Price $1500
MIN#Denver2015-5 NEW!
Large crystals of Azurite and Malachite ps after Malachite on matrix!
An attractive specimen featuring crystal blades measuring to 2 cm in size. The Azurite surfaces
are glassy and lustrous while the smaller crystals which are mostly Malachite ps after Azurite
display satiny surfaces. The crystals are set atop botryoidal Limonite inside a concave matrix
pocket. In very good condition with only minor contacts. The specimen could be easily trimmed if
so desired but I like the look of the original matrix so I left it intact. Good looking Bisbee classic.
From the Copper Queen Mine, Bisbee, Warren District, Mule Mts, Cochise County, Arizona.
Measures 11.7 cm by 8.5 cm by 6.8 cm in total size.
Ex. Barnett Mineral Collection
Price $1850
MIN#Denver2015-6 NEW!
Brilliant crystal cluster of colorless Calcite set on a cast matrix!
This is an impressive cluster and the crystals are not only colorless, they're also transparent and
as clear as Quartz! The terminations are pyramidal and some tips exhibit a sawtooth-like edge. The
large crystal to the far left is a good example of this unusual feature. There are some internal rainbows
inside some of the crystals and the entire cluster in in excellent condition with barely a contact anywhere.
From the Chenzhou Prefecture, Hunan Province, China.
Measures 10.5 cm by 10 cm by 6.6 cm in total size.
Ex. Dawson Mineral Collection
Price $2450
MIN#Denver2015-7 NEW!
Exceptionally rare specimen of crystalline Native Silver on massive Silver matrix!
This incredible cabinet sized specimen is from Austin, Nevada and dates back to the mining
heyday of the 1880's! Most of the white Quartz matrix has been removed to expose the numerous
Silver crystals atop the underlying rich seam of Native Silver. Historically, Austin was mined mostly
for its Silver with very little Gold present in the mix. The Silver formed inside narrow Quartz seams,
as this specimen did, but most Silver was in the form of Silver Sulfides. A Silver specimen of this
size and purity was very uncommon which explains why the specimen was preserved for posterity.
The surfaces are covered with an antique golden-brown patina with some iridescence in the recesses.
The Quartz matrix has been reduced to the deeper recesses and back side of the specimen. Silver
specimens from the early mining period of Nevada history are extremely rare and there are very
few surviving specimens of this calibre. This belongs in a fine Silver or Nevada mineral collection.
From Austin, Lander Hill, Reese River District, Lander County, Nevada.
Measures 12.4 cm by 7.3 cm by 4 cm in total size.
Ex. Beatty Exchange Club, Kevin Ward, S. Lincoln Mineral Collections
Comes with an engraved display base
Price $9500
MIN#Denver2015-8 NEW!
Classic and quite rare specimen of Native Gold on matrix from Goldfield, Nevada!
This is a historical specimen from a major early mining period of Nevada's history. Goldfield
was mostly known for its Gold mines while Tonopah to the north was famous for its Silver deposits.
The two towns had their heyday around the same time period (1900-1920's) and are today still holding
on although Tonopah has done somewhat better thanks to a nearby military base. The district is very
historical and full of old mines. It's also one of my favorite areas to visit when I'm in the area. This
specimen features a rich scattering of Native Gold atop the front and back of the stained Quartz matrix.
From Goldfield, Goldfield District, Esmeralda County, Nevada.
Measures 7.1 cm by 4.1 cm by 2.4 cm in total size.
Price $3500
MIN#Denver2015-9 NEW!
Aesthetic specimen featuring stacked Calcite crystals with bluish-lavender Fluorite!
This in an interesting specimen. The Calcites have a yellowish tint and appear to be doubly terminated
scalenohedrons which are stacked tightly, one atop the other, almost like the teeth of a comb. The Fluorite
is bluish-lavender with purple accents and exhibits stepped faces. The very backside is flattened from where
the Fluorites formed against a hard matrix. The specimen is in excellent condition with very few contacts.
From Level 12, San Antonio el Grande Mine, Santa Eulalia District, Mun. de Aquiles Serdán, Chihuahua, Mexico.
Measures 8.5 cm by 6 cm by 3.8 cm in total size.
Ex. Dawson Calcite Collection
Price $985
MIN#Denver2015-10 NEW!
Lovely specimen of pink Apophyllite crystals on matrix!
These crystal blades are basically flattened squares and they number in the dozens as they
lay flat and stand vertically atop the host matrix. The surfaces are very glassy and reflective
while the interiors are transparent to translucent. They measures to 1 cm in size and the color can
best be described as a light peachy-pink. In excellent condition with Pyrite cubes on the back side.
From the Talnakh Cu-Ni Deposit, Noril'sk, Taimyr Peninsula, Taymyrskiy, Eastern-Siberian Region, Russia.
Measures 10.2 cm by 9.4 cm by 3.3 cm in total size.
Ex. Michael Cooper Collection
Price $1850
MIN#Denver2015-11 NEW!
Lovely specimen of Rosasite on sparkling Dolomitic drusy matrix!
This is an impressive piece, displaying rounded clusters of the blue mineral against the
white background. The surfaces are slightly textured which helps to prevent the ugly
bruising that is all too common with Rosasites. Very well trimmed and in great shape.
From the Tsumeb Mine, Tsumeb, Otjikoto Region, Namibia.
Measures 7.5 cm by 6.8 cm by 3.1 cm in total size.
Price $1500
MIN#Denver2015-12 NEW!
Unique specimen of pillar-formed Apatite crystals with dendrites!
This is an odd yet very lovely specimen of white Apatite crystals that look more like cave
stalactites. I must admit I've not seen another specimen like this one and the small "tree"
shaped dendrite along the front of the largest crystal is pretty aesthetic. The surfaces of
the crystals is a satiny, matted white for the most part and I have to wonder if some sort of
pseudomorphing is going on here. Whatever the case, this is certainly an attention grabber.
From Ehrenfriedersdorf, Erzgebirge, Saxony, Germany.
Measures 8 cm by 5.4 cm by 4.5 cm in total size.
Ex. G. Stanton Mineral Collection
Price $985
MIN#Denver2015-15 NEW!
Stunning combination of Calcite on bi-colored Fluorite and Chalcopyrite covered Sphalerite!
The Calcite crystals are glassy and terminated! They cluster the top side of the specimen and
sit atop purple Fluorite cubes with golden interiors and Chalcopyrite crystals over Sphalerite.
From the Denton Mine, Hardin County, Illinois.
Circa 1982 - Measures 7.5 cm by 10.8 cm by 8.7 cm in total size.
Ex. Tom Wiesner Fluorite Collection
Price $1850
- LINKS TO THE DENVER 2015 SHOWROOMS -
HOME | EXCEPTIONAL MINERALS | MINERAL AUCTION | SPECIMENS FROM PAST SHOWS | CONTACT US