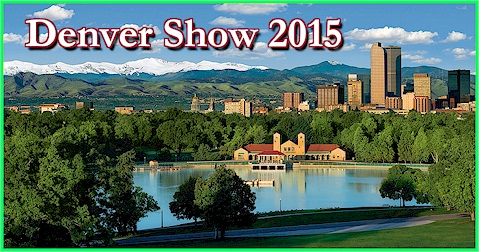 The Denver 2015 Mineral Showrooms

* Re-Updated January 16th, 2017 *
MIN#Denver2015-25 NEW!
Pretty blue crystal blades of Barite on crystalline Barite matrix from Italy!
This is a lovely specimen, displaying dozens of sky-blue Barite, standing on edge and in
excellent condition with very few contacts. The luster is brilliant and flashy and the specimen
displays well with great balance and full coverage from end to end. Scarcer locality for Barite.
From Gonnesa, Carbonia-Iglesias Province, Sardinia, Italy.
Measures 7 cm by 8.2 cm by 4.9 cm in total size.
Ex. Trimingham Mineral Collection
Price $985
MIN#Denver2015-27 NEW!
Attractive old classic displaying a frosted Calcite crystal on Chert matrix!
This is a specimen both a geologist and mineral collector could love because of the way it displays the frosted
and doubly terminated Calcite crystal set at an angle against the two sections of Chert matrix. This specimen
came of the Tri-State District Mines in the 1930's - 40's and has more character than most of what I see from
this region. I love the deep golden Calcite interiors which peak through at the perfect upper termination. The
white frosting is most likely an inclusion and it imparts a two-toned appearance to the Calcite that is very nice.
From Picher Field, Tri-State District, Ottawa County, Oklahoma.
Measures 8.4 cm by 9.7 cm by 4.5 cm in total size.
Price $1850
MIN#Denver2015-28 NEW!
Sweet specimen featuring rhombs of cherry-red Rhodochrosite with Pyrite and Quartz on Tetrahedrite matrix!
This is a beautiful miniature sized Sweet Home Rhodo specimen which has a lot of mineral bang for its very
reasonable price. The main rhomb is completely transparent with gemmy interiors of glowing red. It measures
1.5 cm in size and is accompanied by over half a dozen Rhodo rhombs of various size. The golden Pyrite
crystals are a nice touch and contrast well with the lustrous Tetrahedrite and white Quartz crystals. This is
one of the better Rhodo miniatures I've seen in a while with a quality rhomb and no detractions to speak of.
From the Blue Moon Pocket, Sweet Home Mine, Alma, Park County, Colorado.
Measures 6 cm by 6.4 cm by 3 cm in total size.
Ex. DeRiggi Mineral Collection
Price $5500
MIN#Denver2015-30 NEW!
Lustrous plate of yellow Pyromorphite crystals standing vertically atop matrix!
This is the largest plate of Pyromorphite that I've seen from this very old locality. It dates back
to the Lead mining conducted here by the Romans and many old masonry walls and arches are
still present at the site. This plate displays hundreds of free standing crystals and is in excellent
condition with few contacts. The crystals are mostly lustrous yellow with just a touch of green
and they completely cover a plate which when turned around, displays a back side covered in
Quartz crystals. The specimen is very well trimmed and displays well from numerous angles.
From the Resuperferolitica Mine, Cerro Canaleja, Santa Eufemia, Córdoba, Andalusia, Spain.
Measures 10 cm by 10.9 cm by 4.8 cm in total size.
Ex. Phil Youd Mineral Collection
Price $1850
MIN#Denver2015-32 NEW!
Super lustrous surfaces of botryoidal Arsenian Pyromorphite on matrix!
These surfaces are incredibly flashy with the light literally jumping off the yellow to orange
bi-coloration! There are some tiny bumps here and there but most are mainly along the edge
and none are very noticeable. The color is what you notice first, followed by the intense brilliance.
From the 9 Level, Bunker Hill Mine in Kellogg, Shoshone County, Idaho.
Measures 5.2 cm by 5.4 cm by 2.3 cm in total size.
Price $985
MIN#Denver2015-33 NEW!
Incredibly fine yellow dendrites of Native Gold in Calcite matrix vugs!
These brilliant and lustrous dendrites seem to pop out of every vug and crevice in the
white Calcite matrix. They are so fine and well formed that magnification only enhances
the eye appeal of this very rich specimen. Gold can also be seen in seams along the edges.
From the Olinghouse District, Washoe County, Nevada.
Measures 2.5 cm by 5 cm by 3.3 cm in total size.
Ex. Kappus Mineral Collection
Price $1500
MIN#Denver2015-34 NEW!
Large, impressive crystal of Franklinite on Calcite matrix!
This is a classic specimen from a classic American locality. The sharply formed Franklinite crystal
measures 4.7 cm in width as it sits aesthetically atop the white Calcite matrix. It is shiny lustrous and
surrounded by smaller Franklinite crystals below. In excellent condition overall with a complete habit.
From the Franklin Mine, Franklin, Franklin Mining District, Sussex County, New Jersey.
Measures 8 cm by 5.5 cm by 4.4 cm in total size.
Ex. Van Tichelen Mineral Collection
Price $2850
MIN#Denver2015-35 NEW!
Impressive plate featuring light pink Calcite crystals perched atop matrix above sparkling bluish-green Quartz!
This is a unique combination specimen of Calcite on blue Quartz and the first of these I've seen from the Dal'negorsk
locality. The Calcite crystals are slightly pink and glassy and stand atop the entire specimen like a mountain range.
Pyrite accents the edges of the Calcite crystals. The Quartz crystal below are complete and covered by a sparkling
bluish drusy which adds both pizzazz and eye appeal to this very aesthetic specimen. In excellent condition for its size.
From Dal'negorsk, Kavalerovo Mining District, Primorskiy Kray, Far-Eastern Region, Russia.
Measures 11.2 cm by 14.7 cm by 8 cm in total size.
Ex. Oleszczuk Mineral Collection
Price $2850
MIN#Denver2015-36 NEW!
VERY RARE and quite impressive plate featuring Pyrargyrite and Acanthite with Heulandite on Calcite!
Without a doubt, this is the first Silver with Heulandite combination I've seen. The bottom close-up photo
displays the gemmy crystal blades of golden Heulandite sitting among the Acanthites. The Heulandite crystals
actually appear in several locations atop the white Calcite surface and I find this fascinating because this is not
a common mineral at the Samson Mine and there is only one photograph listed on mindat.org for the locality.
The magnified photo displays the incredible textbook form and luster of each Pyrargyrite crystal. They measure to
1 cm in size and are richly scattered atop the white Calcite crystal matrix. In excellent condition with few contacts.
This amazing cabinet plate is circa late 1800's. The Samson Mine was a famous Silver Mine that closed in 1910.
From the Samson Mine, St Andreasberg, St Andreasberg District, Harz, Lower Saxony, Germany.
Measures 14 cm by 17 cm by 5.3 cm in total size.
Ex. Franz Hafliger, W. Maucher, Hoppe, Kevin Ward Mineral Collections
Price $9500
MIN#Denver2015-39 NEW!
Impressive specimen featuring sharp, lustrous crystals of Polybasite!
This specimen is basically all Polybasite crystals! Numerous well formed, reflective blades
sit atop one another, forming one of the better Polybasite clusters I've seen recently. The
largest crystals along the very top measure 2 cm in size and most are well over 1 cm in size.
A photo can't capture just how incredibly lustrous this specimen is. In nearly pristine condition.
From Guanajuato, Mun. de Guanajuato, Guanajuato, Mexico.
Measures 4.1 cm by 3.3 cm by 2.7 cm in total size.
Ex. Ben de Wit Mineral Collection
Price $1850
MIN#Denver2015-40 NEW!
Very aesthetic specimen featuring crystalline Native Copper atop Cuprite crystals!
This is just a sweet little combo. The Copper crystals which rise upwards are sharp and
lustrous as are the well formed, dark red Cuprite crystals along the base and center of
the specimen. This is from a new locality which has just recently come to the market.
From the Ahmad Abad Mine, Yazd Province, Bahabad County, Iran.
Measures 3.4 cm by 3.3 cm by 1.1 cm in total size.
Price $685
- LINKS TO THE DENVER 2015 SHOWROOMS -
HOME | EXCEPTIONAL MINERALS | MINERAL AUCTION | SPECIMENS FROM PAST SHOWS | CONTACT US