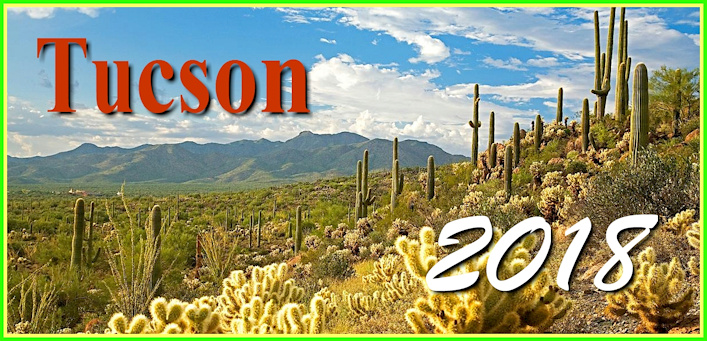 The Tucson 2018 Mineral Showrooms

* Updated March 8th, 2018 *
MIN#TUCSON2018-1 NEW!
Super aesthetic specimen of Native Wire Silver from Freiberg!
This is easily one of the most artistic looking German Native Wire Silvers I've seen in the miniature
size range. The specimen takes on the appearance of a bending tree as it leans towards the left and
gives rise to numerous smaller wires which sprout out and upwards from the much thicker "trunk".
Interestingly, one wire bends downward and touches the ground. Beautifully patinaed and structured.
Arborescent Silvers are always among the most popular and this one fully captures that appearance.
From the Himmelsfurst Mine, Freiberg District, Erzgebirge, Saxony, Germany.
Measures 5.5 cm by 8 cm by 3 cm in total size.
Ex. Wendel, Kevin Ward, Bernardi Mineral Collections
Comes with a custom made, labeled display base
Price $24,500
MIN#TUCSON2018-2 NEW!
Fine specimen featuring gemmy Golden Topaz crystals atop Muscovite and Cleavelandite!
This lovely specimen displays a gorgeous color and has been beautifully trimmed to display
the Golden Topaz at their finest. The Topaz crystal at top measure 3.5 cm tall and is pristine.
Bronze colored Muscovite blades, along with white Cleavelandite, provide the perfect framing.
From Dassu, Braldu Valley, Skardu District, Baltistan, Gilgit-Baltistan, Northern Areas of Pakistan.
Measures 6.6 cm by 5.7 cm by 6.3 cm in total size.
Ex. Obodda Private Collection
Price $4850
MIN#TUCSON2018-3 NEW!
Gem crystals of vibrant orange Spessartine Garnet on Muscovite!
There are four individual Garnets, the largest of which measures 2.2 cm or just shy of an inch in size!
The crystals are translucent to gemmy and complete all around with well striated, sharp, flashy faces.
And the arrangement atop the yellowish-green Muscovite is absolutely perfect. The fourth Garnet is
located at the very bottom, just out of view. In excellent condition overall with superb eye appeal.
From Nani, Loliondo, Arusha Region, Tanzania.
Measures 5.4 cm by 6.8 cm by 3.3 cm in total size.
Price $3450
MIN#TUCSON2018-4 NEW!
Colorful plate of Pyrite covered with iridescent blades of Covellite and a Gypsum crystal cluster!
This is a beautiful specimen and I must admit, the first Covellite I've ever seen with a Gypsum spray.
The blades of Covellite are mostly freestanding and incredibly iridescent with gorgeous tones of reddish
purple, violet, and blue. The blades measure to about a cm in size and most are uncontacted and complete.
From the Leonard Mine, Butte, Silver Bow County, Montana.
Measures 6.3 cm by 7.7 cm by 2.9 cm in total size.
Price $4500
MIN#TUCSON2018-5 NEW!
Rare specimen of Golden Calcite crystals in cluster atop white Calcite from Arkansas!
This is easily the finest Calcite specimen I've ever seen from the Smith Quarry in Arkansas and it's also the
largest. The Calcites are mostly doubly terminated and closely resemble what you would see in an Elmwood
specimen. They are glassy and lustrous with plenty of transparency throughout, allowing for the easy passage
of light and a strong internal glow! The largest two Calcites at center measure 12 cm and 11 cm in size and
are both twinned. There are some natural cleaves, as found, but they are not really noticeable and do not detract
from what is a very impressive, large cabinet sized centerpiece. Scarce locality and don't know when I'll find another.
From the Smith Quarry, Black Rock, Lawrence County Zinc District, Lawrence County, Arkansas.
Measures 15.7 cm by 16.8 cm by 17.6 cm in total size.
Ex. Lee B. Burnett Mineral Collection (Collected March 1987)
Price $3500
MIN#TUCSON2018-6 NEW!
Exceptional specimen featuring Native Silver dendrites with Calcite matrix!
Look at the incredible crystalline dendrites that climb the matrix on both the front and back!
Another smaller Silver "feather" can be seen near the lower right in the first photo. There's a slight
iridescence coloring the surface of the larger dendrites and several spinel-twin crystals can be seen poking
out between the dendrites on all sides. Without a doubt, this is the most impressive Silver I've seen from the
San Genaro Mine and one of the largest as well. Everything else I've encountered has been thumbnails or
very small miniatures. None have featured the impressive coverage and crystallization of this stunning piece.
From the San Genaro Mine, Castrovirreyna District, Castrovirreyna Province, Huancavelica Department, Peru.
Measures 6 cm by 4.5 cm by 4 cm in total size.
Ex. James & Imelda Klein Mineral Collection
Comes with a custom made, labeled display base
Price $6500
MIN#TUCSON2018-7 NEW!
Exceptional plate of glowing Azurite crystals perched atop satiny Azurite and Malachite covered Geothite matrix from Laos!
This large specimen could easily be confused for a Milpillas Azurite but it's actually much rarer. It's from a small find in Laos
and the quality of the Azurite crystals rivals that of the Milpillas find. The crystals are super sharp and incredibly glassy
with superb glassy luster. Under a camera flash or in case lighting, the crystals light up with an intense blue that is the
trademark of the finest Azurites in the world. The Hematite style of matrix is reminiscent of classic Bisbee specimens.
From the Sepon Mine, Vilabouly District, Savannakhét Province, Laos.
Measures 7.7 cm by 14.7 cm by 5.5 cm in total size.
Price $18,500
MIN#TUCSON2018-8 NEW!
Super rare nugget of Native Gold from North Carolina!
North Carolina was the site of one of America's earliest gold rushes. This gleaming semi-crystalline
nugget has great form and seems heavier than its 12 grams. Nuggets of this size and quality are extremely
rare and this is the first I can recall seeing in quite some time. A beautiful Gold nugget from a historical region.
From the Gold Hill District, Cabarrus County, North Carolina.
Measures 1.2 cm by 2.3 cm by 1.1 cm in total size.
Ex. Dr. Kaufman, C. U. Sheppard Collections
Price $2450
MIN#TUCSON2018-9 Sold!
Super aesthetic specimen featuring Tennantite crystals on white Quartz needles!
This is one of those "black uglies" that I normally don't gravitate to as Tennantite is usually not
an exciting mineral. But this specimen is the exception to the rule in every way. The crystal form
is incredibly sharp. The placement on the white Quartz points is stunning. The eye appeal and stark
contrast between the black and white is exceptional. But the most incredible thing that caught my
eye was the iridescent rainbow which covers the entire crystal at the very top. The crystal measures
2.3 cm or just shy of an inch in size. It is complete on all sides and the piece is in excellent condition.
From the Tsumeb Mine (Tsumcorp Mine), Tsumeb, Oshikoto Region, Namibia.
Measures 5.5 cm by 4.3 cm by 3.4 cm in total size.
Price $895
MIN#TUCSON2018-10 NEW!
Absolutely stunning specimen of Uvite Tourmaline crystals with Magnesite!
This plate is in excellent condition with dozens of glassy green Uvite crystals and small colorless Magnesites.
It is simply one of the finest Uvite Tourmaline I've ever offered and older material that came out in the 1960's.
The Uvite Tourmalines measure to 2 cm in size and I don't detect any broken crystals on the plate. The luster is
glassy and reflective and the positioning of the Mangnesites across the center is perfect. Outstanding specimen!
From the Pomba pit, Serra das Éguas, Brumado (Bom Jesus dos Meiras), Bahia, Brazil.
Measures 8.4 cm by 12.2 cm by 5.7 cm in total size.
Comes with a custom made, labeled display base
Price $6500
MIN#TUCSON2018-11 NEW!
Beautiful specimen featuring a sweet Aquamarine crystal perched atop druse covered Quartz with Spodumene!
Gorgeous and GEMMY, this pretty blue Aquamarine is set perfectly on matrix. The terminations are glassy, and this tabular hexagonal crystal
is 2.8 cm across. The aquamarine is really water-clear, especially down the C-axis. Aquamarine specimens are actually quite uncommon from
Pech, which is very well-known for Morganite, Spodumene and Tourmaline. This is a superb combination piece with the Aqua, Spodumene, Quartz.
From Darra-e-Pech, Kunar Province, Afghanistan.
Measures 6.7 cm by 4.6 cm by 2.7 cm in total size.
Ex. Obboda Mineral Collection
Price $2450
MIN#TUCSON2018-12 NEW!
Stunning cluster featuring elongated Smoky Quartz crystals surrounded by brilliant Spessartine Garnet!
This is one of the largest of these unique specimens that I've seen recently and the balance between
the Smoky Quartz points and the hundreds of super gemmy orange Spessartine Garnets is absolutely
perfect. Some of the Smoky Quartz points are doubly terminated at the bottom! The tips are perfectly
terminated and peak out just above the heavy coverage of every single spot of dazzling Garnet crystals.
Barely a contact is visible - Amazing for a cluster of this size, and the Spessartines are pure orange with
just a hint of red in the mix. They are transparent to the core with incredible natural faceting. All those
small crystal faces mesh together to create one of the most incredible sparkling flashes you can imagine.
From the Wushan Spessartine Mine, Tongbei, Yunxiao Co., Zhangzhou Pref., Fujian Province, China.
Measures 12.8 cm by 9 cm by 4.3 cm in total size.
Comes with a custom made, labeled display base
Price $4500
MIN#TUCSON2018-13 NEW!
Exceptional specimen featuring a Microcline crystal with a crystal-clear Topaz!
A super aesthetic combo, the Microcline is fully terminated and in perfect condition with
only a tiny bit of etching along the back side. The Topaz crystal is large for the locale and is
completely gem with sharply striated faces. It measures a glassy-lustrous 3.3 cm in size and is
transparent with a lovely light greenish-blue coloration. The Topaz displays a textbook termination.
From Klein Spitzkopje, Spitzkopje Area, Karibib, Erongo Region, Namibia.
Measures 4.3 cm by 5.5 cm by 2.8 cm in total size.
Price $1500
MIN#TUCSON2018-14 NEW!
Glowing scepter crystal of Quartz var. Citrine perched atop a dark Smoky Quartz point!
This perfectly formed and boldly phantomed scepter crystal is a gorgeous example of Halluluah Junction
Citrine. Very aesthetic and in excellent condition with a rich, vibrant color and glassy, lustrous faces.
The interiors are completely gemmy to the point that you can read through the scepter like orange glass.
From Hallelujah Junction pit, Red Rock, Lassen County, California.
Measures 6.6 cm by 2.8 cm by 2.4 cm in total size.
Price $1450
MIN#TUCSON2018-15 NEW!
Super aesthetic raspberry-purple over golden Fluorite with internal phantoming and natural Bitumen!
I LOVE this multi-colored Illinois Fluorite!! The color overlay is beautiful and so is the phantoming but I also
love the dark coating of natural Bitumen which has found itself situated perfectly along the center portion
of this remarkable specimen. In excellent condition with a vibrant satiny luster over every transparent face.
From the Annabel Lee mine, Harris Creek Sub-District, Hardin County, Illinois.
Measures 10.2 cm by 8.9 cm by 8.4 cm in total size.
Price $3450
MIN#TUCSON2018-16 Sold!
Beautiful combination featuring a glassy phantomed Calcite set among crystalline Chalcedony balls!
This specimen is as good looking as it is unique. Sparkling crystalline balls of Chalcedony frame the gemmy,
super glassy zoned Calcite crystal in the center. All are in excellent condition with no contacting or damage.
From the Pune District (Poonah District), Maharashtra, India.
Measures 10 cm by 10.3 cm by 4.3 cm in total size.
Price $3250
MIN#TUCSON2018-17 NEW!
Dazzling specimen featuring crystalline Quartz balls over blue Shattuckite and Calcite crystals!
This is a specimen that will look great in any collection with its sparkling surfaces and deep royal blue
Shattuckite inclusions beneath the Quartz covering. There are Calcite crystals scattered about as well
and they peak their terminations just above the Quartz layer. In excellent condition with great eye appeal.
From the Tantara Mine, Shinkolobwe, Kambove District, Katanga (Shaba), Democratic Republic of the Congo.
Measures 12.5 cm by 9.8 cm by 4.7 cm in total size.
Price $2500
MIN#TUCSON2018-18 NEW!
Large and very distinct crystals of bronze Pyrrhotite with golden Chalcopyrite!
Also with some Calcite crystals, this impressive combination piece boasts a 5.2 cm
Pyrrhotite crystal at top to go along with a 4.2 cm Chalcopyrite in the center. This
lustrous golden crystal is complete, surrounded by thick Pyrrhotite crystals on all sides!
From the Nikolaevskiy Mine, Nikolaevskoe Pb-Zn-Ag deposit, Dal'negorsk, Primorskiy Kray, Russia.
Measures 7.4 cm by 9.5 cm by 6.5 cm in total size.
Ex. Pilipenko, Star van Schriver, Edward David Mineral Collections
Price $2500
MIN#TUCSON2018-19 NEW!
Brilliant crystals of deep red Cinnabar on matrix with Quartz points!
A visually aesthetic and very impressive miniature sized combo. The Cinnabar
crystals are deep, deep red and measure to 1.6 cm in size. The have an incredible
glassy luster and there is no damage or detractions to speak of. In excellent condition.
From Fenghuang County, Xiangxi Autonomous Pref., Hunan Province of China.
Measures 5 cm by 6 cm by 3.8 cm in total size.
Price $895
MIN#TUCSON2018-19b NEW!
Lovely plate of apple-green Pyromorphite crystals clustered in mounds atop matrix!
A wonderful specimen with barely a bump anywhere, only a few missing tips along the far left
trimming edge. The color is very rich and the luster jumps from crystal to crystal under even
the faintest lighting. I love the combination of large crystal cluster with smaller crystal clusters.
From the Daoping Mine, Gongcheng City, Guangxi Zhuang Autonomous Region of China.
Measures 6 cm by 8.3 cm by 6.4 cm in total size.
Price $4500
MIN#TUCSON2018-20 NEW!
Beautiful specimen of blue Turquoise from Nevada!
This large specimen displays a lovely spider web pattern where it is polished along the top edge.
This pattern, if cut, would produce incredibly fine stones. I prefer the Turquoise as is however and
I love the part polished, and mostly rough appearance of the piece. That makes it a true specimen in
addition to being a diamond in the rough. There's a lot of potential here with this incredible Turquoise.
From the Number Eight mine (Blue Star mine), Lynn District, Eureka Co., Nevada.
Measures 8.8 cm by 6.7 cm by 3.5 cm in total size.
Price $785
MIN#TUCSON2018-20b NEW!
Beautifully phantomed Quartz var. Amethyst crystal sitting atop a bed of smaller Quartz crystals!
This was one of the finest miniatures from the Brandberg District at the show. The upright and
perfectly terminated Amethyst crystal displays a strong internal phantom. Overall, the specimen
is nearly pristine with barely a contact anywhere and the tip is sharp and true. Absolutely superb.
From the Goboboseb Mts, Brandberg Area, Erongo Region, Namibia.
Measures 6.5 cm by 5.1 cm by 6 cm in total size.
Price $685
MIN#TUCSON2018-20c NEW!
Brilliant crystals of Native Sulfur perched atop Calcite covered matrix!
This is a great looking Italian classic, and it's beautifully arranged with a complete, yet
isolated coverage of large Sulfur crystals measuring to 4 cm in size. The crystals are
complete and glassy lustrous in contrast to the stark white Calcite below. A lovely Sulfur
specimen and one that consists mostly of doubly terminated crystals. In excellent condition.
From Agrigento Province (Girgenti Province), Sicily, Italy.
Measures 8 cm by 4.3 cm by 5.4 cm in total size.
Price $3850
MIN#TUCSON2018-20d NEW!
Beautiful specimen of transparent yellow Wulfenite blades with orange Mimetite!
This lovely combo is a San Franciso Mine piece of course, and it is in excellent condition.
One or two of the blades have the normal contacts but the vast majority of the Wulfenite crystals
are complete and terminated. The deep orange Mimetite balls surround the Wulfenites on all sides.
From the San Francisco Mine (Cerro Prieto Mine), Cerro Prieto, Cucurpe, Mun. de Cucurpe, Sonora, Mexico.
Measures 9 cm by 10.5 cm by 9.3 cm in total size.
Price $2450
MIN#TUCSON2018-20e NEW!
Gemmy Pink Precious Topaz crystal on hard Calcitic matrix from Katlang!
Pink Topaz crystals from Katlang are extremely rare and specimens that have not been
repaired or reattached are even rarer. The super gemmy, terminated Pink Topaz measures
1.7 cm in size. It displays glassy-brilliant crystal faces which allow for the internal color glow
that makes these pink gems world famous. In excellent condition with no detractions or contacts.
From Katlang, Mardan District, Khyber Pakhtunkhwa (North-West Frontier Province), Pakistan.
Measures 6 cm by 7 cm by 6.3 cm in total size.
Price $4500
MIN#TUCSON2018-20f NEW!
Exceptional large cabinet specimen featuring deep green Fluorite crystals perched atop Quartz points!
From the mine owner's personal collection comes this - one of the better matrix Wise Mine specimens I've ever seen.
The Fluorites are perfect, translucent and lustrous, measuring to 4.5 cm in size, while the concave matrix of terminated
Quartz points provides the perfect setting for these vibrant green beauties. In excellent condition with superb presentation.
From the William Wise Mine, Westmoreland, Cheshire County, New Hampshire.
Measures 9.7 cm by 14.8 cm by 8.2 cm in total size.
Ex. Mine Owner's Personal Collection
Price $4500
- LINKS TO THE TUCSON 2018 MINERAL SHOWROOMS -
2 | 3 | 4 | 5 | 6 | 7 | 8 | 9 | 10

HOME | EXCEPTIONAL MINERALS | MINERAL AUCTION | SPECIMENS FROM PAST SHOWS | CONTACT US